Jan. 6, 2020: It turns out that the biggest sports news of 2020 was the COVID pandemic.  The spring season at the Bronxville School was cancelled, and the fall season was greatly impacted by restrictions set by New York State. The only season unscathed by the pandemic was the winter season.
Highlights of winter sports included top performances by members of the girls' track and field team who won the 4x400m Suburban Relay at the Millrose Games and won multiple events at the Westchester County Championships.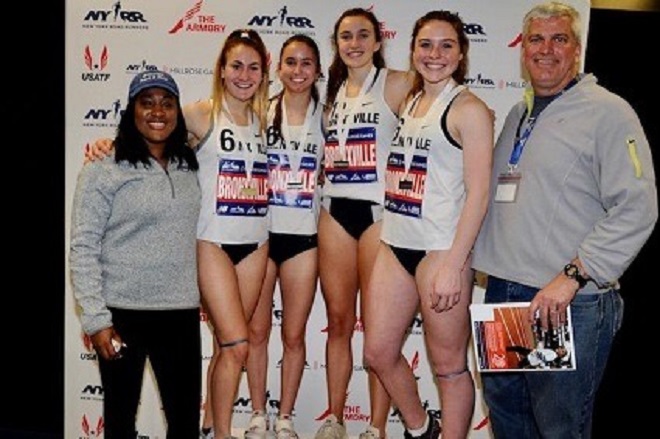 Coach Keina Samuels, Caroline Ircha, Alisa Kanganis, Eve Balseiro, Millie Koenig and Coach David Ryan at the Millrose Games. Photo by Jane Ircha.
Links to Winter Track Stories Below
Bronxville Girls Win Suburban 4x400m Relay at the Millrose Games; Set New Bronco Record
Ten Bronxville Girls Win County Titles at the Westchester County Indoor Track and Field Championships
During the winter, the Bronxville high school and middle school squash teams competed at the National level with great success.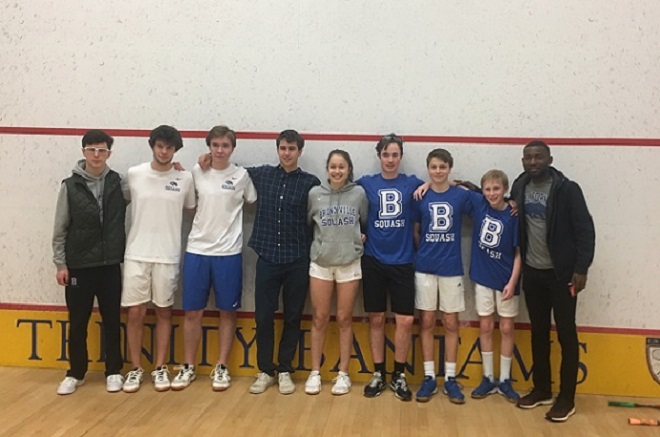 Bronxville high school squash team with coach Tunde Ajagbe
Links to Squash Stories Below
Bronxville High School Boys Squash Team Finishes 10th in the Nation at High School Nationals; Girls Team Finishes 4th in its Division
Bronxville Middle School Squash Teams Produce Two Top Eight Finishes in Middle School Squash Nationals
2020 was a difficult year for all spring athletes, especially seniors who missed their final high school season. MyHometownBronxville highlighted many senior athletes, including Caitlin Mooney, Hanna Bishop, Grace McSherry, Grey Warble, Liam Krall, Will Tormey, Owen Jacquette, Nate Davis, Eve Balseiro, Alisa Kanganis, Sabrina Mellinghoff, Ella Stupart, and Dylan Ruddy. Many of these senior athletes were recruited to compete at the college level.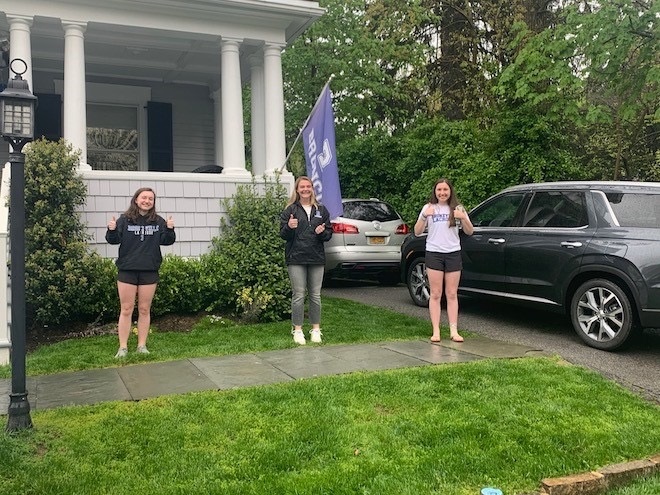 Lacrosse seniors (l to r) Grace McSherry, Hanna Bishop and Caitin Mooney. Photo by L. Mooney.
Links to Stories About Senior Athletes and Recruits Below
Class of 2020 Athletic Recruits: Twenty-two Bronxville Athletes to Compete at the College Level
Bronxville Girls' Lacrosse Team Honors Captains With a Parade of Cars
Bronco Sports Spotlight: Caitlin Mooney
Bronxville Sports Spotlight: Grey Warble
Bronco Sports Spotlight: Tennis Player Liam Krall
Bronxville Sports Spotlight: Golfer Will Tormey
Bronxville Sports Spotlight: Owen Jaquette
Bronxville Sports Spotlight: Track and Field Seniors
The Covid pandemic placed Bronxville at the center of the NFL draft. NFL Commissioner and Bronxville resident Roger Goodell ran the draft from his home on Hemlock.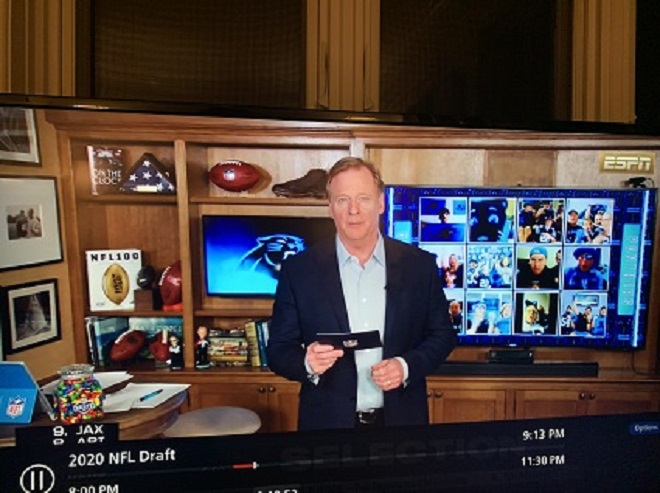 NFL Commissioner Roger Goodell in his basement during the NFL draft. Photo by A. Warner.
Link to Story About NFL Draft Below
Successful NFL 2020 Virtual Draft Was Centered in Bronxville
During the summer, there was great uncertainty about the fate of high school fall sports. Eventually, it was decided that the season would start in late September, but unfortunately, football and girls' swimming would be postponed to March 2021.  
The Bronco teams worked hard to have as normal of a season as possible. The seniors, who are usually recognized at the end of the season, were honored at the first game given the uncertainty of the pandemic.  
Even though the teams had no preseason and had to play in masks and practice social distancing on the sidelines, the Broncos' turf teams finished on top in the championships. As a result of their top performances, many athletes were awarded All-Section and All-County honors.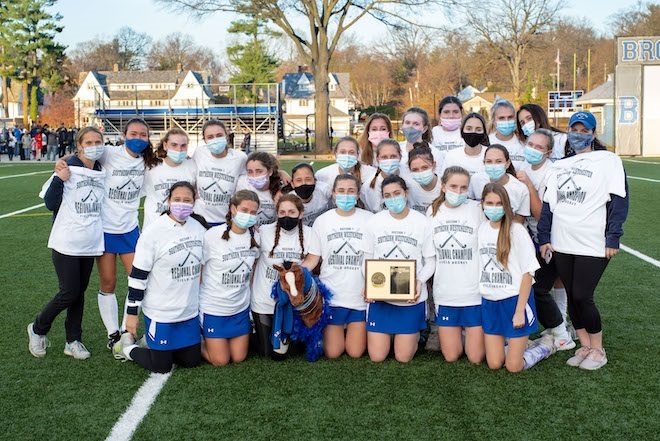 The girls' field hockey team after winning the Regional Championship. Photo by David Fenner.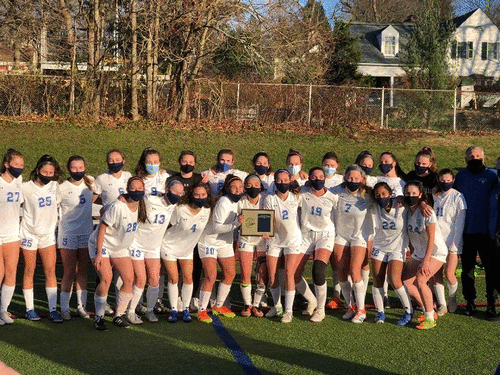 Championship teams: Boys and Girls soccer won regional championship; girls cross country won Class C Championship
Links to Stories About Fall Sports and Events Below
After a Six-Month Interruption, Bronco Athletes Return to the Field
Bronco's Opening Week Includes Senior Day Festivities
Links to Stories About Championship Teams and Awards
Four Championship Titles for the Broncos: Girls' Cross Country, Field Hockey, Boys' Soccer, and Girls' Soccer
Bronxville Athletes Recognized with All-Section and All-County Awards
Off the field, there was a big change in the Bronxville School Athletic Department in 2020. Athletic Director Karen Peterson retired after 22 years, and the school welcomed Joe Haven as the new Bronxville AD.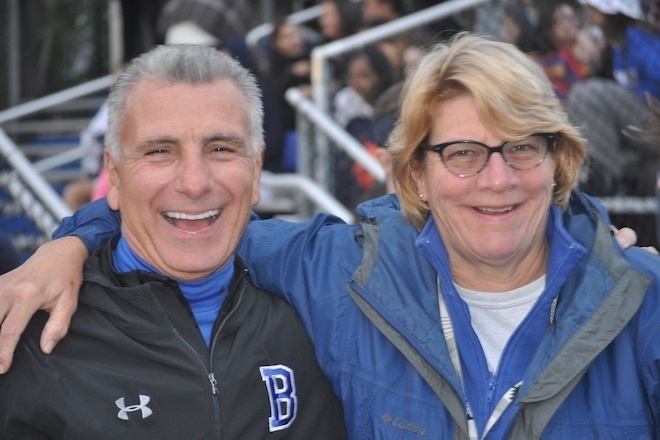 Karen Peterson and Coach Don Cupertino. Photo by J. Murrer. 
Links to Stories about Athletic Directors
Bronxville School's Athletic Director, Karen Peterson, Retires After 22 Years
Athletic Director, Joe Haven, Joins the School
2020 was a year like no other. 
There were many obstacles, but the Bronxville athletes were determined, remained positive, followed the guidelines, and made the best of a very difficult year. 
Go Broncos.