Karen Peterson at Sports Awards 2020.  Photo by J. Murrer
By Katharine Outcalt
Jul. 28, 2020: A warm sun is setting on Karen Peterson's long and storied career as Athletic Director for the Bronxville School. After 22 years, Peterson's last day will be August 31.
A native of Plainfield, NJ, Karen Paterson came to Bronxville by way of Division I and III college level coaching and administration. After graduating from the University of Maine in 1980, where she was a dual sport varsity athlete in volleyball and softball, Peterson began her career as the assistant softball coach and pitching coach at D-I Maine.
She then spent three years as Director of Intramurals and Recreation and the softball coach at D-III Plymouth State University. Following Plymouth, Peterson spent seven years at Manhattanville College serving as Assistant Athletic Director, softball and volleyball coach, and ultimately the head Athletic Director for her final three years.
It was the recruiting process at the college level that ultimately turned Peterson toward high school sports. Disillusioned by what she describes as a "dishonest business," Peterson felt more at ease in a setting where the focus is on developing the student athlete. Watching kids' athletic talent and confidence grow from elementary school to high school has been one of the most rewarding aspects of her time at Bronxville.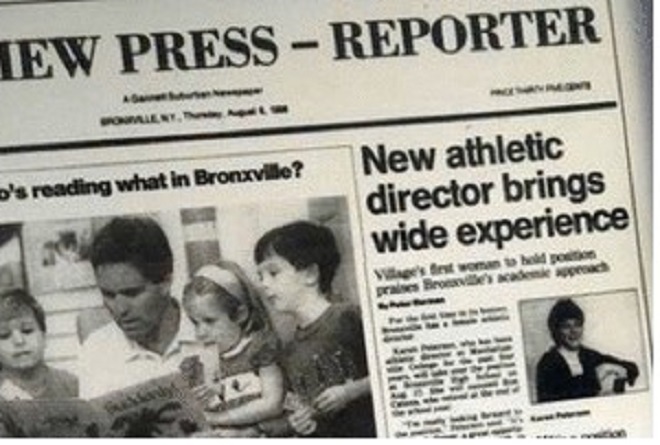 Karen's arrival at the Bronxville School was reported in the print newspaper 'Review Press Reporter.'  Photo by J. Murrer
And it has always been the kids and coaches that Peterson has put first over all else. Sharon Robinson, Bronxville's head girls lacrosse coach noted, "in my 12 years of coaching at Bronxville, Karen has always supported our student-athletes and coaches, on and off the field. She has a very tough job managing so many variables (lack of field space, bus issues, floods, and an increasing number of athletes), and always worked to find a solution with a quick wit and a smile on her face. She travels across the state in support of our athletes, and we all know that she will do anything for us, including a late-night grocery run!"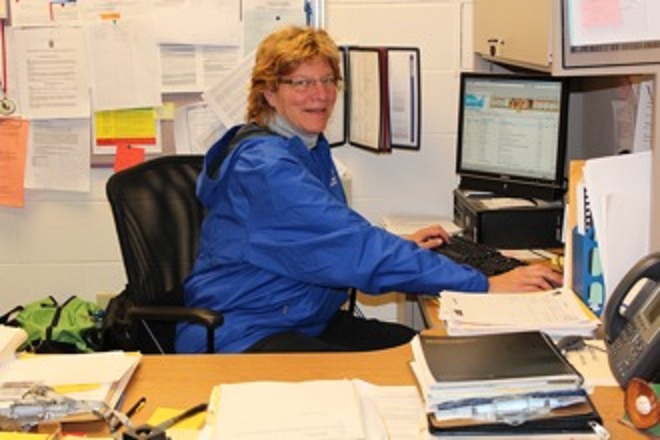 Karen Peterson in 2012. Photo by J. Murrer
In Peterson's 22 years, Bronxville has won state championships in field hockey, boys soccer, girls soccer, football, boys lacrosse, and girls cross country (10x). These are impressive statistics for any school, let alone a school the size of Bronxville. But, Peterson's years as Athletic Director have been about a lot more than winning. 
During Peterson's tenure, she has overseen the construction of the school's first turf fields, a baseball field, a track renovation, and multiple gym upgrades. She managed the coaching, equipment, and facilities space for 28 varsity teams, 20 JV teams, and 17 modified teams.
r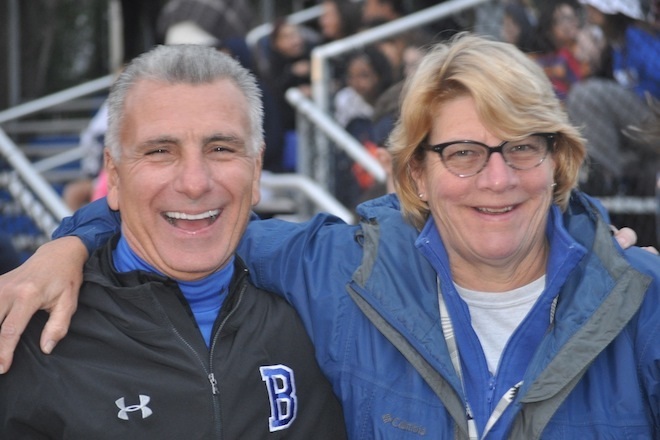 Karen Peterson with Coach Cupertino.  Photo by J. Murrer 
She was responsible for adding squash and mountain biking to the school's list of varsity offerings. She is also credited with forging partnerships with the Eastchester, Tuckahoe, Mount Vernon and New Rochelle school districts to create combined teams in boys/girls swim and dive, girls volleyball, boys/girls skiing, ice hockey, and softball. 
A constant theme in Peterson's office was always to have as many students participating in athletics as possible. These partnerships have provided opportunities for kids to compete who may not have otherwise had the chance.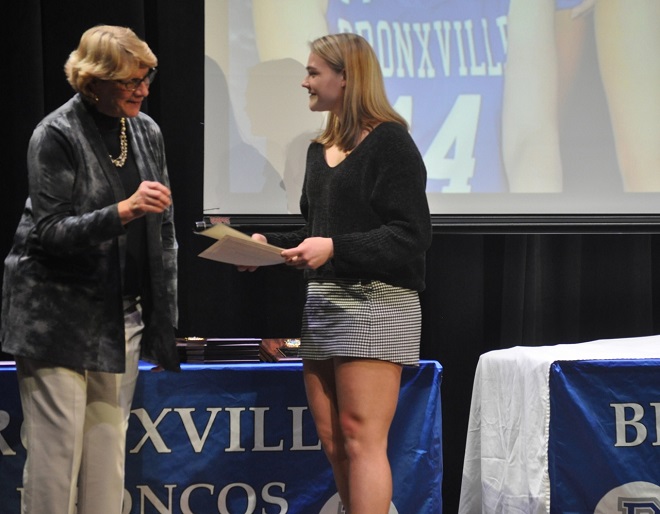 Karen Peterson at Sports Awards with athlete Hanna Bishop. Photo by J. Murrer
"Mrs. Peterson is iconic," says Ashley Toal '21, one of Bronxville's girls' soccer captains. "She is the heart of the Bronxville athletic program. We would never have been half as successful without her support and guidance."
Former chair of the Bronxville Athletic Council, Rose Crawford wrote in an email, "Karen's job was the hardest in the school hands down, and she never asked for recognition. She always had the student athlete at the forefront of her sights. She had a unique ability to keep everyone together and moving forward and always with wisdom and a sense of humor."
As she enters her retirement, Peterson is looking forward to spending more time with family and friends. She notes that she will not miss being on call 24/7 and working most nights and weekends. She plans to spend time in Maine and hopes to get involved in volunteer efforts that she says she has never had time for while working.
When asked if she feels "cheated" that the coronavirus robbed her of a clean ending to her career, Peterson once again puts the student athlete first. "I feel bad for the kids. Many of our teams were looking good for post season runs. They are the ones who have been cheated."
Peterson will spend the next month helping to transition the new athletic director, Joseph Haven.  
When asked what she will miss most, Peterson responded, "I'm going to miss being around kids and going to their games. 3:00 pm is when things really got fun for me - watching them compete, listening to their conversations, it always kept me young."
Farewell Mrs. Peterson.