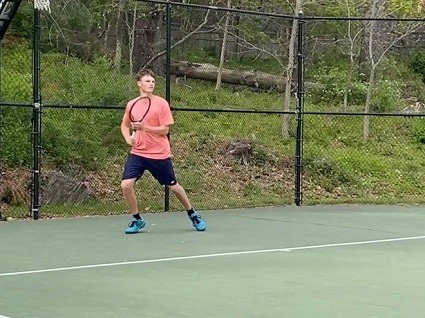 By Steve Klurfeld
May 13, 2020: Bronxville Senior, Liam Krall, picked up a tennis racket for the first time at the age of eight and has never put it down.
His amazing eye-hand coordination became quickly apparent to his coaches from Concordia and surrounding tennis clubs. Liam has won multiple regional tournaments at every age level and has even scored a Bronze ball at a Super National Tournament, which includes the top 100 players in the country. 
Liam has been a member of the Bronxville Varsity Tennis Team since he was in 7th grade. He has been All-League and All-Section for three years and All-State for two. If the tennis season had not been canceled due to the pandemic, he would have been one of the top three seeds at the New York State Tournament this year. 
Not since Tim Kofol ('99) won the tournament in his senior year has a Bronxville athlete performed better in tennis. Liam is currently ranked within the top 80 nationally and has won tournaments across the country. 
"I hope to go to the National Championships in Kalamazoo, Michigan, at the beginning of August," said Liam. "That tournament is special because if you win, you get to play the men's main draw of the U.S. Open." 
Although he can do just about anything on the court, his playing style can be described as an aggressive baseliner. His dominant shot is a very heavy forehand, which he can hit with spin, flat, and with finesse or blast winners.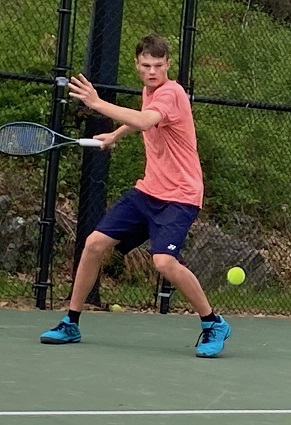 Photo submitted by C. Krall.
On top of all his natural gifts and ability, Liam is an even better person. He embodies a great competitive spirit but approaches the sport with remarkable maturity and respect. He has been a wonderful role model for younger players on the Bronxville squad. 
His work ethic is second to none, and he demonstrates everything you'd want to see in a Bronco, every time he competes. 
After getting offers from a wide variety of strong tennis programs, Liam has chosen to play for powerhouse SMU next year.
We wish him every success at the next level.

Pictured at top: Liam Krall practicing this week in Connecticut. Photo submitted by C. Krall.