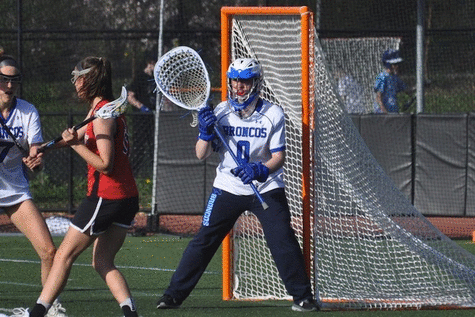 Caitlin Mooney defending the lacrosse goal (Photo by J. Murrer) and the field hockey goal (Photo by David Fenner).
By S. Quinn DeJoy and J. Murrer
Apr. 15, 2020: Caitlin Mooney did not start out as a lacrosse goalie but eventually found her place in the goal. She started playing lacrosse in kindergarten, and when she was in fourth grade, one of her teammates decided that she didn't want to play goalie anymore. 
"Coach turned to the team and asked if anyone would play goalie," said Mooney. "We were all standing there looking at our feet, but then I decided it might be something interesting to try. So, they put the gear on me, and I headed to the goal. In that game, I had four saves, including one that hit me in the head. I remember saying, 'Wow! This is so cool.'"
It turns out goalie was the perfect position for Mooney. She has been the starting goalie on the Bronxville's varsity lacrosse team for the past three years, and the starting goalie on Bronxville's varsity field hockey team both junior and senior year. 
Mooney has been to the New York State Championships three times. The Bronxville varsity lacrosse team made it to the state final game twice, and the field hockey team won the State Championship last fall. 
"This year, everyone said it was a rebuilding year for the field hockey team," said Mooney. "We didn't even know if we were at the state level. When we entered playoffs, we just wanted to spend more time together as a team. It was such an exciting moment when we finally did make it to states."
The field hockey team defeated Barker High School 2-0 in the state semis and Johnstown 1-0 in the finals, capturing its first state championship in 25 years. In the state final game, Mooney had 24 saves and was named to the All-State tournament team. 
The Bronxville girls' lacrosse team, a powerhouse team in New York, made it to the State Championships during Mooney's sophomore year but lost 12-1 to Long Island's Mattituck in the final game. 
"During my junior year, we started to adapt to Mattituck defense to build a better team," said Mooney. "We also started to do mindset training to develop ourselves mentally. Lacrosse is such a fast paced game. You don't have that much time to reset. You can't think about it. You just need to go on. We wanted to get back to state finals strong."
The team returned to the state final last year to face Mattituck again, but now as a much stronger team. 
In the State Championship game against Mattituck, Bronxville trailed 4-3 with just four minutes left in the first half. The Tuckers, however, were a tough team to stop and ultimately hung on for an 11-7 victory.
"I am so thankful that we could get that far each year," said Mooney, "It is not only about the competition, but we just wanted that extra month to spend together as a team."
When lacrosse preseason started last November, the girls were focused on working together as a team to get back to states. Mooney and teammates Hanna Bishop and Grace McSherry were named captains of the team, and they led preseason workouts.
The lacrosse season opened with tryouts on March 9th, the final roster was posted on the 12th, and on Friday the 13th, the season was put on hold because of the coronavirus pandemic.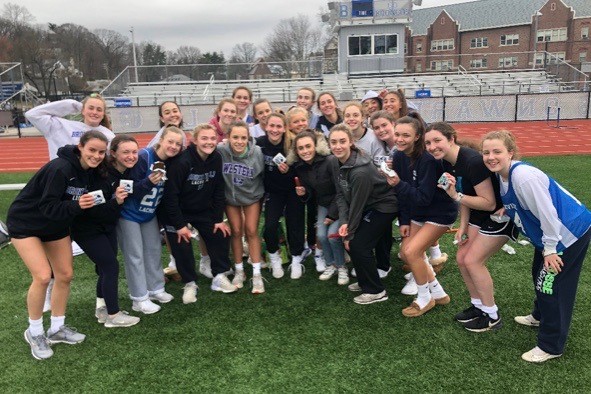 The girls' lacrosse team practicing on Hayes Field on Friday the 13th. Photo submitted by L. Mooney.  
The season is not yet canceled, and Section 1 had a meeting on April 9th to discuss what the season would look like if school reopens. 
There are plans, if social distancing is over, to give the team an opportunity to play, even if it is a game or two.
Lacrosse practices went virtual, and the girls and their coaches meet every day over Zoom to go over plays and rally team spirit. They are training on their own and putting in many miles running, biking, and walking.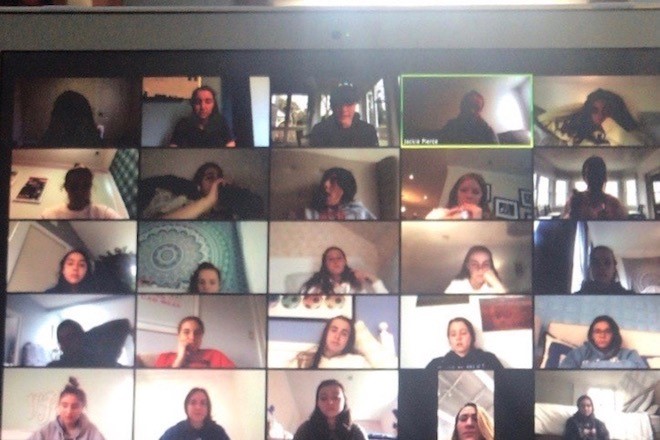 The lacrosse team during a virtual practice. Photo submitted by L. Mooney. 
Whether or not Mooney gets to play lacrosse this spring, she has had an amazing athletic career at Bronxville. She has been named All-League multiple times for both field hockey and lacrosse and was named to the field hockey Golden Dozen last fall. Last spring, during the lacrosse state championships, she was honored with the New York State Championship Tournament Sportsmanship award.
Mooney will be attending Colgate University in the fall but, at this time, has no plans to play while in college. 
"We are so enveloped in this community of lacrosse, and we have been playing since kindergarten," commented Mooney. "It is such a big part of our lives, especially for the seniors. It is hard to accept the possibility that the season might not happen."