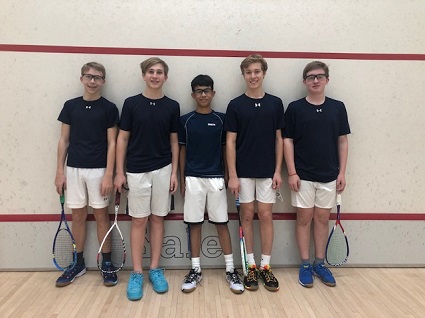 Bronxville's First Team
By Staff
Feb 5, 2020:  The Bronxville Middle School squash team traveled this past weekend to Yale University in New Haven to compete in the U.S. Squash Middle School National Team Championship. Ninety-six teams from throughout the country participated in the tournament. Bronxville sent five teams, more than any other school, showing the tremendous participation in squash in Bronxville.  These five teams played across three divisions.
Bronxville's first team included eighth-graders Rustin Wiser, Thomas Sheumack, Andrew Shah, Jackson Meyercord and Liam Neild.  The team played in the highly competitive Division 1, which includes the best middle school teams in the nation.  The Bronxville team placed an impressive 8th overall.  The team had a decisive 5-0 win in their first match against the Shipley School from Bryn Marr, Pennsylvania. They then fell to the first seed, Haverford School of Philadelphia. Haverford ultimately won the tournament.  The Bronxville team had a number of outstanding matches on their way to placing 8th.  
Bronxville's second team played in the second most competitive division, Division 2 and placed 16th overall. The team included eighth-graders Scarlett Hine, seventh graders Ian Acharjee, Pierce Martin, and Miles Jernigan and sixth-grader John Shah.  Bronxville Team 2 faced tough competition in the tournament but had some great matches, including a very close 2-3 match against Talcott Mountain Academy Squash.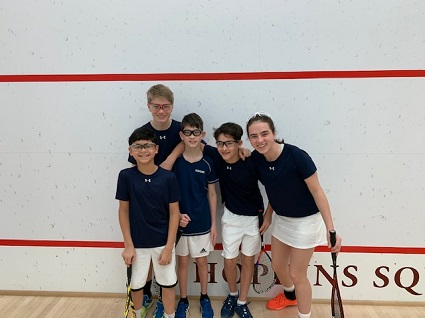 Bronxville's Second Team
Bronxville's third, fourth and fifth teams all played in Division 4.  The third team included eight grader, Quentin McCarthy, seventh-grader Kieran McBride, and sixth graders, Troy Neild, Emery Vitrano, and Serena Lescott.  This team finished an impressive 7th overall. They had a hard-fought quarter finals match against TE/VF losing 2-3, with a number of close matches. They then moved on to the Classic Plate defeating Greenwich B in a decisive 5-0 match in the 7/8 playoff, placing 7th overall.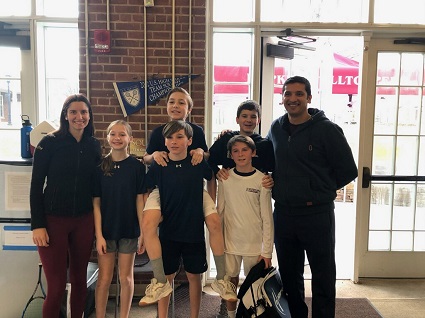 Bronxville's Third Team with coach Julia LeCoq and Bronxville Director of Squash Supreet Singh
Bronxville fourth team included seventh-grader Finbar Demarr and six-graders Kai Schubert, Matteo Delprete, Fletcher Van Tienhoven, and Spencer Martin.  This team won the Consolation Finals. They had two outstanding wins along the way, defeating LCDS Boys B 5-0 and the New Canaan Country School in a very close 3-2 match.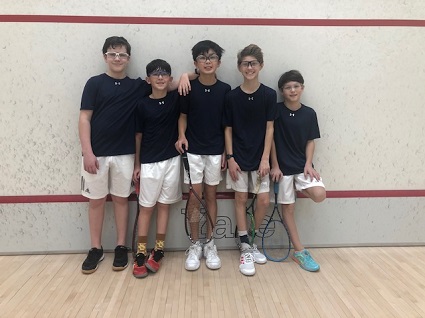 Bronxville's 4th Team
Bronxville fifth team included seventh-graders Austin Waggoner and Jack Preusse, and six-graders Andrew Gay, Grant Portner and Andrew Eiref.  This team faced tough competition in their division and very close matches.  They narrowly lost their Consolation Semifinal match against New Canaan County School B 2-3 and their Consolation Playoff match against LCDS 2-3.  The team ultimately finished 16th in their Division.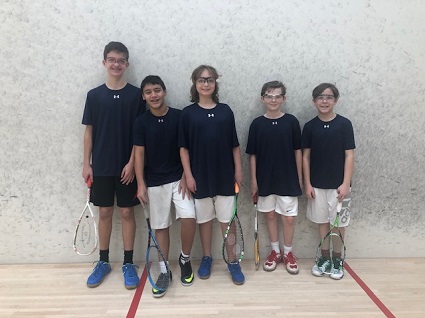 Bronxville's Fifth Team
Throughout the weekend, the Bronxville teams were coached and encouraged by two Bronxville Field Club coaches, including Director of Squash Supreet Singh and coach Julia LeCoq.
"The kids are incredibly lucky to be training with such outstanding coaches," said Marisa Sheumack, the current parent team coordinator. 
The Bronxville School squash program is in its tenth year and boasts a Boys Varsity and JV team of 18 players, a Girls Varsity team of 9 players and a middle school team of 36 players. 

Sheumack offered special thanks to the parent team managers, Amy Wiser, Jeff Hine, Tania Neild, Jane Devereaux and  Charles Preusse. 
"Finally, the support from Karen Peterson of the Bronxville School and all of the parents is vital to making this program a success," said Sheumack
Photos contributed by parents