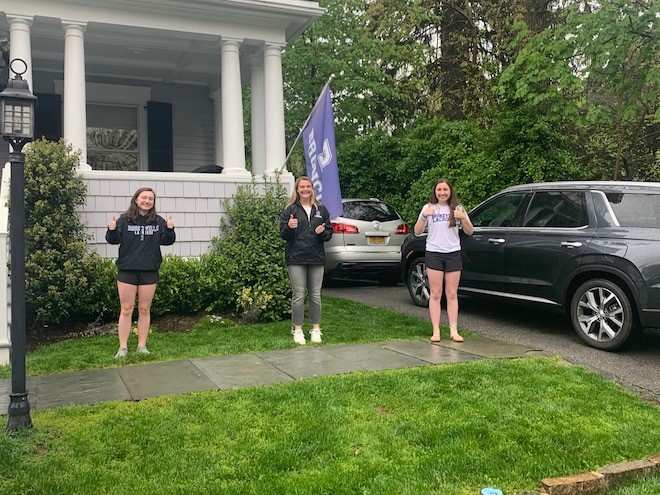 Bronxville girls' lacrosse captains (l to r): Grace McSherry, Hanna Bishop, and Caitlin Mooney. Photo submitted by L. Mooney.
By S. Quinn DeJoy and J. Murrer
May 20, 2020: For much of April, members of the Bronxville girls' lacrosse team held out hope that they might get to play a few games in the 2020 season. Once school closed in mid-March, the coaches and players have continued to "practice" using Zoom four days a week. 
"It has been tough," said Tri-Captain Hanna Bishop. "It is definitely not how I envisioned my senior season. Bronxville girls' lacrosse is unlike any other team that I have played on, and being together through Zoom has kind of filled the hole that was created by the pandemic."
Unfortunately, on May 1st Governor Cuomo ordered all New York schools closed, and the cancellation of the entire lacrosse season became a reality. 
It was a big disappointment to the team, and the junior girls wanted to do something to recognize the three seniors, Grace McSherry, Hanna Bishop, and Caitlin Mooney. 
"The seniors and their families have been the heart and soul of the team for the past few years," said junior Caroline McGrath. "It is hard to imagine playing without them. Throughout this coronavirus lockdown, they have been amazing, and we thought they needed to be recognized."
The girls, along with their coaches, decided to honor the contributions of the seniors and their families by organizing a drive-by parade of cars. 
On May 8th, with one player per car, the lacrosse team caravan drove by each senior's home, honking horns, holding up posters and delivering balloons.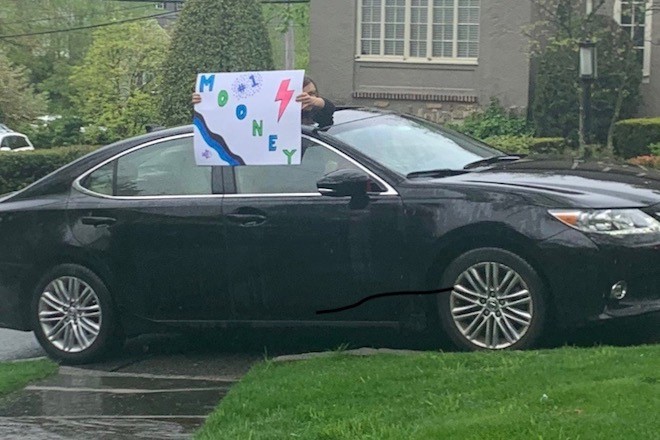 The first stop was on Hawthorne Road at the home of Caitlin Mooney. She was joined by her parents on the front lawn as the team members drove by.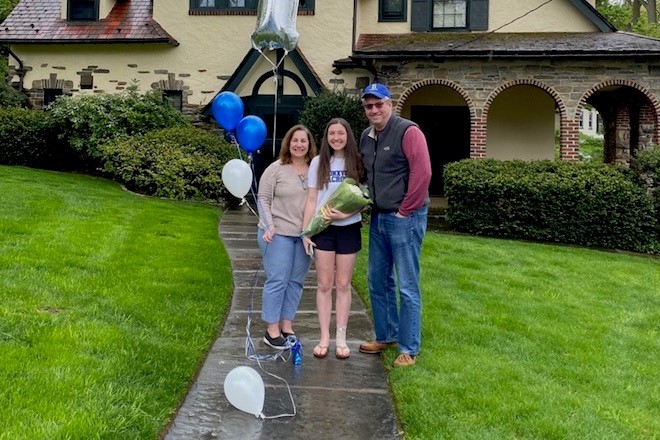 Caitlin Mooney with her parents. Photo submitted by L. Mooney.
The second stop was Grace McSherry's house. 
 "I didn't know about it," said McSherry. "It was a very nice surprise, and I was completely blown away. The team puts so much heart into what they do, and I am honored by it."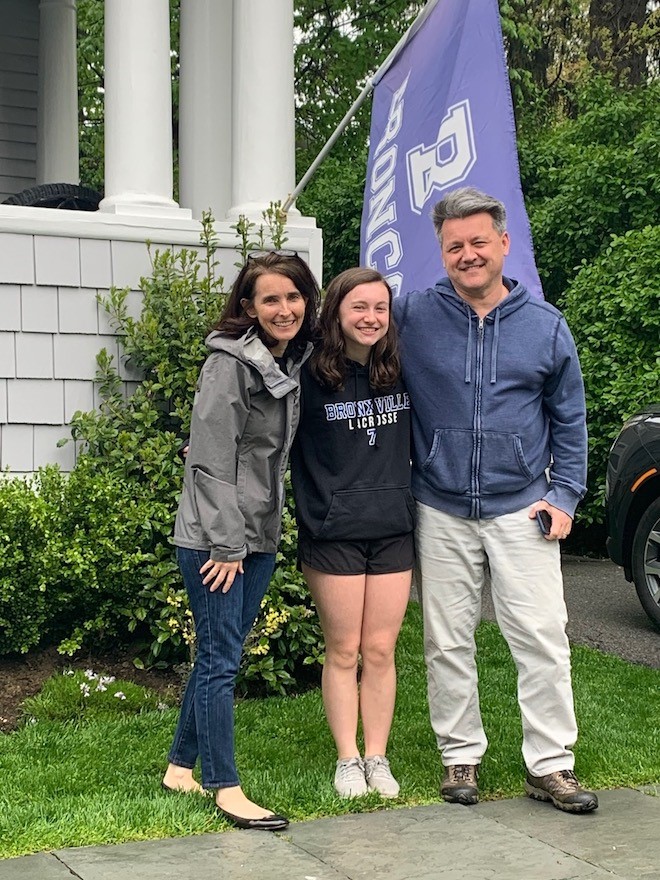 Grace McSherry and her parents. Photo submitted by L. Mooney.
After each drive-by, Mooney and McSherry, along with their parents, joined the caravan, which ended on Hobart Street at Hanna Bishop's home. 
"My mom told me to put on Bronxville lacrosse apparel for a PTA picture and go outside," said Bishop. "I was the last senior that they went to, and there was a huge line of cars on my street."
Bishop, who earned All-American honors for lacrosse last season, will be playing for Washington and Lee in the fall.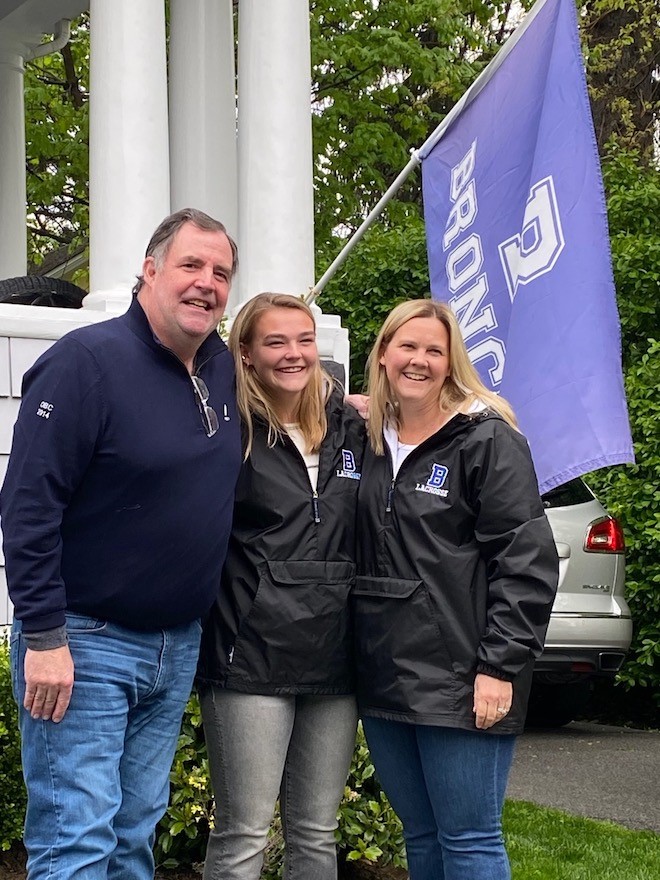 Hanna Bishop and her parents. Photo submitted by L. Mooney.
"This was the first time we had seen each other since March," said McSherry. "We all congregated on Hobart Street and got out and celebrated a little bit." The girls were careful to keep their distance as they took pictures. 
The team continues to have regular Zoom meetings.
"It's awesome," said McGrath. "It keeps our spirit alive. We are doing different workouts, keeping everyone in touch, and hoping for the best for next year."
It was the final season for the seniors, but it was not a complete loss. 
 "It is safe to say there hasn't been a season like this before," said McSherry. "Even though it wasn't a traditional season, I still learned so much from the girls. We have had a lot of bonding moments that brought us together, and the coaches taught us to persevere and stay strong." 
Go Broncos.