By S. Quinn DeJoy and J. Murrer
Jul. 8, 2020: Bronxville athletes from the Class of 2020 will continue their athletic careers at the college level. Fifteen of these Broncos have been recruited for lacrosse, squash, and track and field. Seven will be competing in soccer, crew, golf, tennis, volleyball, and baseball. 
The student athletes will be playing for both big and small universities and colleges. 
Eight Broncos will play for Division 1 programs, including Dartmouth, Harvard, San Diego State, Notre Dame, Yale, SMU, Lafayette, and USC. Thirteen will compete at Division 3 schools, including Bowdoin, Hamilton, Nazareth, Colby, Denison, Washington and Lee, Williams, NYU, Dickinson, Swarthmore, Drew, and Tufts. 
This coming fall will likely look very different for both academics and athletics on college campuses. 
Lacrosse player Nate Davis, who has committed to play at Dartmouth, just found out that all freshmen will be on campus for the first trimester but will attend class virtually from their dorm rooms. In the winter term, Davis will return home to take his classes online and is scheduled to return in the spring and hopefully start his college lacrosse season. 
Davis, who played attack for the Broncos, was named All-League, All-Section, and All-American last year and was also chosen team MVP by his coaches.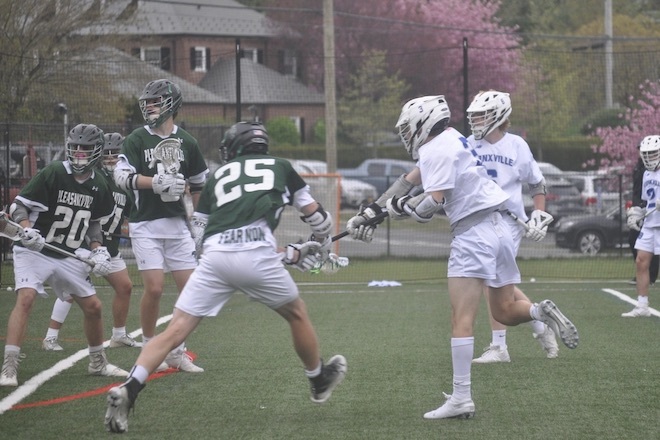 Pictured: Nate Davis (3) takes a shot against rival Pleasantville in a game last year. Photo by J. Murrer. 
"My most memorable season was my freshman year because I really enjoyed being around the upperclassmen," said Davis. "They taught me a lot of things that I carried on into the program. One thing I have always tried to do is be nice to the underclassmen because that really dictates how well the program comes together."
Davis, one of the captains of the team last year, was looking forward to the 2020 season before the pandemic hit. 
"This year was such a bummer," said Davis. "We were returning every starter and were hoping to be vying for a championship."
Five of those starters, including Davis, will continue to play in college. Tim Murray, one of Bronxville's top offensive players, will play for Hamilton College next spring.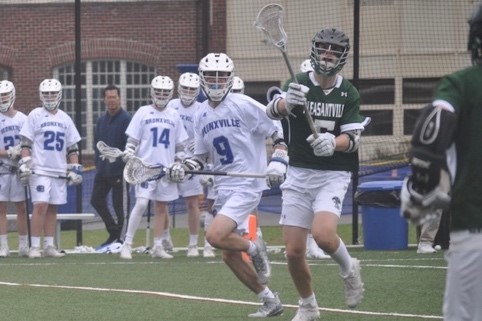 Pictured: Tim Murray (9) in the 2019 regular season win over Pleasantville. Photo by J. Murrer. 
Grey Warble, a midfielder and one of the top scorers for the Broncos, will play at Colby College, and Dylan Alberghine, also a midfielder and strong offensive player, will join the team at Nazareth College. The Bronco lacrosse team will also send top defensive player Logan Glick to Lafayette College.
The Bronxville Squash Team will send its top four players to college teams in the fall.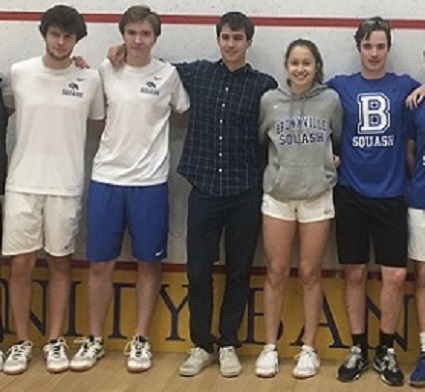 Pictured (l to r): Conner Stoltz, Harry Charlton, Justin Barr, rising junior Molly Stoltz, and Robby Cruikshank. 
Conner Stoltz, a three-time All-American who is currently ranked 6th nationally in the Boys Under 19 age group, will play for Harvard University. Harry Charlton, also a three-time All-American and currently ranked 20th nationally, will play for Tufts University. Justin Barr and Robby Cruikshank, who both played varsity all four years, will join the Bowdoin and Denison teams, respectively.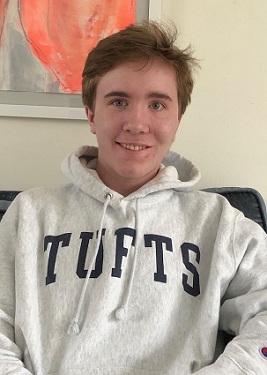 Pictured: Harry Charlton. Photo by Amy Charlton. 
All the spring athletes had their senior season canceled because of coronavirus, but, hopefully, they will be able to play in the spring of 2021. For athletes who compete in the fall and winter, their first college season may not happen or may have a very different structure. Many schools are currently trying to work out the logistics for their fall athletic programs. 
For a complete list of the class of 2020 college recruits, see below. 
Boys' lacrosse
Tim Murray, Hamilton College
Dylan Albergine, Nazareth College
Logan Glick, Lafayette College
Nate Davis, Dartmouth College
Grey Warble, Colby College
Boys' Soccer
Luke Doukas, Denison University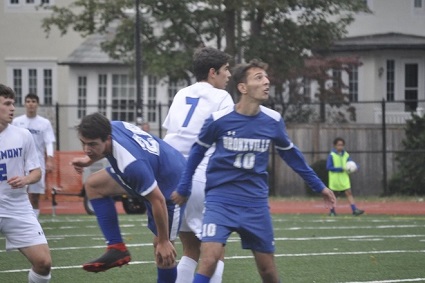 Pictured: Luke Doukas (10) playing in a game against Edgemont last fall. Photo by J. Murrer
Squash
Robbie Cruikshank, Denison University
Harry Charlton, Tufts University
Conner Stoltz, Harvard University
Justin Barr, Bowdoin College
Crew
Marguerite Scotti, University of Southern California
Gillian Maze, University of San Diego.
Girls' Lacrosse
Hanna Bishop, Washington and Lee University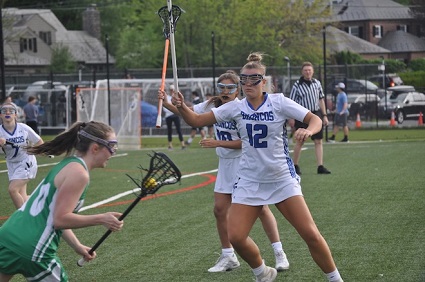 Pictured: Hanna Bishop (12) in a home game at Hayes Field last spring. Photo by J.Murrer.
Girls' Track and Field
Eve Balseiro, Notre Dame University
Alisa Kanganis, Williams College
Sabrina Mellinghoff, Yale University
Ella Stupart, New York University
Molly Palma, Dickinson College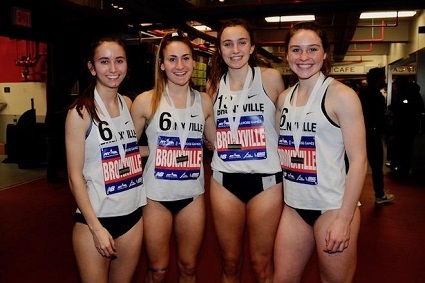 Pictured (l to r): Alisa Kanganis, Caroline Ircha, Eve Balseiro and Sabrina Mellinghoff after winning the 4x400m relay at the Millrose Games in February. Photo submitted by David Ryan. 
Baseball 
Owen Jaquette, Drew University
Tennis
Liam Krall, Southern Methodist University
Golf
Will Tormey, Hamilton College
Volleyball
Erin Kaye, Swarthmore College
Go Broncos.

Pictured at top in rotation:  Justin Barr. Photo by Lisa Smith; The bleachers at Chambers Field last spring. Photo by J. Murrer; Dylan Alberghine (22) in a games against Forham Prep last yaar. Photo by J. Murrer; Conner Stoltz. Photo by S. Stoltz.
Note: If we have forgotten anyone, please contact MyHometownBronxville at This email address is being protected from spambots. You need JavaScript enabled to view it.