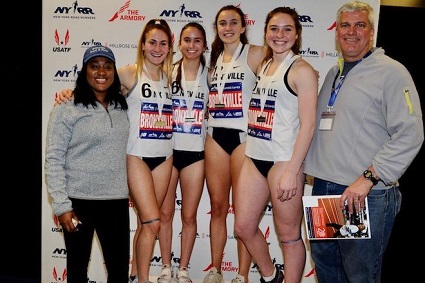 Coach Keina Samuels, Caroline Ircha, Alisa Kanganis, Eve Balseiro, Millie Koenig and Coach David Ryan. Photo by Jane Ircha.
By S. Quinn DeJoy and J. Murrer
Feb. 12, 2020: Bronxville High School's home track, The Armory, hosted the Millrose Games on Saturday, which is a nationally televised event. 
The Games, which began in 1908, feature top high school, college, amateur, and professional runners. Among those competing this year were the Bronxville girls' 4x400m and 4x800m relay teams. 
"I'd say that the atmosphere in The Armory was very exciting," said Caroline Ircha. "It was a lot different than things usually are at the Amory, and we took a lot of that momentum and adrenaline and used that to our advantage."
The momentum and excitement yielded great results. Milly Koenig, Caroline Ircha, Alisa Kanganis, and Eve Balseiro placed first in the NSAF 4x400m relay in 3:53.27, setting a new Bronxville school record. The previous record, 3:56.58, was set last year by Betsy Marshall, Caroline Brashear, Sabrina Mellinghoff, and Balseiro. 
"I had talked to some of the girls on the relay about potentially getting close to the school record," said Balseiro, "but breaking it by 3 seconds-- I hadn't even considered it."
"I think we all clicked at once," added Balseiro. "This is the first time the four of us ran together. We were on the same page, everything was smooth, and the handoff went well."
The Bronxville 4x400 is now ranked 6th in the U.S. and has qualified for the New Balance Nationals Indoor meet, which will take place at the Armory in several weeks.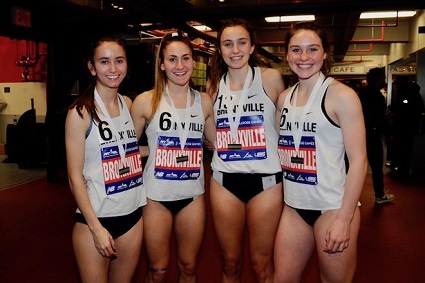 The 4x400m relay team (l to r): Alisa Kanganis, Caroline Ircha, Eve Balseiro, Milly Koenig. Photo by Jane Ircha
Click here to see a post-race interview of the team.
Balseiro, the top 400m runner in Bronxville history, anchored with a 56.53 split, and Ircha, who has the third fastest 400m time in Bronxville history, ran a 58.37. Everyone on the 4x400 ran a sub-60 split. Koenig led off with a 58.97, and Kanganis ran a 59.41 in the third spot. 
Caroline Ircha has now surpassed her older sister Kirsten on the 4x400 All-time Bronxville list. Kirsten and her teammates, Laura Holland, Caroline Kirby, and Kaitlin Ryan, held the 4x400 record from 2016-2019. 
"Kirsten is really happy for me and really supportive, especially about the Millrose win," said Caroline. "Her 4x400 came in second at Millrose, so she was happy that the family name was living on."
Bronxville was also represented in the high school girls' 4x800m relay. Betsy Marshall, Ava Black, Maddy Stupart, and Eve Balseiro ran a 9:33.89 to finish in 11th place. Ava Black ran an outstanding 2:17.35 split, which is one of the fastest run by a Bronxville athlete in recent years.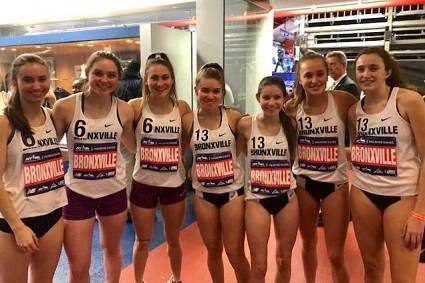 Bronxville girls at the 113th Millrose Games. Photo contributed by Jim Mitchell. 
Bronxville alum Meredith Rizzo also competed at the Millrose Games. Rizzo, who ran at Yale and Georgetown, now runs for Tracksmith in Boston. Rizzo and teammates, Amelia Keyser-Gibson, Aleta Looker, Emily Bryson, won the DMR in 11:36.04. 
Members of the Rizzo family are no strangers to the Millrose Games. Meredith ran the 4x800m relay for all four years in high school. In 2013, Meredith, along with her sister Hilary and teammates Courtney Campbell and Kaitlin Ryan, placed 3rd in the 4x800, and at the Millrose Games last year, Meredith's younger brothers, Matt and Alex ran the mile, placing 1st and 6th, respectively. 
The Bronxville girls will head to the State Qualifiers on February 23rd, the New York State Meet is on March 7th, and the New Balance Nationals Indoor Meet will take place from March 13th-15th. 
Balseiro has been to Nationals in the 4x400 twice before and would love to repeat the 4x400's record-breaking performance. The top six teams at Nationals will earn All-American honors. 
Go Broncos.