By S. Quinn DeJoy and J. Murrer
Sep. 30, 2020: The Bronco teams were out practicing yesterday as Section 1 gave the go-ahead for the high school athletic season to commence. Boys' and girls' soccer were sharing Chambers Field, and the field hockey team was running drills on Hayes. Girls' and boys' cross country and girls' tennis were also back in action. Football, which is considered a high-risk sport, will play in Fall Season II in March, but yesterday the players were out conditioning at Scout Field.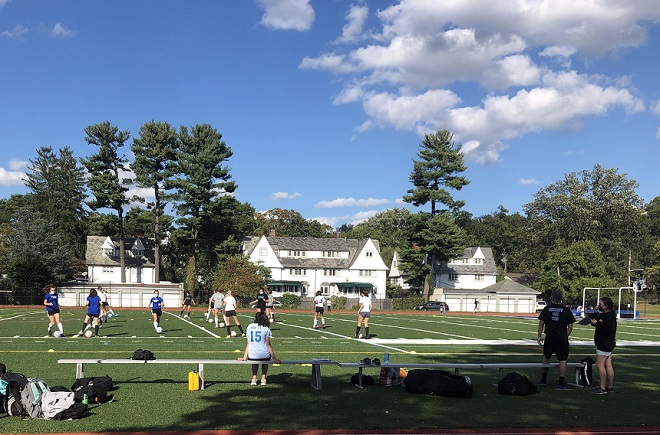 Girls soccer practice
"We are all excited to be back on the field for the season," said Jacquelyn Frawley, long-time field hockey coach. "Everyone is eager to hit the field, masks and all, and finally be together again to do what we all love most- Play Hockey!"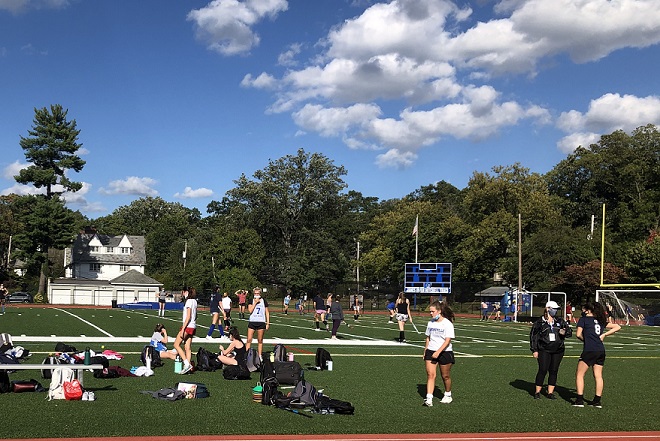 Field hockey practice 
There will be COVID restrictions in place, such as disinfection of all equipment, masks, social distancing including on the bench, and limits on the number of spectators.
"The restrictions will present some issues with the away games on the bus, and the biggest issue is probably the use of masks during the contest, which is non-negotiable," said girls' soccer coach Don Cupertino. "This will create a problem for some, but hopefully it will also help prevent spread of the infection."
The teams will have a little over a week of practice before the games begin on October 10th. Instead of the normal 16 games, the maximum amount will be twelve. Section 1 has yet to determine if there will be a sectional tournament.
"We do have twelve games set for the varsity team through mid-November, and there are hopes of a Sectional Tournament to end the season," said Frawley. "Sadly, there will be no regional or state tournament this year."
The cancellation of the state tournament is especially disheartening for the field hockey team who won the Class C State Championship last fall.
Lots of Bronco traditions will be on hold this year. A big part of Bronco team unity has historically been team dinners, which obviously, given the current conditions, will not be possible.
"The players and coaches are excited to get back out on the field and play soccer," said boys' soccer coach Donny Lucas, "but they also know it will not be the same as past years."
The boys' soccer team won the 2019 Class B Sectional Championship and returns 15 players this season. If Section 1 decides to hold a sectional tournament in November, it would be a great opportunity for the Broncos.
"The season definitely will be challenging," said Cupertino, "but certainly better than not playing at all."
Go Broncos.

Photo by S. Dejoy