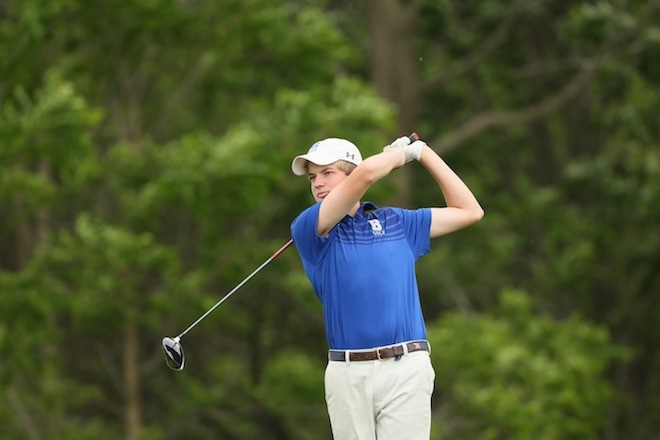 Will Tormey at the New York State Championships in 2018. Photo submitted by Will Tormey.
By S. Quinn DeJoy and J. Murrer
Apr. 29, 2020: Bronxville senior Will Tormey joined the Bronxville varsity golf team in eighth-grade and immediately became part of the starting line-up. 
"It was an awesome first year experience," said Tormey. "We were undefeated, and it was great to have such serious golfers ahead of me. I played in the 6th position behind Connor Daly, who now plays for Villanova, Chris Gay, Liam Bishop, and Matt and Dan Bettino." 
Tormey, who has been captain of the team for the past two years, has been a steady player in the team's rotation. As a sophomore, he placed fourth at the Section 1 Championships and was one of eleven players in Section 1 to qualify for states. At the State Championships, Tormey placed 21st. 
Last year, he played the number one spot in every match and helped lead the Broncos to the team sectional finals for the fourth consecutive year. Last season, he also competed in the individual tournament, but it was not the finish he hoped for.   
"If it wasn't for an illness during the second round of the individual tournament last year, I am confident Will would have been back at Cornell for the State Tournament," noted Coach Chris Lockwood. 
Tormey has received All-League recognition for four years and was named All-Section for the past two years. He was Rookie of the Year in eighth-grade and the team MVP last season.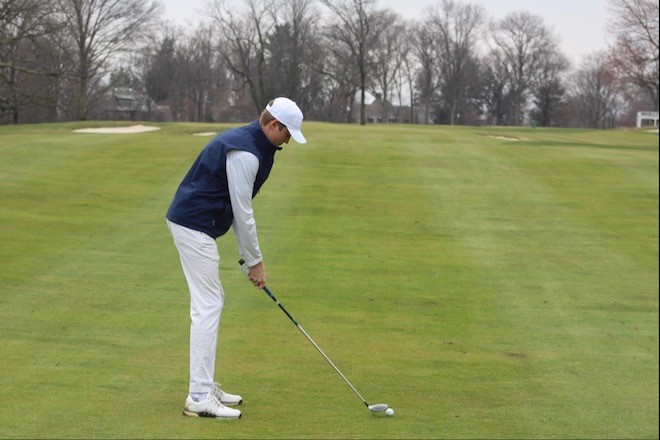 Tormey practicing at Siwanoy this spring. Photo submitted by Will Tormey. 
"He has been a true leader and mentor to our younger golfers through his dedication and work ethic," said Coach Lockwood. "Will is bringing his talent to Hamilton in the fall, where I expect him to make an immediate positive impact on that team."
Tormey focused on golf for all of his high school years, but this past winter, he decided to give basketball a try. 
"I committed last summer to golf at Hamilton," said Tormey, "but I have always loved basketball, and I thought it would be a good way to stay in shape over the winter. It was a great experience playing under Coach Russo." 
Hopefully, the basketball season won't be his last season as a Bronco. 
On Monday, NYSPHSAA canceled the state championships, but there is still some hope for an abbreviated regular season. For Tormey and fellow senior golfers Connor Stoltz, Robbie Cruikshank, and Dan Casperson, it would be a great way to finish up senior year.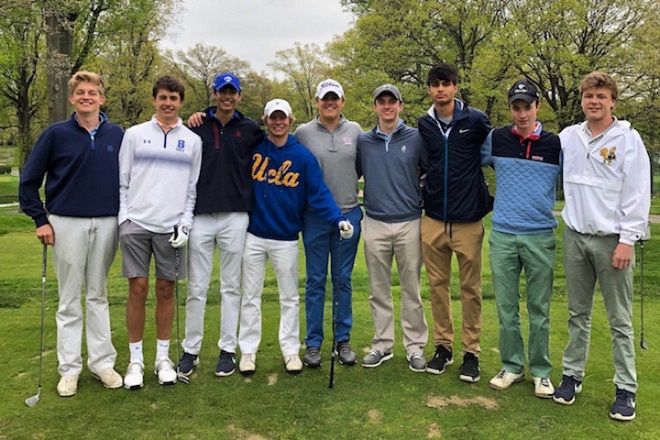 The 2019 golf team (o to r): Will Tormey, Connor Stoltz, Willy Swenson, Earl Gretzinger, Jay Coyne, Charlie Preusse, J.P. Swenson, Robbie Cruikshank, and Quinn Daly. 
In the meantime, Coach Lockwood is holding Zoom meetings once a week, and since Governor Cuomo allowed golf courses to reopen last week, Tormey is able to get out on the course with his Dad. 
"Coach Lockwood has been the best coach I could ask for," said Tormey. "Starting as an 8th grader, he made sure that my transition to a high school team was as seamless as possible, and I can't thank him enough. It was an awesome experience to play for him for five years."