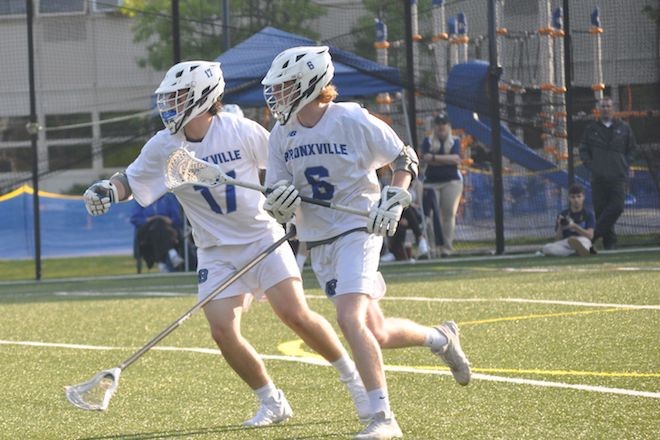 Grey Warble (6) and teammate Kyle Glick (17) in a game last spring on Hayes Field. Photo by J. Murrer
By S. Quinn DeJoy and J. Murrer
Apr. 22, 2020: With the spring lacrosse season on hold until at least the end of April, the Bronxville boys' lacrosse team is dealing with much uncertainty. For the seniors, many of whom have played together since kindergarten, it would be great to get out on the field even if it were only for a couple of games.
"It's a bummer," said senior Grey Warble. "All of my friends and I are trying to remain positive. Even though it's tough, there are people out there who are way worse off than we are. We just have to remember that."
Warble, who has been a member of the varsity lacrosse team since his freshman year, plays midfield and was a captain last year. He received All-League recognition during his sophomore and junior years.
As a key offensive player, he scored 27 goals and had 12 assists last season. Other top scorers on the team from the 2019 season include this year's seniors Nate Davis (37G/29A), Teddy Donohue (22G/9A), Tim Murray (16G/12A) and Luke Doukas (13G/19A).
The lacrosse team competes in Class D and played a challenging schedule last year, finishing the season 11-6. Section 1 lacrosse is always top in the state. In Class D, Bronxville competes against Pleasantville, Westlake, and Briarcliff, all of whom have made it to the state championships in the last three years. Westlake and Briarcliff made it to the state finals in 2017 and 2019, respectively, and Pleasantville won states in 2018.
Last year, Bronxville beat Pleasantville 13-11 during the regular season but lost to them in the sectional semifinals 11-10 in overtime.
There are fourteen seniors on the team, and most of them have played together for many years.
"A lot of us started in kindergarten," said Warble. "It is a group of kids with good chemistry, and we have played together for a long time."
Warble and many of the lacrosse seniors also played varsity football. As a two-year starter at wide receiver and outside linebacker, Warble was recognized with All-Section honors his senior year and also received the Vito Priore award from his coaches. He was a captain of the team along with lacrosse teammates senior Colin Dempsey and junior Henry Donohue.
While Warble started lacrosse at a young age, it wasn't until high school that he decided to try out football.
"I always enjoyed watching football, and all my friends and I decided to play JV. We just all enjoyed it together."
Warble and lacrosse teammates, Teddy Donohue, Charlie Knox, Charlie Ambrose, Will Flanagan, Dylan Alberghine, PJ Krestiniski, Colin Dempsey, and Jack Matthews, played varsity football last fall, finishing the season with a 4-4 record.
"It is kind of a special group," said Warble. "We were always just playing together at something and always had a lot of fun with it."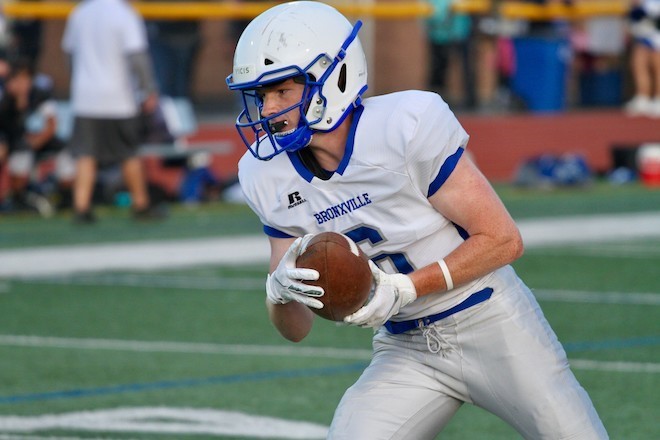 Grey Warble in the game against Putnam Valley last fall. Photo Joe Villanueva. 
Last week NYSPHSAA announced they would decide the fate of the state championships on April 27th, but the start of the regular season is contingent on school reopening.
Warble will be continuing his lacrosse career at Colby College in Maine. Much uncertainty exists about the fall, and according to www.newscentermaine.com,
Colby is preparing a variety of scenarios, including pushing back the start of classes if necessary. 
Warble is hopeful that college will start as planned.