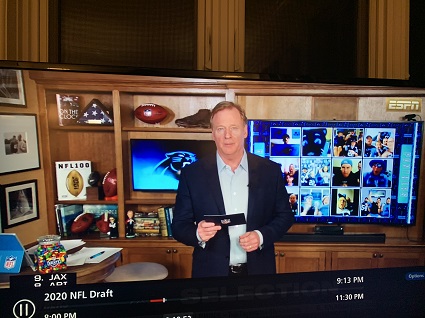 Apr. 29, 2020: If you were on a walk through the neighborhoods in Bronxville late last week, you might have seen a rather large satellite dish on the top of a big truck in the driveway of a local home - - an unusual site in Bronxville.
The reason? The satellite was needed to broadcast the first-ever virtual NFL Draft.
Due to coronavirus COVID-19, the 2020 NFL Draft was moved from a live event in Las Vegas to a virtual event, centered in of all places, Bronxville, New York. Specifically, the Draft picks were broadcast from the basement of the home of Bronxville graduate and NFL Commissioner, Roger Goodell.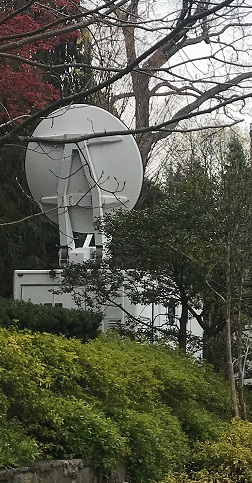 The NFL Draft began on Thursday, April 23, at 8 pm and finished on April 25. It was broadcast simultaneously on ABC, ESPN, NFL Network, ESPN Deportes, and digital channels. There were remote set-ups in the homes of the Commissioner and the 60 players and 32 teams involved in the Draft. 
The broadcast began with Roger Goodell in the basement of his home. Goodell thanked healthcare workers, "Thanks to these heroes, we will get through this together," he said. He also encouraged fans to visit NFL.com/relief to make a contribution to support COVID-19 relief. Finally, he asked everyone to observe a moment of silence to honor "those we have lost." 
Harry Connick Jr. performed the National Anthem, and Dr. Anthony Fauci commended the NFL for doing a virtual draft. 
The Draft then got underway. Each team picked their player. Goodell announced each pick, and the player was told by phone and shown celebrating with his family. Throughout the presentation, ESPN provided extensive background on each player, along with lively footage, graphics, and commentary.
The event was an unqualified success in terms of ratings. According to SI.com, the virtual draft "had a record-setting night on Thursday, when an average audience of 15.6 million viewers watched the first round of the draft." This was up 37% from 2019. Viewership of Day 2 was up 40% from the previous year and viewership of Day 3 was up 32% over 2019.
The event was also a huge success in terms of fund-raising. At the conclusion of the Draft, Goodell announced that "thanks to your generous contributions and those of the NFL family, more than $100 million has been raised for COVID-19 relief." 
The whole event was a little glimmer of hope of an eventual return to "normal" in a world of uncertainty today. 
Congrats to Commissioner Goodell and the NFL for a successful and exciting NFL Draft.
And it was fun to have Bronxville be part, albeit a very small part, of the excitement.
Photos by Warner and Murrer