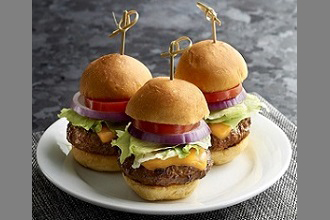 By Karen Talbot

Apr. 3, 2019:  "Bar bites," served during "power hour" in the bar area of Morton's: The Steakhouse in the City Center in White Plains, are a less expensive alternative to dining on steak entrees. Power Hour is Monday to Friday from 4:30 to 7:00 pm and 9:00 pm to close and Sunday from 5:00 pm to close. 
The bar dining area, which is all black with some dark gray accents, has seating at the bar or at high-boy tables and chairs. There are three televisions, dim lighting, and a floor-to-ceiling window that looks out onto Mamaroneck Avenue. Parking is available in a large municipal parking garage behind City Center. You can also pay $10 for valet parking, which is quite desirable.
The "bar bites" are offered in $8, $9 or $10 categories; the same items are also available in a larger size at a higher price in the main dining room. Every table is brought a large warm loaf of onion bread, served with soft unsalted butter.
We started with the iceberg wedge bites at $8 with blue cheese, bacon, and tomato served three on a plate, which is great for sharing. On the regular menu, a larger portion would have cost $11.50. Next came mini crab cake BLTs served in threes from the $10.00 category (larger crab cakes are $18 on the regular menu). We followed up with the very popular filet mignon trio, served rare with three tasty toppings, blue cheese, bourbon peppercorn, and béarnaise ($17 for a larger portion on the regular menu). A must-have to go with these delicious bites is an order of the matchstick fries for $8.00, offered in a cone-shaped metal container loaded with warm fries and enough for three people. Parmesan truffle matchstick fries are also available.
During the "bar bites" hours, wine by the glass is considerably less. We had an excellent Cabernet Sauvignon and a Chardonnay from California, all priced at just $8.50 a glass. During regular dining hours, these wines by the glass would have cost $13.00 each. By the way, the wine was served in very generous portions. Certain cocktails and beers are also offered at reduced prices. Sean Radlein, the general manager and sommelier, was very personable and attentive, and the service was quite good.
There also is a category called "extra bites," which features Morton's prime burger for $25.00 and a 9 oz. prime ribeye steak sandwich for $32.00. You can also get oysters on the half shell at $3.00 each and jumbo shrimp cocktail at $6.00 each.
So, if you are looking for good food featuring steak at a good price, you can't beat this deal!
Pictured:  "Bar bites" cheeseburgers.
Photo courtesy Morton's