By Karen Talbot
Oct. 4, 2023: Have you had a chance to stop into Bacione Pasta Shop in Bronxville? The excellent pasta shop on 4 B Cedar Street in Bronxville opened in 2023 and is owned by Peter Diana, who also owns Il Bacio in Bronxville. The store is managed by Sabrina Reci. The phone number is 914-485-7225.
The store offers fresh pasta and sauces using high-quality ingredients to create delicious pasta dishes loaded with flavor. In Italy, each region has its signature pasta dish, and Bacione (which means "The Big Kiss") brings the cuisine of Italy to our village.
The concept is to order from eight different kinds of fresh pasta for $7.95 to $8.95 a pound and then choose your sauce from eight recipes from Peter's mother to complete your meal. Or you can order fresh-cut pasta and your sauce of choice in a 48 oz container for $12. Ready-made Gnocchi is $11.95 and Cheese Ravioli is $14.95.
There are Extras to add, including deboned chicken breast, mini meatballs, sweet sausage, mozzarella, burrata, ricotta, and broccoli to complete your special dish. At lunch, the school children can get the Kid's Special of pasta with either butter or tomato sauce for $6.00.
Bacione also sells loaves of Italian and focaccia bread and freshly prepared containers of homemade lasagna, vegetarian lasagna, sausage ragu, and meat dishes to take home. Dessert offerings are tiramisu, flan, and panna cotta. Drinks include a variety of Italian sodas.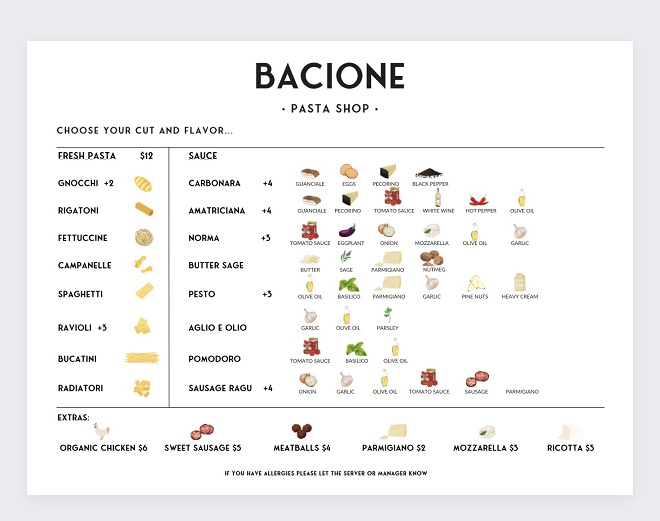 The kitchen is open, so you can watch the cooks make the pasta, sauces, and desserts, and there are a few tables and chairs if you want to eat there.
Weekly Specials are listed outside in front of the store, and these might include Rigatoni with broccoli rabe, sausage, cherry peppers, garlic, and olive oil or Chicken Martini with parmesan-crusted chicken with fettuccine in a lemon sauce to serve two people for $17.
Bacione is open daily from 11 a.m. to 8 pm, and Delivery is available from Grubhub, DoorDash and Uber. Online Ordering will be available soon.