Jun. 28, 2020:  This summer, you can enjoy a delicious meal at one of your favorite local spots!  See below for more information about eight great local restaurants with outdoor dining.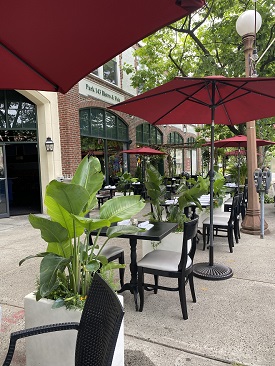 Park 143 Bistro & Fish is now offering outside dining. They have 16 tables outside that can accommodate 2 to 4 people each.
Please click here to go to their website, where you can view their menu. To make a reservation, call 914-337-5100. They continue to offer curbside pickup.
They've made some changes to how they do things because their goal is to keep their guests and staff safe and comfortable. That is their #1 priority. They are strictly following CDC, OSHA, and Health Department guidelines to ensure that your dining experience is enjoyable and unforgettable.
They thank you for your loyal support and for helping them reopen.
They are proud to support the essential workers at NYP-Lawrence Hospital. Wayne Chessler, the owner, delivered 25 orders of breakfast to the nurses this week.
65 Pondfield Road, Bronxville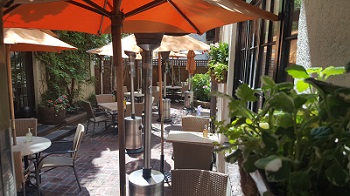 Scalini Osteria serves progressive, regional cuisine under the direction of owner Angelo Di Rosa of Italy.  They have a new Summer menu, which is guaranteed to "Please Your Palate."
They can seat 30 in their lovely outdoor dining space, which has been extended. They can also seat 30 inside in tables and banquettes all spaced six feet apart.
All of their waiters wear masks and gloves, and every table has hand sanitizer on it. They use disposable paper menus.
Scalini also offers takeout of food and drinks to be picked up curbside.
They require reservations by phone only, and customers must stay outside and call us to see if their table is ready.
219 Main Street, Eastchester
Jack's can seat 34 people outside and 64 in their spacious inside restaurant. Right now, there is no seating at the bar.
Tredici Social serves classic Italian dishes with a creative spin, including homemade pastas, fresh seafood, and fine steaks.
Their new outdoor dining space has been very well received. They can serve 24 to 30 people under the tent and 6 to 10 people on the sidewalk. They have a new summer menu that includes new items for kids. They also serve refreshing summer cocktails along with Red, White, and Rose Sangria.
Michael Colucci, the owner, wants to thank Mayor Mary Marvin, Village Administrator Jim Palmer, and the Bronxville DPW for making it happen in a timely fashion. He has noticed a new revitalization all over town.
Tredici Social will offer inside dining at 50% capacity, which will accommodate 24 to 30 people. People can sit at the bar, but they must be 6 feet apart from each other. There will also be cocktail tables in the bar area, spaced apart correctly.
All of the waitstaff wear masks and gloves, and the restaurant uses disposable paper menus. Patrons can remove masks after they are seated.
Takeout is available for pickup or delivery from Grub Hub, Door Dash, or Uber Eats.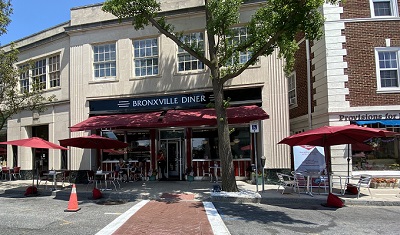 They now have outdoor seating with all tables spaced six feet apart. They adhere to all social distancing rules and sanitizing procedures to ensure their customers have a safe dining experience.
Inside, they are serving at every other booth and have four tables in the middle for two people, all spaced six feet apart.
Their waiters wear masks, and upon entering, diners must wear masks that they can remove after they order.
The Bronxville Diner, along with some other restaurants, delivered 250 takeout orders of food daily for one week to Lawrence Hospital workers, at a special discount price.
They will continue their popular Takeout Menu, which can be ordered through Uber Eats, Door Dash, or Grub Hub and can be picked up curbside.
116 Pondfield Road, Bronxville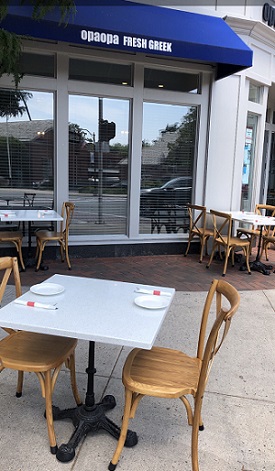 Opa Opa
 serves delicious fresh Greek food.
"I am very excited that I am allowed to have patrons dine outside," says Frank Berisha, the owner of Opa Opa Fresh Greek. Opa Opa can serve up to 16 people outside. They can serve 26 to 28 people inside.
The tables are spaced apart, and the wait staff is all wearing masks and gloves. Customers can ask for glass or plastic glasses, and the menus are sanitized after each use. The granite top tables and chairs are also sanitized after each use.
Takeout is also available. Clients can order by phone and pick up their orders or have them delivered by Uber Eats, Door Dash, Grubhub, or Chow Now.
2 Chase Road in Scarsdale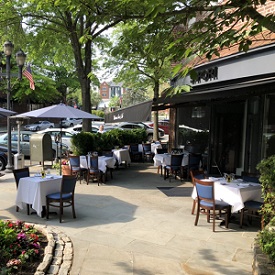 Sapori of Scarsdale
, owned by Sammy and Kenny Balidemaj, Eddie Vucetaj, and Artie Lange, serves delicious Mediterranean food, including striped bass Ceviche, herb seared tuna, Moroccan meatball, soups, and salads.
The restaurant offers outdoor dining, and the tables are set up 6 feet apart for safety.
All the staff is wearing masks and gloves, and they are using disposable paper menus. They also use a bar code device that enables the menu to pop up on your phone.
All guests must wear masks coming in the restaurant or leaving. They can take masks off when seated.
It is open every day. Diners must call for reservations.
Note: This content is sponsored by the participating companies