By Karen Talbot
You can create a very special Thanksgiving and support your local stores as well.  Here are four outstanding local stores that can help make your Thanksgiving extra special this year.
MINI'S PRIME MEAT AND SPECIALTIES
15 Park Place in Bronxville. 914-779-1948 www.minisprimemeats.com
Mini's has an extensive Thanksgiving menu shown below.
Appetizers & Hors D'oeuvres
Sea Scallop wrapped with Bacon
Pigs in a Blanket
Filet Mignon wrapped with Bacon
Stilton with Cranberries
Mushroom Truffle Risotto
Four Cheese/Roasted Garlic Puffs
Smoked Swiss & Bacon Tartlet
Spanakopita
Seafood Selection
Jumbo Cooked Shrimp for Cocktail per your order (Lemon & Horseradish Cocktail Sauce)
Stuffed Clams
Peeled Jumbo Shrimp w/tail (Raw)
Fresh or Canned Jumbo Crab Meat
Live Lobster Any Weight (orders only, mkt price)
Lobster Tails 9oz. (mkt price)
Storemade Side Dishes
Please order by Monday, November 21st, 2022
Turkey Gravy (available in quart size)
Stuffed Mushrooms with Seasoned Bread Crumb or Stuffing (with or without meat).
Seafood Stuffed Mushrooms (mkt price)
Macaroni & Cheese (quarter tray only)
Italian Bread Stuffing (half/full tray)
Italian Sausage Stuffing (half/full tray)
Italian Sausage Stuffing with Cranberries (half/full tray)
Main Course
Pennsylvania Fresh Free Range
Grade A Bell & EvansTM Turkeys
All Natural, No Growth Hormones, Fed All Vegetarian Diet,
No Animal by Products, Raised without Antibiotics, and Traceable by Farm.
(10-22 lb. Turkeys Available)
Turkeys & Boneless Breast can also be made oven ready and seasoned for an additional charge.
Other Meat Specialties Available including:
Filet Mignon tied for Roast
Prime First Cut Standing Rib Roast
Spiral Ham
Boneless Turkey Breast
Give Thanks. Get Love. Ladle of Love stands for honest food, community support, and a caring work family.  As the first locally sourced, prepared food brand in Westchester, Ladle of Love has nourished neighborhoods, businesses, food insecure and frontliners for 19 years.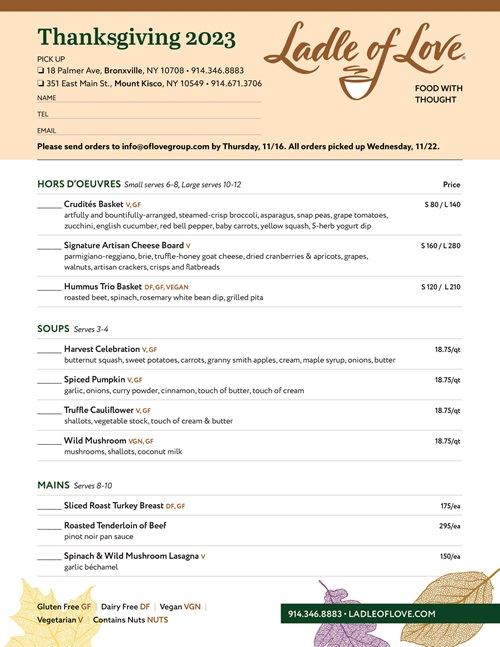 We are grateful for all of you!
94 Pondfield Road in Bronxville. 914-337-3354.
Lange's offers all of your homemade traditional Thanksgiving favorites including Thanksgiving Sides, Specialty Soups, Homemade Gravy and Desserts
View Lange's Thanksgiving Menu below. Call or stop in to order! 914-337-3354.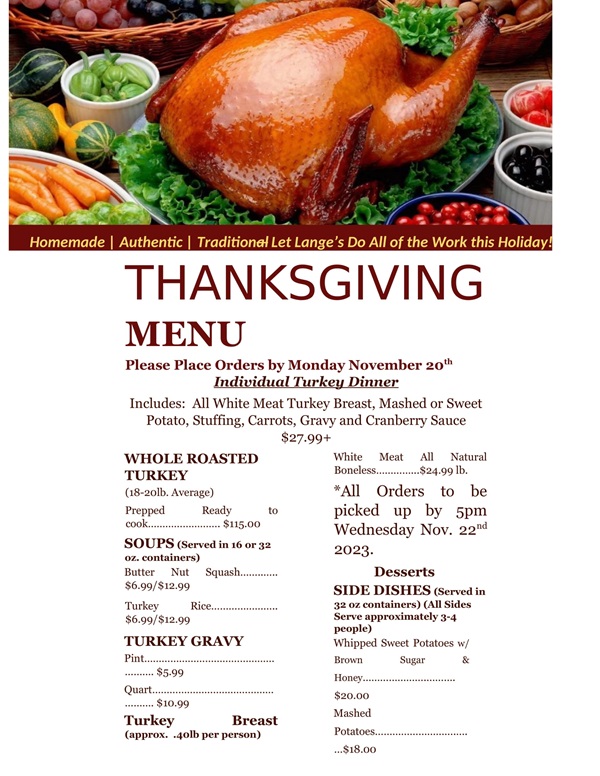 19 Park Place in Bronxville 914-337-1908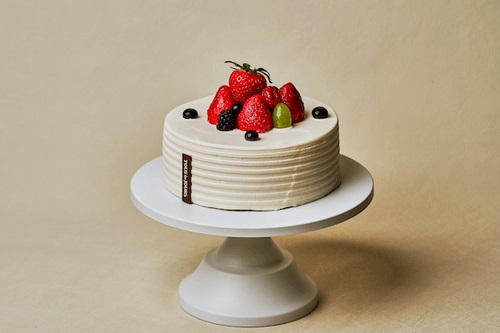 Come and visit the new bakery in Bronxville for freshly baked goodies which include breads, pastries, decadent cakes, cookies, and sandwiches.
For Thanksgiving you can choose from Cloud Cakes (Fresh Cream Cakes); Apple Pie Cake with Pecans; Pumpkin Spice Cake; Lavender Lemon Cake; Paro Mousse Cake and Flavored Pecan Tartlets.
They are Open Sun. through Thurs. from 7am to 8pm and Fri. and Sat. from 7am to 9pm.
Note: this content is sponsored by the participating companies