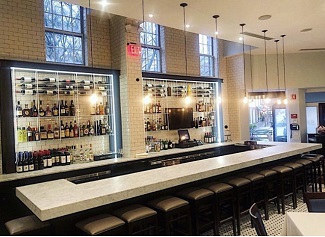 By Karen Talbot     

Feb. 27, 2019:  Artie Lange III is the fourth generation of Arthur Lange, Inc., a well-known and well-liked contracting company in our local area that was started by his great-grandfather 109 years ago. 
Artie Lange III started in the business with his father, Arthur Lange Jr., in 1988, and in 2004 his father retired and he took over the company. 
This is and has been a total family affair. Artie Lange III's 19-year-old son, AJ, who is in college, comes and works for his father in the summer. His oldest daughter, Alexis, is the office manager and design consultant.
Alexis was instrumental in designing the interior of Artie's new restaurant, Sapori of Scarsdale, which Artie totally renovated.
The restaurant is beautiful with high ceilings and white walls adorned with attractive paintings, a dark wood floor, and lots of small high hats giving off just enough light to make for a romantic and elegant evening. The tables are nicely spaced and there is a large, comfortable bar to the right as you enter the restaurant.
Artie, a true "foodie," is one of three other partners who own this new dining venue, and Sapori, which means "flavors" in Italian, serves delicious Mediterranean fare. 
Chef Ibrahim makes interesting and unique food combinations. 
For appetizers, we had the charcuterie board with spicy coppa, speck, duck prosciutto, soppressata, and prosciutto de Parma. We also had two salads, toasted farro and heirloom beet trio, consisting of red vein sorrel, popcorn shoot, goat cheese, and favas in a balsamic reduction (the presentation was noteworthy), and endive and apple salad, with baby greens, pear, Roquefort, walnuts, and white truffle in a lemon vinaigrette.
We opted for two pasta dishes, and they were both winners:  burrata ravioli in an heirloom tomato sauce, fresh basil, and Parmigiano Reggiano and artisanal seafood pasta with manila clams, shrimp, fish, roasted shellfish, broth, and garlic crumbs. This dish comes with calamari, which I do not care for, and they kindly served it without. 
From main courses, I highly recommend the Cabernet braised short rib with homemade potato gnocchi parmesan.
The service is spot-on, and the general manager, Sammy Balidemaj, whom Artie has known for twenty-five years and who is one of the partners, will take good care of you. 
Our wines by the glass were a Chardonnay Montes from Chile and a Federalist Cabernet Sauvignon. The wines were nice and were served in generous portions.
For dessert, we had a yummy coconut crème brûlée.
Sapori of Scarsdale is open seven days a week for lunch and dinner and is located at 2 Chase Road in Scarsdale.
Photo courtesy of Artie Lange