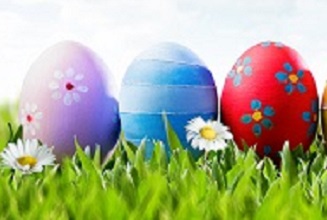 Apr. 10, 2019:  Easter is around the corner.  Below is information about great local places to dine, purchase Easter dinner and get photos with the Easter Bunny!  Enjoy!
Enjoy An Elegant Easter Dinner at
Sapori of Scarsdale
The restaurant will be open from 2:00pm to 9:00pm offering traditional Easter specials such as Lamb Osso Buco and Roasted Lamb with Spring vegetables. 
Their regular menu will also be available and they always have a special of the day in the fish, chicken and meat category.
Reservations are highly recommended.  Call 914-874-5316
Enjoy a Delicious Easter Meal 
at Scalini Osteria
Scalini Osteria is a lovely spot for a traditional Italian Easter dinner. They will be serving Brunch on Easter from 11:30am to 2:00pm, featuring Chef's Frittata, Smoked SalmonBenedict and Stuffed Crepes, along with a number of other tasty choices.
For Main Courses, you can choose from a Roman-style Lamb Abbacchio, which is shoulder of lamb with fresh rosemary, garlic and Chianti wine, which yields tender morsels of lamb full of flavor.  A special Pasta that day will be home-made Pasta alla chitarra, con sugo di carne. 
Scalini's regular menu is also available to order from on Easter.  The Dinner menu choices will be served from 2:00 to 9:00pm.
Desserts will include Pastiera, which is a traditional Italian Easter Neapolitan Cake and Limoncello Tiramisu.
Scalini also has a Happy Hour from 4:00 to 6:00pm Monday through Friday and on Easter they will have some special drinks such as: Raspicello (Belvedere, raspberry, limoncello, prosecco and basil) and Mezcal Negroni (Mezcal, sweet vermouth, campari and mole bitters).
For Reservations, please call 914-337-4935.
Palm Sunday and Easter Sunday 
Brunch, Lunch and Dinner at Underhills Crossing
Spring has sprung! Bronxville's lush florals are in bloom and Underhills Crossing Restaurant is ready to hop into the flavors and warmth of this lush season.  Our front doors are open, al fresco dining has begun, welcoming you to the aromas of our Executive Chef's lighter fare. What a great time of year to enjoy reconnecting with family and friends during sunny days and balmy nights!
Reservations are now being accepted for Palm Sunday brunch and Easter Sunday brunch, lunch and dinner.  
We will offer our regular brunch, lunch and dinner menus, along with"Chef Additions" showcasing seasonal delicacies and flavors. A three-course, prix-fixe Easter Sunday menu will, also, be offered throughout the day.
Underhills Crossing Restaurant looks forward to celebrating these holidays and special occasions with you! We are happy to cater your special event in our house or yours.
Enjoy Easter with family and friends without being tied to your kitchen.  Let Ladle of Love do the cooking for you.  
Hors D'Oeuvres, Crudities and Cheese
*Signature Artisan Cheese Board
*Gourmet Soups:  No Cream of Asparagus, Potato Leek and Truffle Parsnip.
Main Courses
*Beer-Braised Lamb Shanks with snap peas, carrots and turnips
*Honey -Dijon Glazed Ham and Slow-Roasted Lemon-Rosemary Chicken
Greens, Salad and Sides
*Spring Greens and Kale, Arugula and Endive Salad 
*Potatoes au Gratin, Roasted Asparagus, Toasted Farro & Green Beans, Honey-Orange Glazed Root Vegetables and Spring Pea & Pancetta Risotto.  
Many of these Easter specialties are gluten-free and vegan.
Ladle of Love will make your Easter dinner a meal to remember with presentation, creativity and delicious flavors.
Please call 914-346-8883 or email

This email address is being protected from spambots. You need JavaScript enabled to view it.

for inquiries or to place your order by Friday April 12 th 

Complimentary local delivery is available.
Easter Bunny Photos
The Easter Bunny is here for photos and visits!
Round up the family, put on your best, flash a smile and we'll take care of the rest.
NOW THROUGH APRIL 20, 2019
AT CROSS COUNTY SHOPPING CENTER