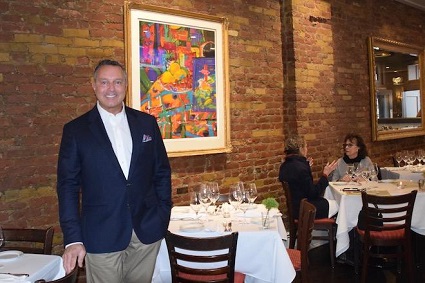 By Karen Talbot
Jan. 15, 2020:  Steven Palm, the masterful, engaging, and successful owner of Underhills Crossing Restaurant, will be celebrating twenty-five years in business on Jan. 21st.
He started on this culinary path when he was fifteen, stocking the bar at Leewood Golf Club. At twenty, he was a busboy at Alex and Henry's, where he worked his way up to captain. Then he worked at Rockwell's in Tuckahoe for four years, where he learned management and technology, before opening Underhills Crossing in 1995 at age twenty-seven. 
In the 1800s, Bronxville was named Underhill's Crossing, after the Underhills, who were amongst the first families to settle here. The first post office was located where the restaurant stands now.
Steven incorporated simple food that he liked to eat from one of his favorite restaurants in New York, Blue Ribbon. He listened to his clientele about what they liked in the way of food and wine.
Today the restaurant is more French and American with a hint of Mediterranean influence. The restaurant serves fresh food every day and offers a lot of seafood. He explains that as far as food trends go, a healthier and cleaner approach is followed, with 85% of the food being organic and wild.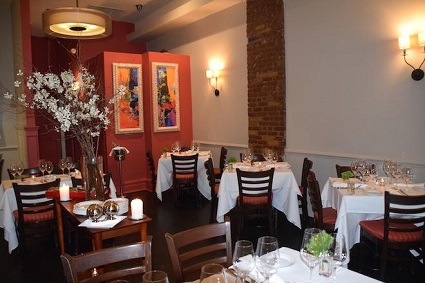 The menu changes seasonally, and every Thursday, two new appetizers, main courses, and desserts are added, for both lunch and dinner. 
He believes that music is an important part of the overall dining experience, so for the 20th Anniversary, he launched live piano music. He brings in local artists, like Rick McDonald, who plays Thursday, Friday and Saturday and Katya, who highlights special programs on Sundays.
Steven has always been a supporter of local community organizations and their causes, and he never says no to anyone asking for a donation. In May of 2018, he was honored with the J. Rockhill Gray Award from Gramatan Village, for his "generosity and willingness to dedicate his time, expertise and resources to so many, providing extraordinary service to our community."
The restaurant continues to win the Open Table Diners Choice award in Westchester. Twenty years ago, he helped to start "Better Than Cooking, "an evening to benefit Jansen Hospice & Palliative Care. Outsiders have told him that Underhills Crossing has always set the platform for new businesses to open in the village.
His loyal employees include Richard Binet, Manager of the Wine and Spirits program for the past twenty years; his Chef, Pedro Salazar, who has been there for twenty years; and Eden Villalva, General Manager for ten years.
There will be celebrations at the restaurant from Jan. 21st to the 24th, and at dinner, a glass of Laurent Perrier champagne and some caviar will be gifted to friends and family to thank them for their support for the past twenty-five years.
Steven Palm has previously owned Harry's of Hartsdale and Jason's in Eastchester. He and his wife Jenny reside in Bronxville with their five-and-a half-year-old twin daughters, Ava and Audrey. He is a hands-on person, and you can find him at the restaurant six days a week.
Underhills Crossing is located at 74.5 Pondfield Road in Bronxville.

Pictured at top:  Steven Palm
Photos by A. Warner