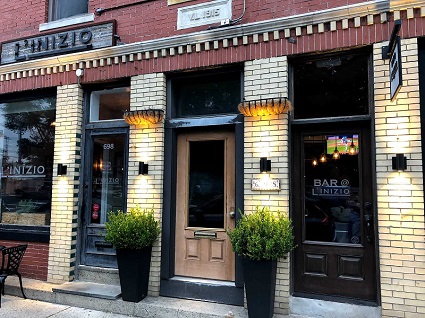 By Karen Talbot
Jan. 8, 2020:  L'Inizio, in Ardsley, Is a Gem of an Italian Restaurant
The restaurant is owned and operated by a husband and wife team. Scott (Chef) and Heather (Dessert Maven) Fratangelo turn out innovative dishes with a "philosophy rooted in sustainable, artisanal farm to table ingredients." 
The restaurant is cozy and inviting with subtle gray walls, nice lighting, and interesting oil paintings of fruits and vegetables. It is also an easy drive from Bronxville.
Start your dining experience with Barrel Aged Cocktails ($15) of Bourbon, Tequila, and Gin, which has been aged in American charred oak barrels for two weeks. 
There are five other cocktails to choose from, and also red or white wine by the glass priced from $9 to $13.
We began our dinner from the Per Tavolo section of the menu, which means "to share" in Italian. We thoroughly enjoyed the special Crostini of ricotta, crispy pancetta, mushrooms, and roasted peppers. 
The next category on the menu was Primi, which included creative salads such as Warm Winter Squash Salad of brie cheese, cranberry, pepitas, and balsamic.
We tried three of Chef Scott's Pasta offerings: Sweet Potato Gnocchi in a brown butter maple sauce with mascarpone and crispy Brussels sprouts; Capenelle pasta with escarole, white beans, and chorizo, and Beef Bolognese with ground beef, pappardelle, and peas in a tasty tomato sauce. 
My husband claimed that the second special was "the best Bolognese that I have ever had" because it was deconstructed and full of texture. 
You can order full or half portions of pasta, which is quite appealing.
The Secondi section of the menu includes a Market Fish, Chicken Scarpariello, Butternut Squash Cutlet Parmigiana, Market Steak, a Pastrami Spiced Pork Tenderloin and a Gouda Burger.
You must finish your outstanding dinner with something from the Dolci section of menu which includes delicious desserts created by Heather Fratangelo. 
I highly recommend a trendy new dessert, Caramel Affogato Biscotti, and the Bomboloni "Italian Donuts" with cinnamon sugar and coffee panna cotta.
A prix fix three-course menu is available on Tuesday, Wednesday, and Thursday for $33. David Kurdys, the maitre de, and the excellent servers will take good care of you.
L'Inizio means "The Start," and this six-year-old restaurant is just getting better and better.
L'Inizio is located at 698 Saw Mill River Road in Ardsley between Askford Avenue and Center Road.  The phone number is 914- 693-5400. www.liniziony.com

Pictured:  Exterior of L'Inizio
Photo courtesy L'Inizio