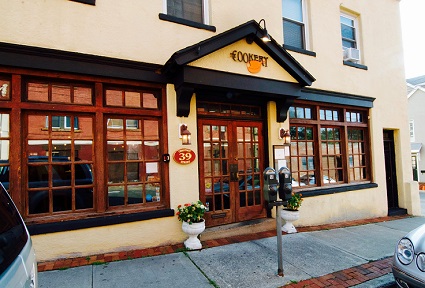 By Karen Talbot
Feb. 12, 2020: Kudos to Chef/Owner David Dibari on having two of his three restaurants - - The Cookery in Dobbs Ferry and Eugene's Diner and Bar in Portchester - - awarded the "Michelin Bib Gourmands."
According to Michelin, the award is given to "restaurants offering exceptional food at moderate prices or $40 for two courses or small plates plus a glass of wine or dessert (tax and tip not included).
The Cookery is an Italian Gastro Pub with its focus on pasta and appetizers. Its motto is "Eat Serious Have Fun."
The outstanding Chef, Sajin Renae, is very talented, using creative combinations to satisfy the palate!
For Starters, we had a Crostino of fresh ricotta, truffle honey, thyme, and olive oil and Lamb Liverwurst served with cranberry & smoked cabbage marmalata with charred bread.
Pasta choices were: Spaghetti with pork and clam sausage, garlic, chili and lemon, and White Lasagna with besciamella, ricotta, fontina, and mozzarella (you can add truffle oil for an additional charge).
Both were over the top in flavor. They also offer a vegetarian choice of Ravioli Cauliflower with lemon brown butter, garlic, chili, and Parmigiano.
From Mains, I suggest having Branzino en Croute with caviar butter, pickled fennel & watercress. I have never seen Branzino served this way as it is usually just served simply with lemon. The Pork Osso Bucco looked awesome served with creamy white polenta, apple mostarda, and vincotto.
You must indulge in Dessert here! One of the best and decadent desserts that I have ever had is the chef's Chocolate Chip Cookie Tray for two (it could serve four people). Picture this, a warm chocolate chip cookie on the bottom with two scoops of vanilla ice cream drizzled with caramel sauce. We also enjoyed a potato donut covered with chocolate sauce and sprinkles and Vanilla Panna Cotta with Stella D'Oro cookie crumble.
The Cookery is hip and casual in feeling. It has a large bar with two TV's and high-top tables and a separate eating area. It is small and intimate, and it can get noisy.
We had a reservation but had to wait for a half-hour at the bar as there were no tables available. When a table became available, we were seated in the back next to a very noisy party, before finally being moved to a choice table up front.
Periodically, The Cookery has Whole Suckling Pig dinners, which are very popular and cost $85/person. There are specials every day, and your bill also includes a 3% surcharge on the food portion for "the kitchen crew," which is a fairly new concept, and very understandable.
Happy Hour is every Tues. – Fri. from 5 to 7 pm, and you can order beer, wine or cocktails, a few starters, and a few spaghetti dishes at a reduced price. David DiBari also owns The Parlor at 14 Cedar Street in Dobbs Ferry.
The Cookery is located at 39 Chestnut Street, Dobbs Ferry, N.Y. 914-305-2336.