By Karen Talbot
Mar. 18, 2020:  The Urban Hamlet is a welcome addition to Bronxville's dining scene. It is an upscale American Bar & Grill catering to all ages from the hip bar scene of a younger clientele to families with children. They are open seven days a week for Lunch and Dinner and Sun. Brunch.  They are also offer curbside pickup and delivery.
The décor is neutral and subdued with lots of gray, glossy black, and wooden accents. A large bar greets you as you enter, which provides four large screen TVs for viewing your favorite sports. There is an elevated noise level when the restaurant is full.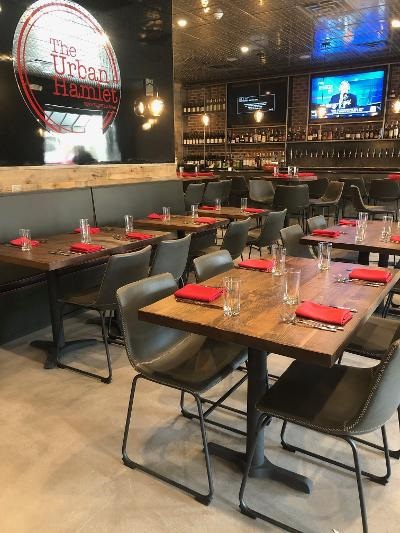 You can choose from twenty beers on Tap, eight Domestic bottles, and eleven Craft/Import bottles, along with both Red and White wine in bottles or by the glass. A nice option is either a 6 oz. or a 9 oz. glass of wine (the larger size costs 3 to 4 dollars more).
For STARTERS: we liked the delicious Chicken Wings Vietnamese style with buffalo, B.B.Q. or Sticky Bite sauce also available. One order is sufficient for two people to share. Other starters are P.E.I. Mussels and Tuna Poke Nachos.
Under BURGERS & SANDWICHES, we opted for the "Build A Burger," a hearty 8 oz. burger with your choice of American, Blue, Cheddar or Brie cheese and caramelized onions and mushrooms, served with yummy Hand Cut Fries. I also recommend the Crab Empanadas, crispy and good, also served with Aioli sauce and fries.
The Urban Hamlet also serves a variety of GREENS, which can be topped with chicken, salmon, Ahi tuna, shrimp or filet. At lunch, you can create your own salad by choosing the lettuce, toppings, and dressing.
ENTREES feature everything from Tuna Tacos to Braised Short Ribs, plus daily specials. Their THIN CRUST FLATBREADS are also widely popular.
There are 7 DESSERTS to choose from, and the Warm Apple Crisp a la mode is a winner from Chef Sosa. The atmosphere is bustling, the service is very efficient, and we loved our friendly and fun waitress Carey.
This is the 4th location of the 105 Restaurant Group. Tony Fortunate, owner and Brian Angarola, Director of Operations, look forward to your visit.
The other Sister Restaurants are: 105 Ten Bar & Grill in Briarcliff Manor; 105 Twenty Bar & Grill in Croton-on-Hudson and Mission Taqueria in Pleasantville.
Photos courtesy The Urban Hamlet