By Karen Talbot
Nov. 18, 2020: Casual eatery with noteworthy food best describes Via Forno, located on the corner of Garth and Popham Roads in Scarsdale. This spacious two-year-old restaurant strictly adheres to New York state rules for indoor dining. The tables are all spaced at least six feet apart, and plexiglass partitions separate the tables. Attractive outdoor dining is also offered on warmer days and nights with heaters.
There are six large TV screens spaced throughout the dining area, and a large red, white and blue mural depicting a car racing scene adorns the main wall. Right now, a Pizza Bar for seating and watching the pizzas being made cannot be used because of Covid.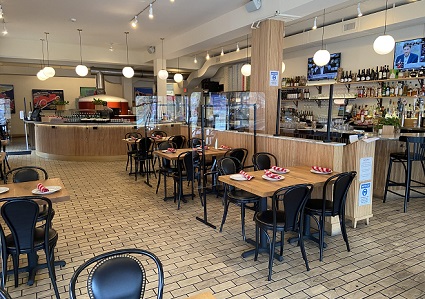 Start your meal with a Salume or Formaggi Board, perfect for sharing, or several Panini and Calzoni Gigante combinations. There are interesting insalatas like the Apple & Gorgonzola with arugula, radicchio, toasted almonds, lemon, balsamic citrus, and fig glaze.

We began our dinner with Polpette Marinara from "Roasted Appetizers," which were moist, tender, and delicious meatballs with fresh ricotta and parsley. The order came with five, which was enough for three people and the portions proved generous throughout our meal.

Pasta is a must here. We especially liked the Lasagna Bolognese, but you can also choose Gnocci Vodka, Tortellini Alfredo, and Stuffed Shells. Sausage, chicken, or shrimp can be added for a nominal charge.

You can't come here and not have one of Via Forno's fifteen creative wood-fired pizzas. We enjoyed the Dammi Questa with roasted mushrooms, sweet sausage, and crispy basil. We enjoyed a Chardonnay and a Cabernet from their nice selection of wines by the glass.

Tiramisu, Italian Cheese Cake, Nutella Pizza, and Gelato are offered for dessert.

The General Manager, Jorge Ramos, is very hands-on and wants to make sure that customers are safe. All waiters wear black masks and gloves, and the paper placemats also serve as disposable menus. Two other sister restaurants are Pizza & Brew on Central Park Avenue and Public Pizza up at Ridge Hill, both in Yonkers.

Hours of Operation: Mon. – Thurs. and Sun. from 12 to 9 pm; Fri. and Sat. from 12 to 10 pm. Brunch is served on Sat. and Sun. from 11:30 to 3 pm.
Photos courtesy Via Forno