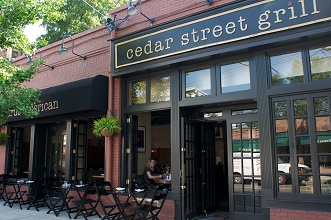 Cedar Street Grill
23 Cedar Street
Dobbs Ferry, NY
Tel.: 914-674-0706

By Karen Talbot

Mar. 16, 2016:  The Cedar Street Grill, which opened in 2011, prides itself in serving "American comfort food with a twist," with wide menu choices ranging from fried green tomatoes to pulled pork sliders.
The first impressions of this restaurant, run by chef Matt Kay and his brother Joe, the manager, are very favorable. It has an attractive décor, with nice lighting effects, dark wood accents, and a large bar, and an attentive wait staff that didn't rush us but were always nearby. 
The two appetizer courses we chose were the sweet corn and crab chowder and the roasted beet salad. The chowder, unfortunately, was too starchy and it lacked crabmeat, but the salad was very good, with arugula, goat cheese, and homemade brioche croutons, tossed in a flavorful lemon vinaigrette.
I love fried chicken, so of course I ordered their buttermilk fried chicken, which was both crispy and moist, with woody herbs and grilled lemon, and served with a sriracha maple syrup sauce and priced at $21. A special that night was a roasted pork shank for $32, served with a dark wine sauce on a bed of delicious mashed potatoes. This dish was disappointing, as the meat was overdone and chewy.
This restaurant has seven blended cocktails, nice red and white wine options, and a variety of beer, including draft, bottled craft beer, and bottled beer.
There is a happy hour with food and drink specials at the bar from 5:00 to 7:00 pm, Mondays through Fridays. Mondays feature wine-and-dine with half off bottles. On Wednesdays, there is live music from 7:00 to 10:00 pm with $1 oysters from 5:00 to 7:00 pm, and there is a Sunday brunch a la carte or $26.95 prix fixe.
The Cedar Street Grill offers a nice assortment of soups, starters, sides, salads, and entrees from which to choose.
Photo courtesy Matt Kay, chef, Cedar Street Grill