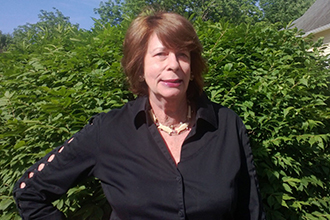 By Karen Talbot

Apr. 13, 2016:  For a restaurant that has been around for twenty years but under new ownership for the past six, La Fontanella delivers very good and tasty food! The chef, Jose Palouguachi, has been creating Italian-Adriatic cuisine there since the restaurant opened.
Our antipasti included wood-grilled calamari bathed with tomato, green beans, red kidney beans, and fresh basil in a balsamic vinegar. We also had gamberi Pérignon--sautéed shrimp with shiitake mushrooms and fresh herbs in a champagne-cream reduction. Both were delicious. 
For our pasta course, we chose cavatelli rapine with broccoli rabe, Italian sweet sausage, and cannellini beans in cold-pressed olive oil. It was cooked to perfection al dente and very enjoyable. 
One of the specials of the evening was grilled swordfish, bursting with flavor, with lots of cracked pepper and an interesting combination of artichokes, avocados, carrots, capers, and olives, served at room temperature, which was a nice complement to the swordfish. 
The Italian bread served with our meal was light and fluffy and full of flavor. There is no dessert menu, but each week you can choose from a variety of gelato, tartufo spumoni, crème brûlée, different cakes, and tiramisu.
Upon arrival we were greeted by the general manager, Alfredo Salazar, who arrived at La Fontanella in the past four months, and he made us feel welcome right from the start. Alfredo prides himself in selecting and changing the wine list, which features special wines each week.
La Fontanella has three eating areas and an attractive bar. Dark wood, black banquettes, pintucked brown suede on the walls, and white wood columns make for an attractive atmosphere. 
Wines by the glass were $9, and antipasti items were $12 to $16. Pastas were priced $20 to $22 and pesce, pollo, and carne entrées were $24 to $34.
The chef shops most days at Hunts Point, Arthur Avenue, and other area markets, and what he finds drives most of the menu and daily specials. Service is efficient, with three maître d's telling diners the specials of the evening and the food being served by waiters dressed in white shirts, black vests, and pants. 
Location:  115 Wolfs Lane, Pelham, NY  914-738-3008