By Karen Talbot
July 15, 2021:  July is a great time to get out for a delicious meal with friends and family.  Below are some great places to dine this summer!  Enjoy! 
ANGELINA'S of TUCKAHOE
97 Lake Avenue, Tuckahoe
914-779-7944, Angelinasoftuckahoe.com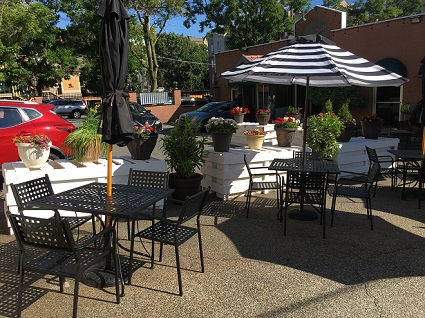 Angelina's of Tuckahoe offers delicious authentic Italian food and brick-oven pizza.

Come and enjoy a "Taste of Italy "in their expanded outdoor seating area, in their parking lot, which can accommodate 65 people.

The restaurant is open seven days a week, and their entire menu is available on their website: angelinasoftuckahoe.com.

You can also order food to Takeout, which can be picked up or delivered.
SCALINI OSTERIA
65 Pondfield Road, Bronxville
914-337-4935, Scalinaosteria.com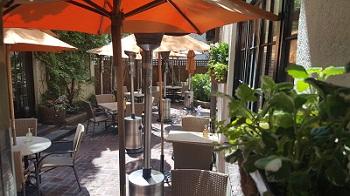 Scalini Osteria serves progressive, regional cuisine under the direction of owner Angelo Di Rosa from Italy.
They have a new Summer menu, which is guaranteed to "Please Your Palate."
Start your culinary adventure with a refreshing Summer Cocktail such as their Spicy Watermelon Margarita or their Tutto Verde. They have several Antipasti and Insalate choices to choose from, and their Goat Cheese Gnocchi with English peas, spring onions, mint, and speck is a winner.
From Secondi, try the Confit Duck Leg with cherry & sage reduction, braised Umbrian lentils, and potato croquette. For Dolci, the Sicilian zeppole with creamy ricotta and raspberry sauce is outstanding.
They can seat 35 in their charming Tuscan outdoor patio and 45 patrons in their attractive indoor space.
TREDICI SOCIAL
104 Kraft Avenue, Bronxville
914-793-1313, Tredicisocial.com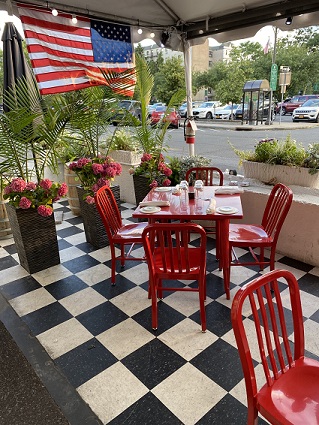 Tredici Social serves classic Italian dishes with a creative spin under Chef Giuseppe Fanelli and the personable and energetic owner Michael Colucci. The restaurant was recently accredited by Michelin and won a highly coveted Bib Gourmand award.
The inside is handsome, with red, white, and black as the color scheme. The outdoor dining space, perfect for a Summer evening, can serve 24 to 30 people and 6 to 10 on the sidewalk. Enjoy a refreshing creative cocktail or red, white, and rose Sangria.
Favorite dishes are the Artichoke Salad to start, followed by a wonderful Spaghetti Carbonara from Macaroni and the Free Range Chicken, prepared scarpiello style, with sweet cherry peppers, garlic, wild mushrooms, and crumbled sausage.
The restaurant still maintains sanitary protocols with sanitizing stations and individual Purell packets for every guest.
Takeout is also available for pickup or delivery from Grub Hub, Door Dash, or Uber Eats.
OPA OPA FRESH GREEK
116 Pondfield Road, Bronxville
914-600-8129, Opaopafreshgreek.com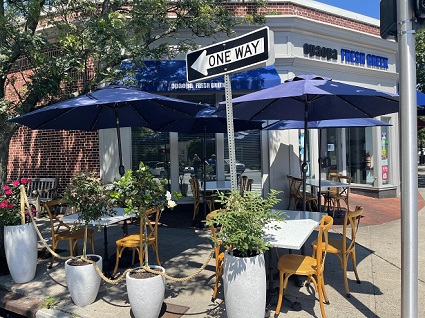 For the freshest and most delicious Greek food, come and see Opa Opa in Bronxville. Frank Berisha, the owner, is proud of his outdoor space for Summer dining, Al Fresco. He can serve up to 20 people outside and 34 people inside.
The restaurant menu is extensive and features all of the Greek food that you could possibly want to eat.
Takeout is also available, and clients can order by phone and pick up their orders or have them delivered by Uber Eats, Door Dash, Grubhub, or Chow Now.
The restaurant is open Tues. to Sat. from 11:00 am to 9:00 pm and from 11:00 am to 8:00 pm on Sun. and Mon.
SAPORI OF SCARSDALE
2 Chase Road in Scarsdale
(914) 874-5316, saporiofscarsdale.com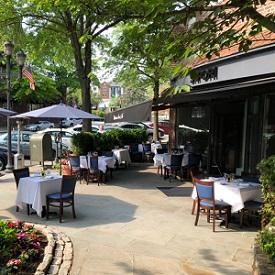 Sapori of Scarsdale serves delicious Mediterranean food, and the name Sapori in Italian means flavors.
The owners are there to ensure that you have a truly memorable dining experience. The restaurant is owned by Sammy and Kenny Balidemaj, who bring years of restaurant experience in running kitchens and staff and wine expertise, along with Eddie Vucetaj, whose goal is to keep recipes fresh by bringing true flavors that emulate authentic Italian cooking.
The restaurant offers a wonderful outdoor dining area as well as an elegant indoor space. From Appetizers, some choices are the Crab Cake or the Eggplant Parmigiana Cake. Pasta includes Farfalle Limoncello with sauteed shrimp and herbs in a Limoncello infused cream sauce or Pappardelle Ai Funghi with porcini mushrooms, cognac, and cream. Main Courses feature Chicken Sapori, which is organic chicken in a rich wild mushroom brandy sauce, and Scallopini Saltimbocca, veal in a cognac sauce served over spinach.
Sapori is open Monday-Thursday 5pm-10pm, Friday & Saturday 5pm-11pm, and Sunday 3pm - 9pm
Note: This content is sponsored by the participating companies