By Staff
Nov. 16, 2020: During the "long and boring days of Covid," Bronxville School 8th Grader Michael Knox "baked a lot." As he says, "I started baking chocolate chip cookies almost every day during quarantine. I studied the art of cookie making by watching countless YouTube videos."
After hundreds of batches and hours of videos, Michael says he "perfected the chocolate chip cookie." He created a cookie that is big, soft, and delicious. To put his cookies to the test, he served them at his parents' party one night, and they were a big hit. So much so that one of the moms said, "Michael, you should sell these." and Chocolate Chunkers was born.
Michael's uncle, John Knox, describes Chocolate Chunkers as "amazingly good." He sent them to his daughter at school. "It was the only thing that got her through her 18-hour study daze during her two week mid-terms," he said.  Another Bronxville local, Lisa Purdy, says "Chocolate Chunkers are my family's new favorite cookie. If you can keep your kids from attacking them, they make a great gift too."  
Michael has been in business for about two months now.  He makes about 20 dozen cookies per week, and they sell out. His cookies are packaged in attractive bags with blue bows - - one of his Bronxville clients orders five dozen every week.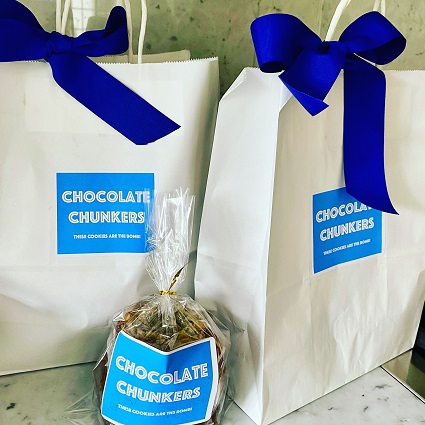 Chocolate Chunkers
Michael will have a special "Festive Chunker" for the holidays.  He says that when his brother comes home from college, he's going to hire him to help deliver cookies.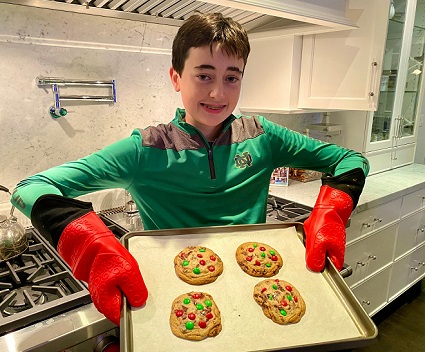 Michael Knox displaying the "Festive Chuncker"
If you're looking for a delicious Thanksgiving dessert or festive holiday cookies, this could be just the thing!
Chocolate Chunkers has been Michaels' "silver lining" during Covid and has grown into so much more.
To get in touch with Michael, go to www.ChocolateChunkers.com or his Instagram page.

Photos courtesy the Knox family