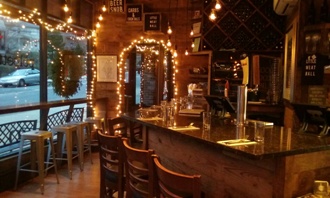 By Karen Talbot

Polpettina
102 Fisher Avenue
Eastchester, NY
914-361-1361

Jan. 6, 2016:  Polpettina is Italian for "little meatball" and hence the inspiration for Polpettina restaurant in Eastchester, with another branch in Larchmont.
I must confess I love meatballs, so what better way to satisfy my fondness for them than by going to this comfortable, casual restaurant. Featured are chicken, pork, and beef meatballs cooked separately or all three together in a tasting for $10. The serving is large enough for two people to share.
The beef meatball consisted of tomato, basil, ricotta, pecorino, and parsley. Sesame soy jus, scallions, cilantro, pickled carrots, and spicy aioli made up the chicken meatball, but my favorite was the pork meatball with broccoli rabe, chilies, and roasted garlic jus. They were delicious and moist, but the chicken meatball was a little dry.
Owners Kyle Inserra and his partner, Mike Abruzese, are chefs at Polpettina, which opened five years ago and expanded its dining space a year ago. A bar is in the middle of two seating areas with a tin ceiling, wood floors and tables, and lots of windows.
I think one should always try pasta at Italian restaurants, and in this case, the strozzapreti with sweet Italian sausage, broccoli rabe pesto, and pecorino was quite good, with pasta cooked al dente, of course. Then I tried the thin-crusted Neapolitan pizza with sausage and cherry peppers as the toppings. This was a tasty choice--a small pie is $15 and a large pie is $19. A wide range of toppings cost $2 to $4 additional.
Polpettina also offers signature pies, like the black mission fig, pancetta, goat cheese, and six other choices for $18 to $27. The restaurant's menu also features small plates, salads, entrees, vegetables, sandwiches, and five different kinds of fries. 
Polpettina prides itself in using locally sourced high-quality ingredients in the food that it serves. It offers small-production wines and beers. Five of the six draft beers are local. I did bring it to the waitress's attention that my glass of wine arrived only half full.
The service is extremely efficient and a little hurried--the minute I finished my plate it was whisked away so it made me feel that they wanted to turn my table over to other customers as soon as they could.
I will definitely go back for this very good food when I'm in the mood for meatballs, pasta, or pizza!
Pictured here:  The new bar at Polpettina in Eastchester.
Photo by Karen Talbot