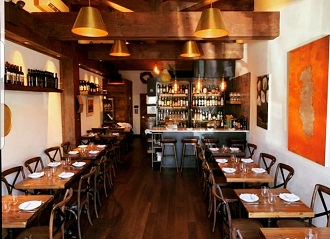 By Karen Talbot

Jan. 16, 2019:  Does Westchester need another Italian restaurant recommendation? My answer is decidedly yes, because Café Alaia in Scarsdale, which opened about a year ago, puts a new and interesting twist on many classic Italian dishes that is well worth a try.
Café Alaia is owned by Vincenzo Alaia, who is from Naples, and his partner, Nancy Rosner. Together they have made their restaurant into an inviting and cozy destination, complete with a small bar, large wooden beams overhead, and wooden tables and chairs with dimly lit lighting throughout.
Our dining experience here started with sesame-crusted Italian bread served with a wonderful tomato sauce for dipping. Our antipasti and salads included gamberi e fagioli, seasoned grilled shrimp over sautéed cannellini beans; barbabietole, a very fresh salad of beets, arugula, and almonds; a Caesar salad; and the pièce de résistance, sformatino di melanzane, slow-cooked eggplant soufflé topped with burrata fondue and a light tomato sauce.
From primi, we ordered tagliatelle alla bolognese, homemade tagliatelle with beef ragu and grana; tortellini al formaggio e proscuitto, homemade grana tortellini with fontina and taleggio sauce, parmacotto ham, and peas; and a special dish of the evening from secondi, vitello scallopine, veal in a brown sauce reduction. Everything was very, very good, but the portion sizes on the pasta dishes were larger than they needed to be. We would have preferred half portions, but they were not available.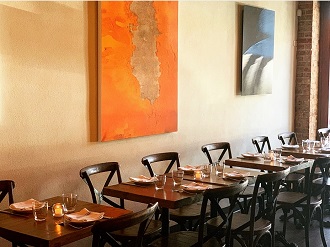 The glasses of red wine that we enjoyed with our dinner were a Nebbiolo, super Tuscan, and Chianti, all from Italy. I wish that the wine list included a few less expensive wines by the glass; $12 seemed to be the lowest price point.
Vincenzo was very attentive and made sure that we really liked our food choices from the chef, Luca Cabras, and the sous-chef, Marcelo Yubi. The service was spot-on throughout our dinner there. Do not skip dessert. We had a deliciously flavored almond pear tart and affogato, vanilla ice cream drowned in espresso.
The restaurant is open from noon to 10:00 pm every day except Monday.
Café Alaia
66 Garth Road
Scarsdale, NY 10583
914-725-3000
https://cafealaia.com/