By Susan Miele
March 9, 2022: Settling into her new position as Director of the Bronxville Senior Citizens, Loretta De Simone brings extensive professional experience and plenty of positive energy. Having assumed this position in November, the latter has come in especially handy, given the challenges of COVID-19 these past few months.
Possessing an MBA from St. John's University, De Simone worked for many years at Oracle, the software and hardware company, managing an RFP response team. In recent years, she shifted gears to become a Registered Representative with New York Life Insurance Company, at which point she joined the Eastchester-Tuckahoe Chamber of Commerce to promote her business. In observing the Chamber's operations, De Simone decided that being the Chamber's Executive Director would be a good job to have in retirement. The part-time schedule and social connections of Chamber life appealed to her. So, when Mariam Janusz—who had held the position of Executive Director for over 30 years—announced her retirement, De Simone decided she'd better seize the moment "before someone else takes the position for 30 years!" This shift freed up her schedule for additional opportunities.
A lover of movies, De Simone had been attending the film group at the Reformed Church of Bronxville for close to 20 years before being tapped to run the program about five or six years ago. In this capacity, she became acquainted with members of the Bronxville Seniors who attended the series. Also active with the Immaculate Conception Church in Tuckahoe, De Simone spotted a want ad in the church bulletin seeking a director of the Bronxville Senior Citizens. She knew right away this would be another great fit.
"I happen to really enjoy working with seniors. I'm also a very effective coordinator and organizer, and I'm also a very personable person. People feel comfortable around me. I felt I could bring to the table the key ingredients of organization, socialization, and relationship building."
De Simone was happy to retire from her life in the corporate world, focusing instead on these two part-time positions—especially after her daughter gave birth to twins in 2020.
"Things changed for me," she explained. "I only want to do what's fun now."
Not one to sit idly, she also self-published a memoir in 2020 titled, Holding Hands: My Story of Love and Loss, which is available on Amazon.
Having to navigate the troubled waters of COVID-19 has made her job with the Bronxville Senior Citizens challenging. In addition to switching back and forth between in-person and online activities for COVID reasons, the Seniors have also had to relocate their operations due to building damage at their usual home in the Reformed Church. Temporarily, activities are taking place at the First Baptist Church.
With a goal of restoring operational normalcy as the pandemic continues to subside, De Simone hopes to bring in more varied guest speakers to offer cultural enrichment, as well as revive the offering of day trips and group restaurant outings. These ventures would be in addition to ongoing programs like fitness classes, bridge games, line dancing, and bingo, to name a few.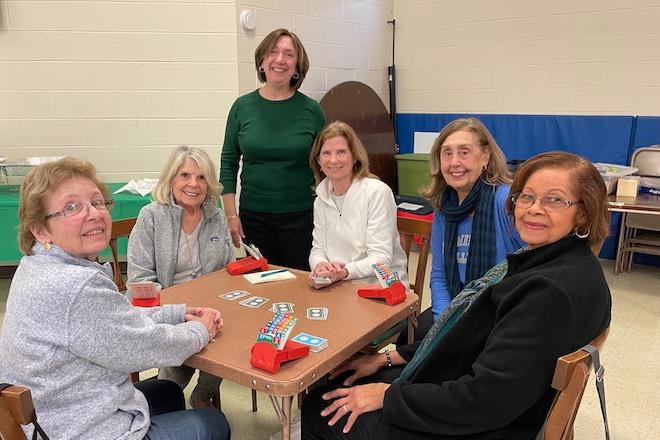 A game of bridge among members of Bronxville Seniors
"I want this to be a really enjoyable place for people to come to, where people can pass time with people of similar interests."
Originally from Queens, De Simone has primarily lived in Eastchester since 1985.
Photo courtesy Loretta De Simone