By Kathleen Casperson
Jan. 25, 2023: The arts were in full bloom this past weekend in Bronxville, especially at the Bronxville Elementary School. Over 150 students in the third, fourth and fifth grades presented the musical MonstroCity.
The play was written, choreographed and directed by Ms. Leisha Apker, who is the founder of NYRKS, LLC. (NY Rising Kid Stars). Ms. Apker and her production crew worked hand in hand with the Bronxville PTA to bring the show to life.  
Two casts put on four shows on January 21st and 22nd, to an auditorium packed with family and friends. Ms. Leisha, as the students call her, and the cast put on an hour and half musical with two acts, 14 scenes and 15 choreographed songs… with only 9 days of rehearsals!  Impossible to pull off in roughly 2-1/2 weeks?  With Ms. Apker at the helm, helpers from high school, middle and elementary school, NYRKS staff, PTA, teachers themselves and amazing parent volunteers assisted with everything from set construction to costumes, hair / makeup and more! They pulled it off again, as they do each year!
The audience gave huge rounds of applause, with many screams of delight at the end.  The excitement and joyful enthusiasm was obvious through the enormous smiles on all faces involved.  It's good to know that theatre is alive and well at the Bronxville school. The audience saw some very talented students get their start on the stage this past weekend.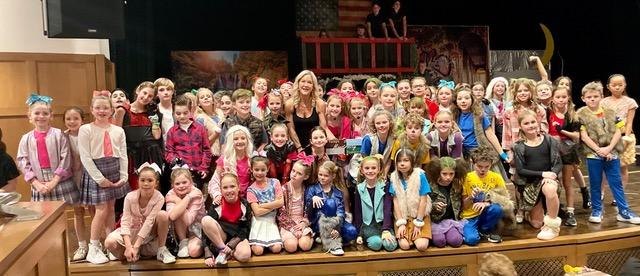 Ms. Leisha started NYRKS in 2007 to "build self-esteem and confidence in children through theatre." Many of her past students have gone on to college and studied theatre, perform professionally, received scholarships in the arts, or simply found something special within themselves that they used to better their lives.
Ms. Leisha shared with us, that she is beyond appreciative and humbled by the countless parents who have come forward to thank her for the positive impact her programs have had on their children's lives. Watching Leisha (Ms. Leisha) work with the kids, it is abundantly clear that she loves her job, adores the children, and is without a doubt bringing an incrediblly creative and positive energy to our kids.
She said "The children learn job interview skills, public speaking, teamwork, focus skills and memorization techniques. "I encourage them throughout and always try to help them find inner confidence and grow as a person. I find music, movement and singing to have a beneficial impact on kids …and adults!"
Ms. Leisha and her NYRKS crew are thrilled to be in Bronxville continuing their work with the children. Their plan is to bring in additional summer theatre camps for the community. Bronxville is VERY lucky to have her…ask anyone who's been involved…they will 100% agree! For information regarding future programs, please email This email address is being protected from spambots. You need JavaScript enabled to view it..
SEE MORE PHOTOS BELOW!