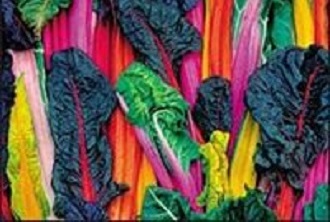 By Pascale Le Draoulec, Director, Bronxville Farmers' Market
Jun. 19, 2019:  What happens when a Texan weaned on salsa moves to New York and can't find any salsa worthy of her family's homemade version? Well, she gets her hands on her Aunt Lilly's closely guarded recipe and starts making it and jarring it herself. That's what. Ashley Nilsson, with her ridiculously good (and reasonably priced!) salsas that come in all sorts of spice levels from "not hot" to "hot" to "way too hot" is just one of several new vendors joining the Bronxville Farmers' Market this season.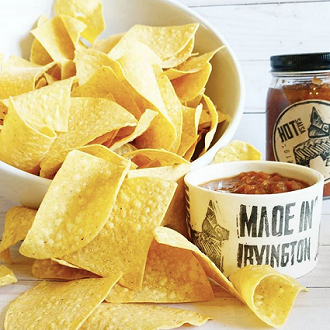 TEX@NY Salsa, Aunt Lilly's original recipe. 
This year, the weather has been good to us on Saturdays and we are crossing fingers (and toes) that we will be spared the heavy rains of 2018.
Dry weather is especially important for vendors like Wave Hill Breads, Connecticut's star baker, which has also joined the market with its dizzying array of French and Italian breads from classic baguettes to olive-studded focaccia. And, of course, let's not forget its ever-popular pull-apart "monkey bread." Though the bakery is based in Norwalk, CT, owners Tim and Angela Topi live in Bronxville, so they couldn't be happier to finally be at their "hometown" market.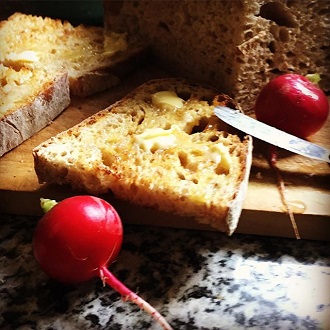 Three-grain bread from Wave Hill bread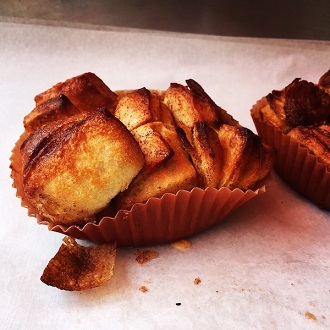 Monkey Bread from Wave Hill Market
Mostly Myrtle's owner, Debra Sandowski, has retired from markets. Worry not: we have plenty of gluten-free offerings at Meredith's Baked Goods as well as Bohemian Baked and Anke's Fit Bakery. Anke is a personal trainer who makes unique and crisp oat-based cookies that are as healthy as they are delicious. And her packaging makes these cookies perfect for gifts.  
While our rotating vendors are always changing, you can count on our produce and fruit vendors to stay constant. As we have for the last three years, we offer both conventionally grown and organic greens. Sun Sprout Farm is certified organic and from Black Dirt country, as is Morgiewicz Produce, the behemoth stall holding up the rear of the market.
Orchards of Concklin is with us as they have been for nearly two decades. How lucky is the market that the owner himself, Rich Concklin, comes to sell strawberries, peaches, and plums himself? And apple cider donuts, too. 
Our on-site market manager, Natalie Rivera, continues to be the friendly face that greets you at the market each week. She is a nutritionist AND a personal chef, so don't hesitate to ask her questions like "what do I do with kohlrabi?"
Thank you, Bronxville shoppers, for your constant support! Follow the Farmers' Market on Facebook to see its list of vendors every week.
Pictured at top:  Swiss chard from Sun Sprout Farm.
Photos courtesy Bronxville Farmers' Market vendors 
Editor's note: As a public service, MyhometownBronxville publishes articles from local institutions, officeholders, and individuals. MyhometownBronxville does not fact-check statements therein, and any opinions expressed therein do not necessarily reflect the thinking of its staff.