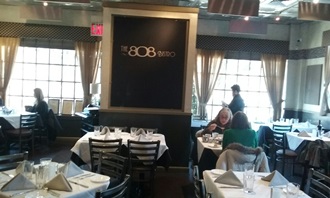 By Karen Talbot 
Jan. 27, 2016:  The 808 Bistro is a bustling and lively restaurant that turned into a pleasant surprise that I discovered by Google-searching dining spots in Scarsdale. It has been in its location for over five years and is managed by the owner, Sal Cuccullo, Jr., a talented and experienced chef who started his career as an intern at Café de Artistes. 
The décor is pleasant with stone stucco walls, a tin ceiling with fans, a wood floor and directional lighting. 
The menu features Italian-American offerings with some Asian and French choices. For appetizers, I had a traditional eggplant rollatine, which was very light and flavorful. Crispy shrimp wontons with soy-garlic aioli was also a good choice. 
For main courses:  One of the specials that night was braised short ribs of beef, served with polenta in a rich flavorful sauce, and sole francese, a lighter entrée with almonds, lemon, and sautéed fresh vegetables. Both were delicious. I always like to try pasta at an Italian restaurant, and in this case, angel hair with chicken and shrimp in a tomato cream sauce was found lacking in the amount of shrimp and the over-abundance of angel hair.
Service was efficient and friendly, and The 808 Bistro serves generous wine by the glass. Its signature dessert is individual apple strudels, served with vanilla ice cream, which has to be ordered at the start of meal.  I am sorry that I did not order this, but on seeing it delivered to other tables, I wish I had!
Prices are typical for this kind of restaurant, and Sal offers specials for the "frugal foodie." Seven days a week between 4:00 and 5:30 pm he offers ½-price appetizers, pastas, and drinks at the bar and early bird dinners served between 4:00 and 5:30 are 15% off. Half-price appetizers are served at the bar after 8:30 pm on Sundays through Wednesdays; selected wine is half price on Sundays; bring your own wine (no corking fee) on Mondays; and a three-course prix fixe menu for $29.95 is served on Sundays through Thursdays and on Fridays until 7:00 pm.
Next time I will go back and enjoy some of these "frugal foodie" specials. The abundant menu also has soups and salads, fish, poultry, and meat entrees and numerous appealing sides.
The 808 Bistro
808 Scarsdale Avenue
Scarsdale, NY 10583
914-722-0808
Monday to Saturday:  Noon to 11:00 pm
Sunday:  Noon to 10:00 pm  
Pictured here:  An inside shot of The 808 Bistro in Scarsdale.

Photo by Karen Talbot