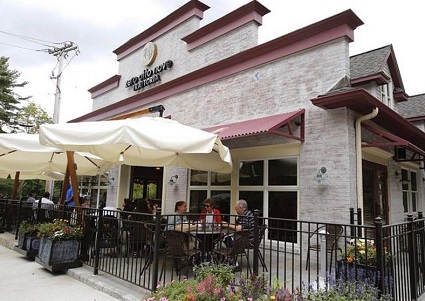 By Karen Talbot
Jul. 17, 2019:  Zero Otto Nove's distinctive name stands for a Salerno, Italy, area code. The restaurant is owned by Roberto's of Arthur Avenue in the Bronx and is at 55 Old Route 22 in Armonk. We recommend using a GPS to get there, as Old Route 22 can sometimes be hard to find, but you won't be disappointed once you get there.   
Zero Otto Nove excels in serving some of the very best pasta dishes in an attractive rustic setting. It is in a large Tuscan-like barn with high ceilings, crossbeams, pickled walls, a tiled floor, and a wood-burning pizza oven front and center. There is a nice-sized bar to the right as you enter with high top tables to sit at.
Our meal started with good focaccia bread and extra virgin olive oil and was followed by an antipasto choice of parmigiana di melanzane e zucchini with fresh mozzarella and tomato sauce, which proved to be an excellent choice. 
This was followed by two pasta offerings from the executive chef, Roberto Paciullo:  radiatori in cartoccio, which was radiatori pasta cooked in tin foil with porcini mushrooms, cherry tomatoes, breadcrumbs, and shaved parmigiano reggiano. Our second choice was penne con salcicca e provola, which was penne with sausage meat, smoked mozzarella, and cherry tomatoes. Both dishes were cooked to perfection…al dente and absolutely delicious.
We also ordered pollo scarpariello from the carne selections, which was chicken on the bone (dark meat) sautéed with sausage, white wine, lemon juice, and rosemary. This dish was not to our liking; it may have been authentic, but there was hardly any chicken to savor and it seemed to be mostly gristle. 
Zero Otto Nove is also known for its numerous choices of pizza with unique choices such as patate e porcini, which is pizza with fresh mozzarella, sliced potatoes, and porcini mushrooms, and la riccardo, which is pizza with butternut squash purée, smoked mozzarella, spicy pancetta, and basil.
For dessert, we had the most divine sorbetto al limone, one of the pastry chef Ciro Perotta's many delicious concoctions.
I would like to point out that they are very accommodating with respect to sharing pastas, which may be split as many ways as you want it served.  The waiters are very attentive, and the service excels in every way. 
During peak dining hours, the restaurant can get noisy, so you might want to go on a beautiful summer night when you can eat al fresco on its attractive patio.
Pictured here: Zero Otto Nove.
Photo courtesy Zero Otto Nove.