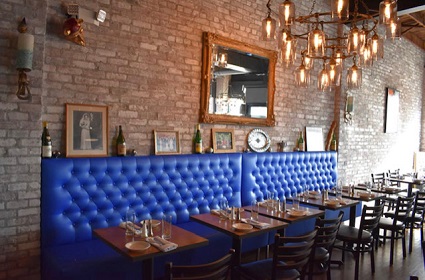 By Karen Talbot
Sep. 11, 2019: Maria Restaurant is an Italian newcomer recently voted "Best New Restaurant for 2019" by Westchester magazine. We were pleasantly surprised to find that this relatively modest restaurant was well above average on most counts. Brothers Peter and Giovanni Cucullo pay homage to their mother with classic dishes from Calabria, served with a modern twist.
Diners eat in a comfortable space with impressive chandeliers, whitewashed brick walls, and some bright blue leather banquettes. There are high-top seating, a good-sized bar to the left, and a cozy dining area that is set apart on the right by a divider made of white tiles and black wood.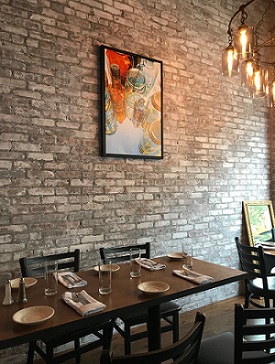 There are thirteen starters, which include favorites like Mom's Meatballs; Maria's Big Salad, which is an appetizing mixture of pickled, blanched, and raw vegetables, and Real Deal Baked Clams, which were delicious and described on the menu as "More Clams, Less Bread and some pork fat."

From the pastas, we had their claim-to-fame dish Gnocchi Oxtail Ragu, featuring light and fluffy ricotta gnocchi immersed in a dark flavorful mixture of porcini mushrooms, Marsala, and Parmigiano. From the seven main courses, we chose Scottish "Salmon," which was a perfectly grilled trout filet and tasted just like salmon. This dish was served with yummy and distinctive black rice, capers, and pickled currants, accented with watermelon radishes. It was a noteworthy choice indeed. Other Main Courses included braised duck leg with tomato risotto, filet of sole, and shrimp Francese with pasta pomodoro.

For dessert, I suggest that you share Pop's Dannoli, which is a rich donut filled with cannoli cream.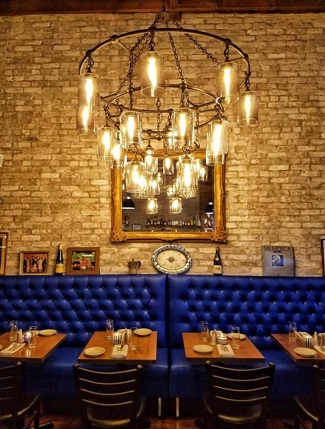 The wait staff, all dressed in black, are efficient and they genuinely care how you like your food experience.

Wines by the glass run $9 to $14. Most of the bottles of wine are offered by the glass so you can ask for a sip before you order.

Bar snacks are available every day from 3:00 to 7:00 pm at $6 each. Maria Restaurant is at 11 Huguenot Street, and the phone number is 914-636-0006. It is closed on Sundays.
Pictured here: Interior of Maria Restaurant.
Photos courtesy Maria Restaurant