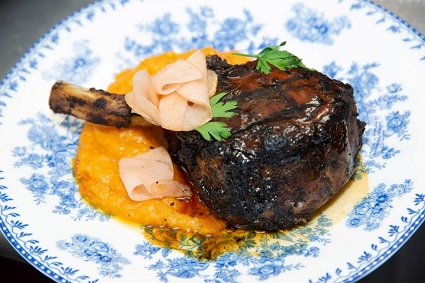 By Karen Talbot
Nov. 13, 2019: What started out as a British Pub-like restaurant late last year, has rapidly evolved into a gastro pub with an exciting menu. While still serving some British favorites like Fish & Chips and Scotch Eggs, The Rare Bit in Dobbs Ferry also serves a broad array of well-prepared and well-executed US and international dishes. These dishes exemplify the culinary talents of owner Scott Broccoli and Executive Chef, Evan Kalogiannis. The Chef most recently worked in New Orleans and has added his special Gumbo to the gastro pub menu.
The restaurant has a pub-like décor and atmosphere with a large and inviting bar surrounded by cheerful red leather banquettes and booths throughout the restaurant. There are interesting chandeliers over the bar and a cozy corner behind the bar with high-back chairs for more intimate dining.
For APPETIZERS, I recommend the Smoked Pork Ribs, which are crispy and tasteful and served with plum tamarind BBQ sauce and farmer's slaw. I also recommend The Rare Bit signature dish, which is white toast with cheesy brie and sliced pears with honey on top. This dish is creative and not your typical Welsh Rarebit.
For MAIN COURSES, we had the delicious Fish & Chips that was comprised of lightly battered hake, with house cut fries and house tartar sauce, served with malt vinegar to spritz on the fish. Our second main was Red Wine Braised Short Ribs, very lean and loaded with flavor, served with yummy mashed potatoes, brussels sprouts, herb gremolata, and black garlic aioli.
DESSERT was a delicious Lemon Bar and fresh strawberries, but there were also many other selections. 
The beers, either on draft or bottles/cans, were unique with many rare labels. The restaurant also offered creative cocktails and a great assortment of Gin & Tonic. Enjoyable red wines by the glass included: Tempranillo from Rioja, Spain, Cabernet Sauvignon from Columbia Valley, Washington, and Carignan from Sonoma, Calif---all priced from $10 to $15.
The General Manager, Trevor Ganzi, and our waiter, Joshua, were extremely attentive and friendly and made sure that we liked our food.
The Rare Bit offers a few special appetizers and main courses each night and had a five-course Elk Dinner last week. 
You can book the restaurant to cater a Crawfish Boil and other dinners. The restaurant puts a 3% surcharge on the food portion of your bill to reward the dedicated kitchen staff. You can choose to opt-out of this, and they will be happy to take it off your bill.
The Rare Bit is located at 23 Cedar Street in Dobbs Ferry.  914-693-8000.