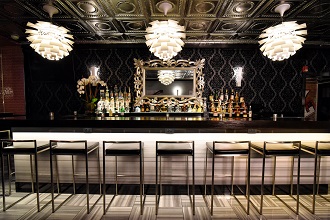 By Karen Talbot
May 29, 2019:  A first-rate new restaurant has opened in Bronxville, Tredici Social, at 104 Kraft Avenue. It serves contemporary Italian food with a modern flair.
The décor is a cross between old world and modern. Black and gray are used as the colors throughout, and one side of the restaurant's walls is covered with flocked velvet wallpaper and the other side has gray walls with black wainscoting below. 
The restaurant is divided into two sections, the front, where there is a nice-sized and usually busy bar and a shiny silver tin ceiling, and the back area, which has a black, gray, and white glass divider that separates the two rooms. You can't help but notice the three large white artichoke steel lights over the bar and in the back, a large red steel light, aptly named Big Bang.
The energetic hands-on owner, Michael Colucci, is front and center making sure that everyone is well taken care of with delicious food and wonderful wine. 
A basket of bread and very good garlicky olive oil were brought to the table after we were seated.  We then ordered the following appetizers: "ham & cheese" arancini, homemade crispy risotto balls filled with house-cured prosciutto cotto, spring peas, pecorino cheese, and fontina over Parmigiano fonduta and a special of the evening, smoked arancini risotto balls with flavorful mushrooms and truffle oil. Another popular item is the "inside out" meatballs, a mixture of beef, pork, and veal stuffed with fresh mozzarella, ricotta, and fontina cheese panko breaded and fried, topped with homemade crushed plum tomato sauce.
Our entrées were garganelli "umbriaco," hand-rolled penne with homemade crushed plum tomato sauce and a touch of cream with a shot of Grey Goose, finished with basil dust (also available in half portions). The very best rendition of chicken scarpariello is here: free-range organic chicken sautéed with sweet cherry peppers, roasted garlic, extra-virgin olive oil, wild mushrooms, and crumbled sausage, topped with crispy fried potato chips. The chicken was melt-in-your-mouth delicious and the sauce was outstanding. Our third entrée was lobster ravioli filled with homemade burrata and topped with Maine lobster, ramps, nettles, spring peas, baby spinach, grape tomatoes, and a touch of cream. 
The fabulous executive chef, Giuseppe Fanelli, is a master at creating all of this special food and its artistic presentation. 
To go with all of the entrées, you must order the artichoke salad, which has crispy Jerusalem artichokes over baby arugula tossed with extra-virgin olive oil and Limoneira vinaigrette finished with shaved Parmigiano cheese and is served with crispy fried potato chips.
We enjoyed the following outstanding wines by the glass: Chardonnay–Freelander Napa Valley, Baby Amarone–Masi, Italy, and Cabernet Sauvignon–J. Lohr, also from Napa. The red wine goblets are made of very substantial glass and are super looking.   
Do not skip the homemade dessert, which is worth the extra calories. Choices include the most delicious coconut cake, a decadent moist chocolate cake, both served with whipped cream and strawberries, key lime gelato, and chocolate panna cotta.  
Service is impeccable and our waitress was enthusiastic and friendly. The wait staff are dressed in black, which is a nice touch.
Tredici Social has a sister restaurant, Tredici North in Purchase, and when I asked Michael why they didn't call this new restaurant Tredici South, he explained that it is a cozy spot similar to Bronxville and the word "social" implies a small gathering, hence, Tredici Social. I highly recommend this restaurant and hope that everyone tries it!  
Photo courtesy Tredici Social