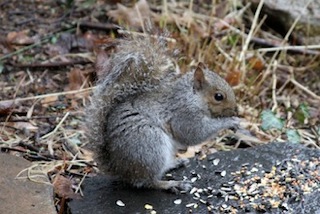 By Peter Clifford
March 31, 2010: You may have noticed the appearance of many more "I brake for squirrels" bumper stickers on vehicles driving around our village. This is just one of several signs that the squirrel population in Bronxville has exploded. Another sign is the number of traffic accidents that can be attributed to squirrel avoidance.
The Bronxville police have reported a significant increase in accidents due to drivers braking suddenly or swerving to keep from running over squirrels as they dart back and forth across village roads. In an attempt to decrease the number of squirrel related accidents the Bronxville police will be holding a free defensive driving class next month specifically tailored to squirrel avoidance.
Even though most people try not to run them over, too many squirrels are meeting an untimely and unsightly demise on Bronxville's roads. It has gotten to the point where the village's Maintenance Dept. can hardly keep up with the retrieval and disposal work.
Mayor Mary "Ever Vigilant" Marvin agrees that this is both a serious budget and quality of life issue for Bronxville. She points out that "the Maintenance Department has one truck with a crew of four dedicated to nothing but removing dead squirrels from village roads, but it is a continuing challenge to remove them on a timely basis working within our current budget constraints. We even tried putting this particular function out for bid, but none of the contractors were able to meet the stringent requirements for proper disposal at a cost that was not prohibitive."
The truck used for this purpose has been painted with a large yellow smiley face to try to mask its unpleasant duty, but even so, parents and children walking to school are put off by the sight of it. Samantha Mayhew, who lives on Prescott Ave., says "the truck definitely prompts too many uncomfortable questions from her eight, nine and ten year old children, but I'm glad the village is removing the dead squirrels because seeing them was even more traumatic for my kids. They would ask why the squirrel's stomach was sticking out and then I would try to distract them by telling them how the ancients Greeks thought they could predict the future by looking at the entrails of birds."
The problem is serious enough that is has begun to effect house values in Bronxville, just as real estate has started to rebound from the Wall Street recession. Amanda Clingon, a broker at Lawrence Houligan, reports that "fewer people looking to live in lower Westchester are considering Bronxville because rumors are circulating that squirrels are wreaking havoc here."
Why, on the other hand, are more squirrels relocating to Bronxville? Seth Medici, head of Bronxville's Department of Wildlife Management and Control attributes it to an abundance of large, healthy oak trees which supply a steady source of food and the absence of many natural predators. Seth reports, "We tried releasing a coyote a couple of weeks ago in Bronxville as an experiment, but that caused such a stir we had to remove it." He recommends that Bronxville residents who have cats refrain from having them declawed so they are better able to catch squirrels, a recommendation that even he admits may not be practical considering the number of very expensive Persian and Aubusson rugs owned by residents.
Another solution could be to conduct large scale trappings using Havahart traps and then release them in counties to our north. To this strategy Seth cautions that "squirrels are very territorial and so the introduction of non-resident squirrels could result in West Side Story-like gang fights in those counties, a situation that PETA might object to."
Is there a way that Bronxville residents might actually benefit from this abundance of squirrels while at the same time doing their civic duty to help reduce the population and restore life as we knew it in our charmed hamlet? After all everyone these days is looking for ways to save money and make that paycheck go a little further.
Groceries are one of the largest line items in most families' budget. Squirrel is a staple in many parts of the US and provides an excellent source of food for people who do not have access to refrigerated meats. Claudia Childs, head of Bronxville's Dept. of Health and Nutrition concurs that "if properly prepared, squirrel poses no serious health risks and provides more protein than a large chicken leg, though it does taste more like chipmunk." With that thought in mind, here is a recipe borrowed from the Junior League Cookbook of Knobby Gout, WV.
Squirrel Supreme
2 small squirrels
Seasoned salt
2 slices salt pork, rendered
1 large can pineapple chunks
1 Lemon (use juice only)
1/2 teaspoons Nutmeg
Juice from pineapple
2 cups chicken stock
1 medium size onion
Dredge the cut up squirrels with the seasoned flour. Brown meat well in pork renderings. Set aside, sauté onion and nutmeg in pan juices. Add stock and fruit juices and bring to boil. Put meat back in pan and simmer covered for two hours. Add pineapple chunks to pan, cover again and cook another 1/2 hour. Serve in a covered casserole with juices poured over.
Bon appétit! and
Happy April Fools Day!
Photo by N. Bower