Bronxville field hockey in the game against Pleasantville on Monday. Photo by J. Murrer
By S.Q. DeJoy and J. Murrer
Sept. 14, 2022: The Bronxville athletic fields have been in constant use in the past week as the fall season gets underway. This week will continue with a flurry of activity.  While the football team travels to Briarcliff on Saturday, there will be home JV and varsity soccer and field hockey games every day this week. Below is a look at how the varsity turf teams have fared so far this season. 
Field Hockey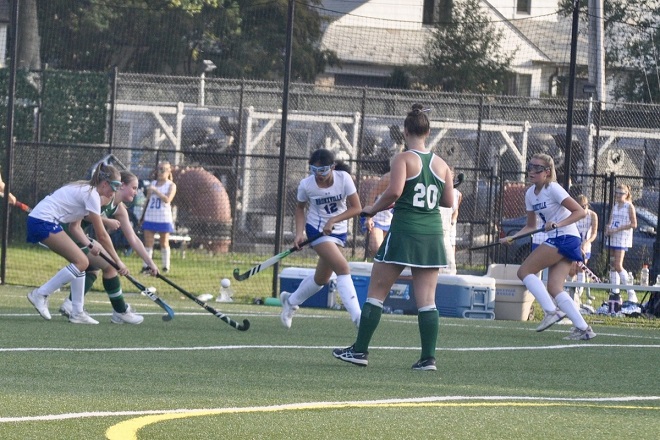 Bronxville field hockey in the game against Pleasantville on Monday. Photo by J. Murrer.
The Broncos opened the season with a 4-0 win over Ursuline, and had three wins against Valhalla (4-1), Croton (4-0) and Rye Neck (2-0) in the past week. In the opening games, Frannie Krause scored five goals, Ellie Clifford and Emma Yeon scored two each, and Izzy Yeon, Fiona Denning, Amelia Orth, Isabela Fenner, and Annie Greatrex had one apiece.
On Monday, in a home game against Pleasantville, the Panthers went ahead 2-0 in the first quarter, and held on to the lead until mid-way through fourth.  With ten minutes left to play, Addie St. Phillip scored with an assist from Greatrex, and St. Phillip scored again two minutes later with an assist from Fenner to tie the game. Neither team was able to score again and the game ended in a 2-2 tie.
The Broncos will play at North Salem today.  The Tigers defeated the Broncos in the sectional final last year to capture the Class C Championship. In Lohud's preseason Power Rankings, North Salem is ranked No. 7 in Section 1, and Bronxville is ranked No. 9.
Football
The football team is playing in Class B this season and lost to Nanuet in their home opener on Friday night at Haindl Field. The game was tied 14-14 until Nanuet scored in the fourth quarter capture a 22-14 win.
There are seven other teams in Class B including Byram Hills, Ardsley, Nanuet, Pleasantville, Briarcliff, Henrik Hudson, and Pearl River. The Broncos will play at Briarcliff on Saturday at noon. The Bears lost to Ardsley last week 34-7.
Pleasantville and Nanuet were on top of Class B last year with Pleasantville defeating Nanuet in the Class B Section 1 Championship. The Broncos will play Pleasantville on September 24th during Homecoming Weekend.
They will also play home games against Ardsley on October 1st and Pearl River on October 22nd.
Boys' Soccer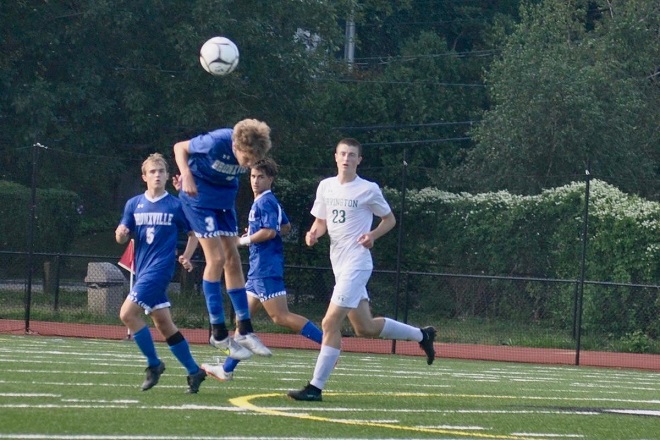 The boys' soccer team (2-0-1) faced Irvington at home on Monday. The Broncos took a 1-0 lead with a goal from Chris Patterson, but the Bulldogs answered back before the end of the first half. 
With no scoring in the second half, the game ended in a 1-1 tie.
The Broncos will play at Albertus Magnus today and return home on Friday for a 5PM game against Dobbs Ferry. The team plays at home in the finals of the Broncofest Tournament on Saturday at 4PM against Valhalla.
Girls' Soccer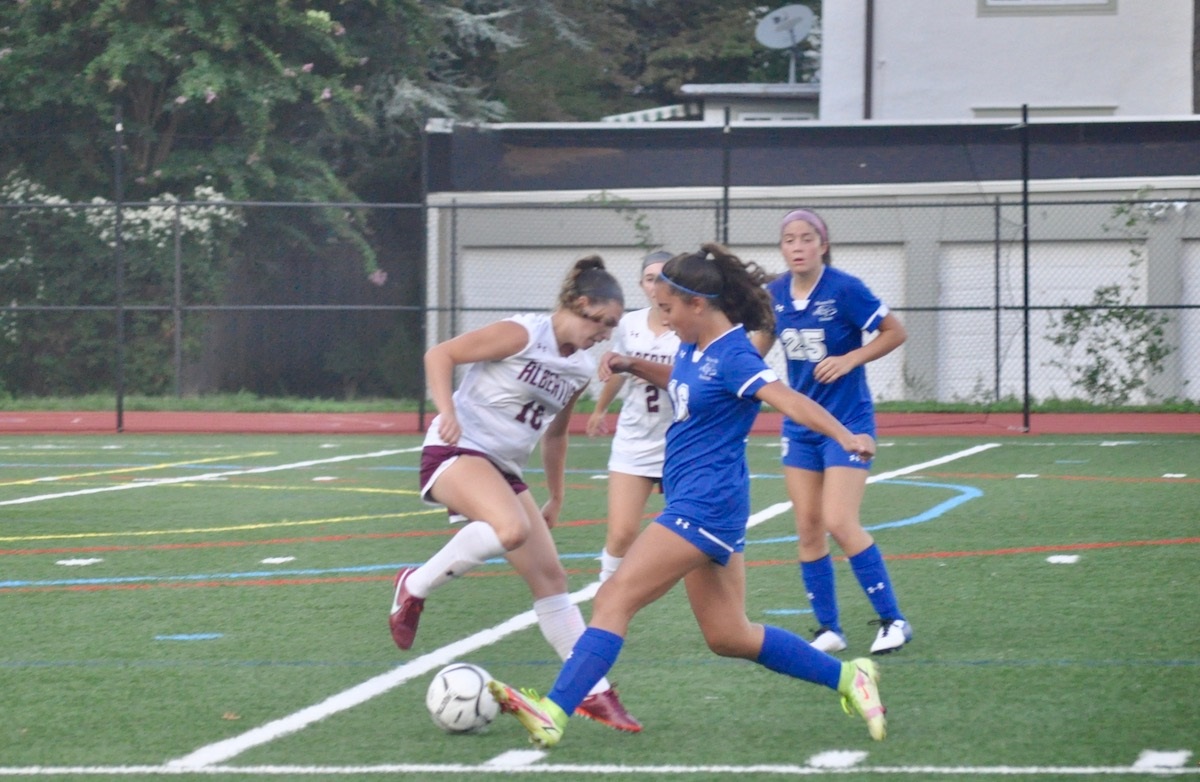 Bronxville girls' soccer in the game against Albertus Magnus yesterday. Photo by J. Murrer.
The girls' soccer team is in a rebuilding year after losing 14 seniors.  They opened the season with three losses to Eastchester (4-1), Edgemont (2-0), Byram Hills (5-1), and a loss to Section 1's No. 1 team, Albertus Magnus yesterday. The team will play in a tournament at Bronxville this weekend. For more information, click on this link https://athletics.bronxvilleschool.org/schedules
Go Broncos.