Eamonn O'Reilly scores on an interception in the game against the Bears. Photo courtesy of Bronco football 2022.
By S.Q. DeJoy and J. Murrer
Sept. 21, 2022: Coming into Homecoming Week, the Bronxville football team has a 1-1 record after picking up a convincing 59-21 win over Briarcliff on Saturday. The Broncos scored four touchdowns in the first two quarters giving them a 30-15 lead at halftime.
"I think we played really well as a team," said Co-Captain Chris Lockwood, who plays fullback and middle linebacker.  "Our offensive line had a great game. It was really nice to see that Connor Kenny made all the right reads and was able to move the ball. We scored on almost every drive."
Briarcliff scored first to take a 7-0 lead, but it was the only time they would have a lead in the game. The Broncos got on the board when quarterback Kenny connected with Owen Atkeson for 6, and then Kenny handed it off to Gabriel Maicon for the two-point conversion and an 8-7 lead.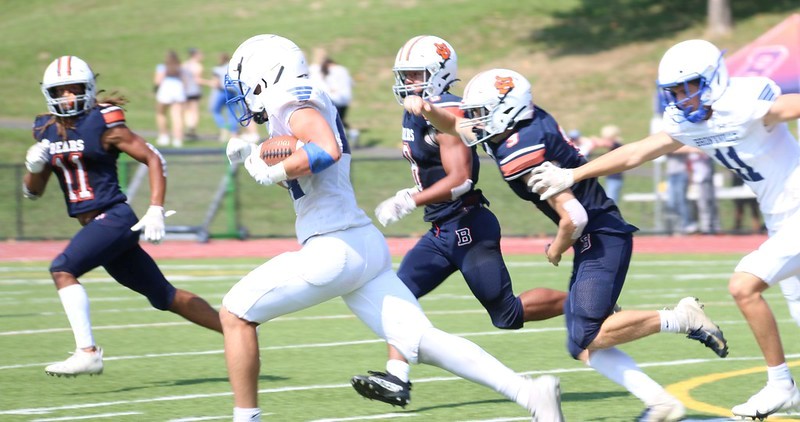 Jack Newton (ball carrier) and Owen Atkeson (11) each scored two touchdowns for the Broncos. Photo courtesy of Bronco football 2022.
The Broncos went on to score three more times in the first half. Maicon scored the second touchdown for the Broncos, and a 35-yard pass from Kenny to Pierce Patterson put the Broncos in good field position for Jack Newton to score the third.  
The Bronco's defense was consistently able to stop the run and even contributed to the scoring. Eamonn O'Reilly intercepted a pass in the second quarter and ran it in for a touchdown, and Davis Patterson did the same in the third with an interception and a 20-yard touchdown run.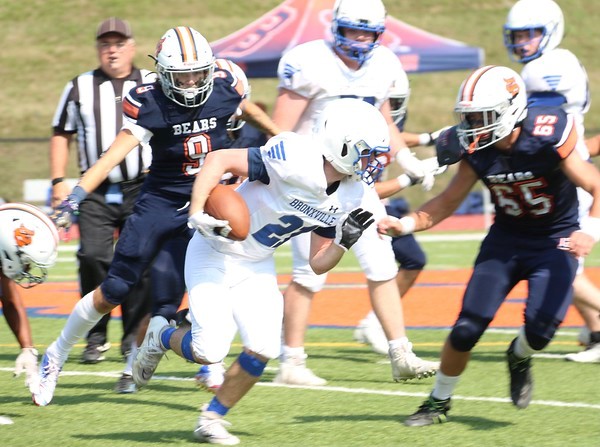 Davis Patterson (21) with an interception in the game against Briarcliff. Photo courtesy of Bronco football 2022.
"The lineman and linebackers worked really hard on form tackling and stopping the run, and the cornerbacks and d-backs worked hard on pass protection," said Lockwood.  "Communication between everyone on the defense really improved this week, and it helped us a lot."
The final Bronco touchdown was scored by Charlie Donohue with two minutes left in the game. The Bronco's scoring included five two-point conversions (Atkeson-2, Newton-2 and Maicon-1) and one extra point field goal by Pierce Patterson.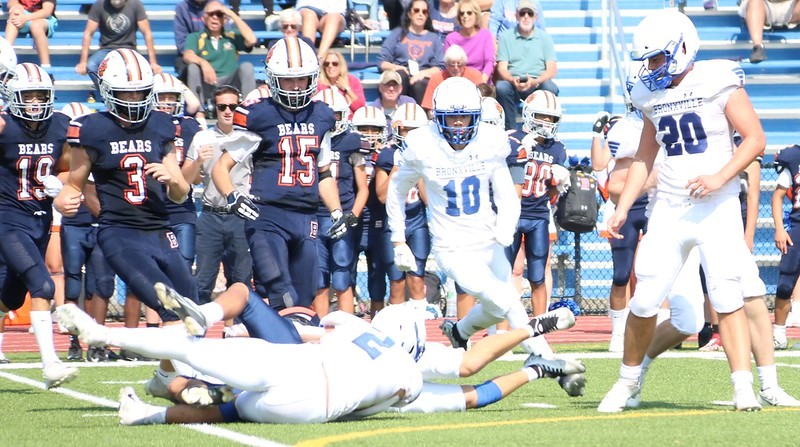 Johannes Wortel, with the tackle, and teammates Alec Mercer (10) and Gabriel Maicon (20). Photos courtesy of Bronco football 2022.
The team is led by Co-Captains Lockwood, Newton, Johannes Wortel and Lou Fei Sung. Coach Patsy Manganelli took over as head varsity in 2017 and is assisted by defensive coordinator Pat Henderson, line coach Mike Peller, and wide receiver and linebacker coach Vic Quirolo. 
"I think it all starts with our coaching staff," said Lockwood. It is one of the best in all of Section 1. Most of the starting roster is made up of 2nd and 3rd year players, but many first-year players have stepped up and are playing big roles. Our coaches have been helping make us the best team we can be."
The Broncos (1-1) will face Pleasantville (2-0) at Homecoming on Saturday at Chambers Field at 6:30PM. Pleasantville was the Class B State runner-up in 2021 and could be a tough opponent.
"I am excited about Homecoming," said Lockwood.  "Playing under the lights is a big deal, but I am just going to try to focus and play my own game."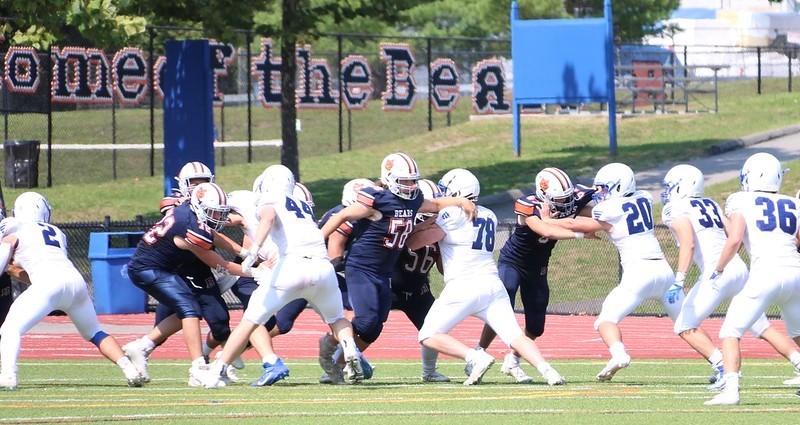 Photo courtesy of Bronco football 2022.
Go Broncos!