Coach Don Cupertino and players that are college recruits. Photo by Elizabeth Vranka. 
By S. Q. DeJoy and J. Murrer
July 20, 2022: Twenty-two student-athletes from the Class of 2022 will continue their athletic careers in college. These athletes compete in various sports, including team sports such as lacrosse, soccer, football, and baseball, and other sports such as track, crew, squash, swimming, and fencing, which have both team and individual components. Last week we covered lacrosse recruits, and this week's story features recruits from all the other sports. 
It was a spectacular senior year for Bronxville soccer player Alice Vranka, who will play for MIT in the fall. The 19-1-1 Broncos won the Class B New York State Championship for the first time since 2014. It was a memorable victory for Vranka and all her teammates, including Milly Koenig, who will play at the University of Chicago, and Lily Jebejian, who will play at Wesleyan College. 
"That was one of the best, not even one of the best sports moments, but one of the best moments of my life," said Vranka.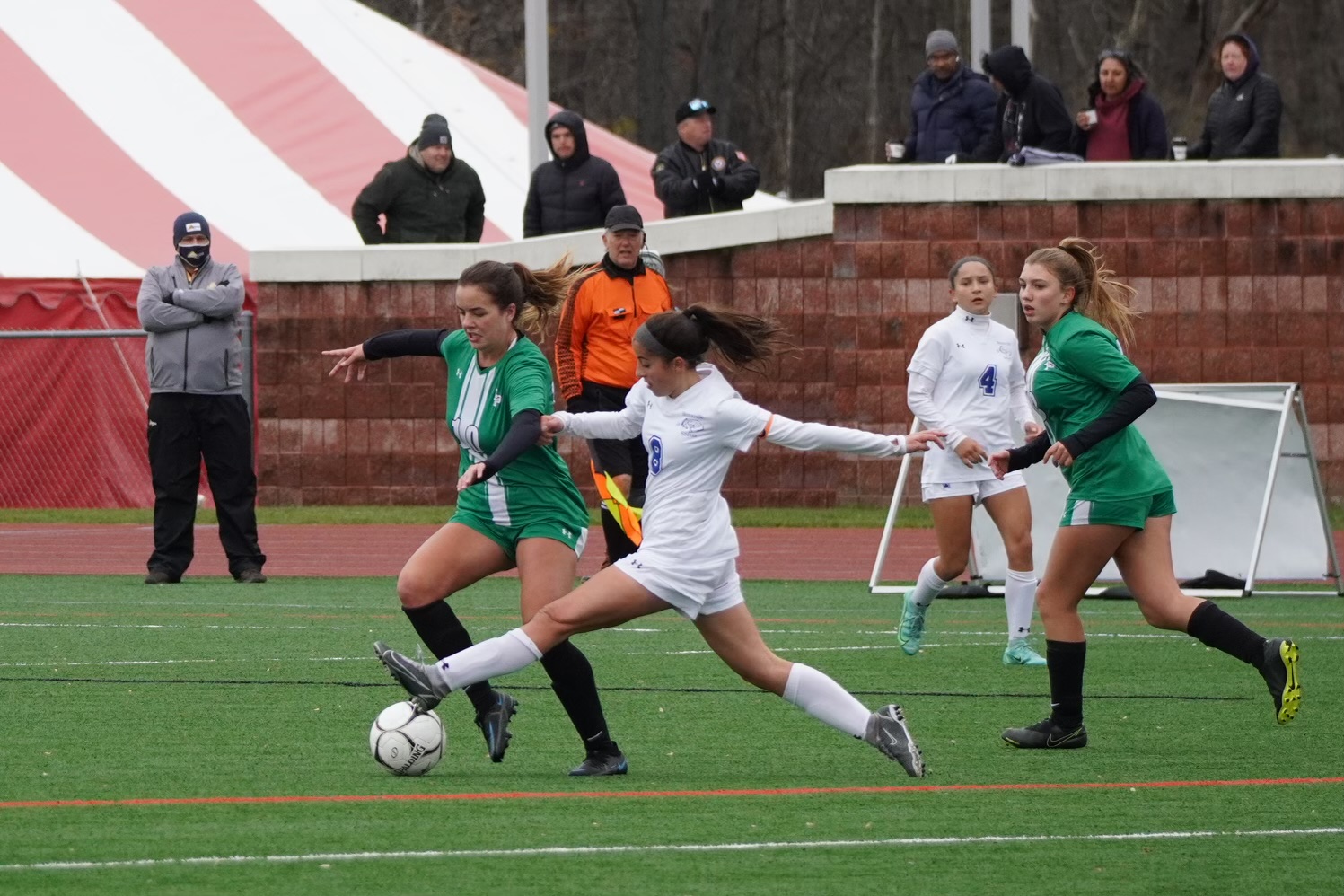 Alice Vranka in the New York State Championship game. Photo Kathy Donohue. 
Vranka, a midfielder who was named All-Section and All-State, chose MIT because she has always been interested in STEM. 
"I like to do different things than everyone else," said Vranka. "I have always liked math and was the only girl in my physics class. There are so many opportunities in the STEM field."
When looking at colleges, Bronxville students consider many factors, including both academics and athletics. For example, Theo Veru, who will attend Bowdoin in the fall, was interested in a school with good academics and a really competitive swim team.   
"I didn't know what I wanted at first, but when I visited Bowdoin, I really loved the school," said Veru. "The team atmosphere is super competitive for a D3 school, and over the years, many have gone on to compete at the NCAA Championships."
Veru had an impressive high school swim career while swimming for the combined New Rochelle-Bronxville swim team. This year, Veru and his New Rochelle teammates made it to the New York State Championships in the 200-freestyle relay.
"There is something kind of special about the combined team," said Veru. "You get to experience a completely different world other than your own high school. It was a unique bond I had with those guys, and I really appreciated it."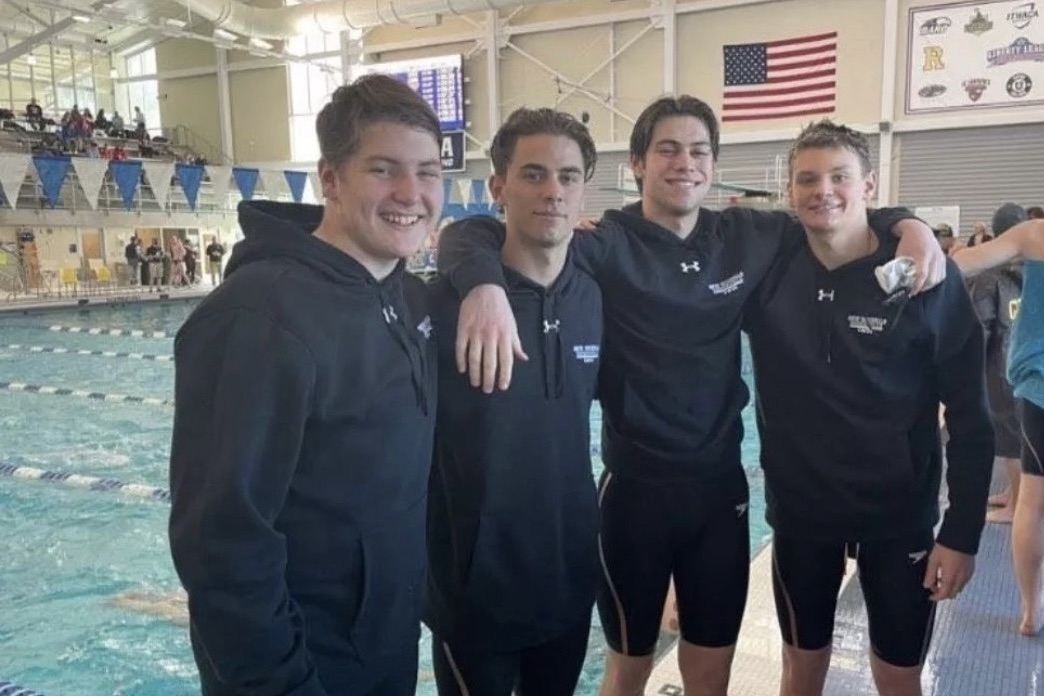 The 200-freestyle relay team: Nate Dower, Mike Cohen, Jon Carson, and Theo Veru. 
Location can also be a factor when deciding where to attend college. For example, Sophia Bouvard, who will be on the crew team at the University of San Diego, wanted to go to school in California.
"It was always a dream to go to California for school, but I really didn't think it would work out," said Bouvard. "I was introduced to USD by my coach at City Island. He thought it was an amazing fit as some City Island alums have gone there. I fell in love with it instantly."
Bouvard and teammate Sydney Tuck, who will row at UNC in the fall, both rowed for City Island during high school and competed in the Head of the Charles last fall.  
"I rowed in a four with Sydney, and we finished 15th out of 85," said Bouvard. "It was a really big accomplishment for us. It was an amazing experience seeing everyone on the bridges cheering people on."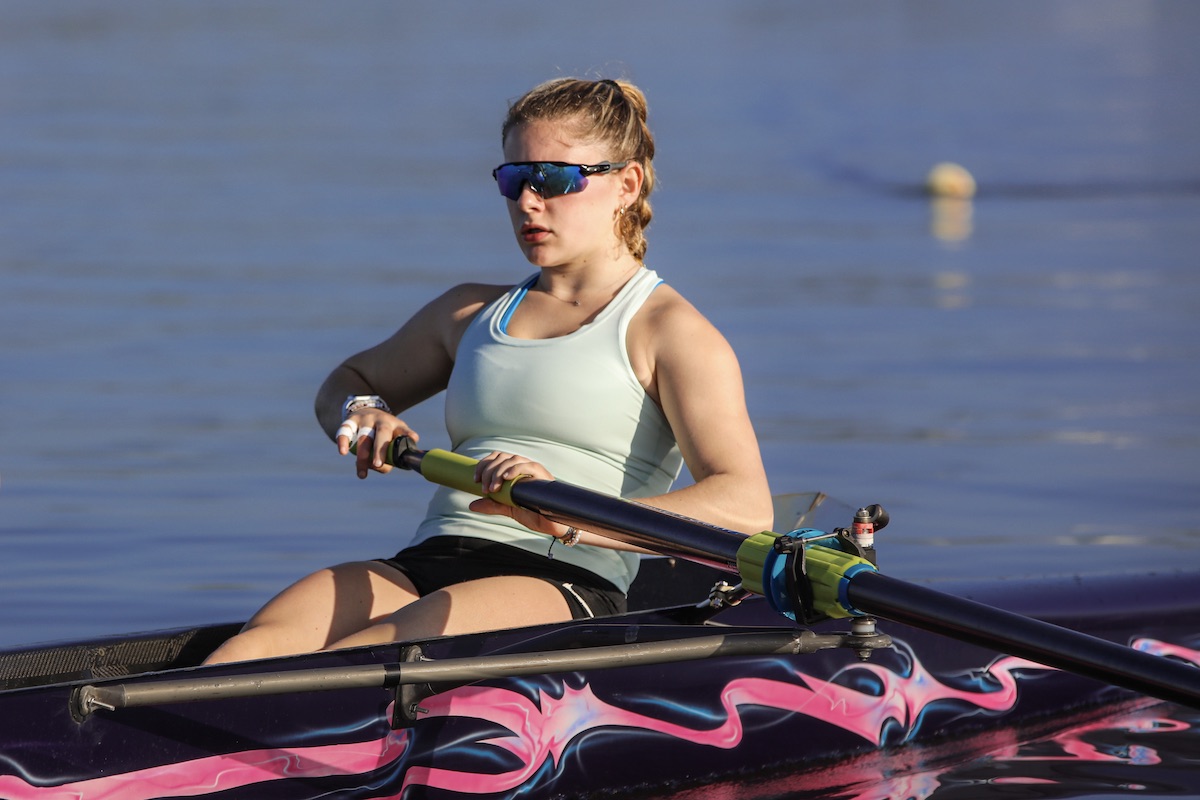 Sophia Bouvard rowing for City Island Rowing. Photo courtesy of City Island Rowing. 
Squash player Katie Hennessey also had her mind set on a specific location. 
"I think DC is one of the greatest places ever," said Hennessey. "I loved the Georgetown campus and the area. I got recruited really late because Georgetown hired a new coach in August going into my senior year. 
The coach was the former assistant coach at Yale, and I told him, 'I will do anything to play on your team. This is where my heart is.'"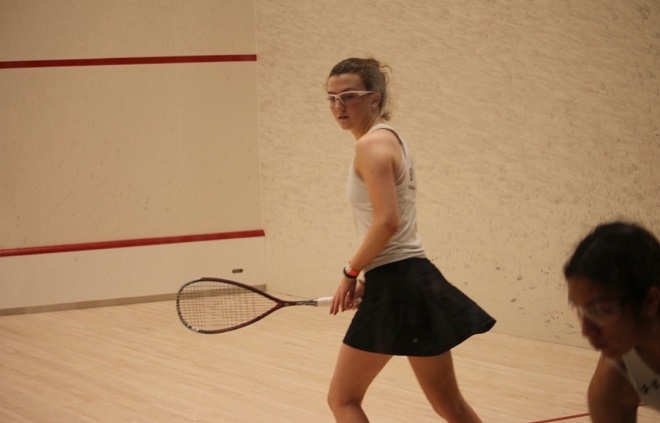 Katie Hennessey on the squash court. Photo by Susan Xu. 
Last year was the first year that Georgetown had a women's varsity squash team. Hennessey used to be a tennis player and changed to squash. 
"I kind of started late for squash. I consider myself a late bloomer, which is why I liked Georgetown. They are developing, and I am, too. 
Andy Holub, an All-Section shortstop for the Bronxville baseball team, will play for Tulane in the fall. 
"I played down south in summer league tournaments, and when it came to recruiting, I knew I wanted to play in the South. I liked Tulane, a Division 1 school. They have been in two college world series and are a good baseball program."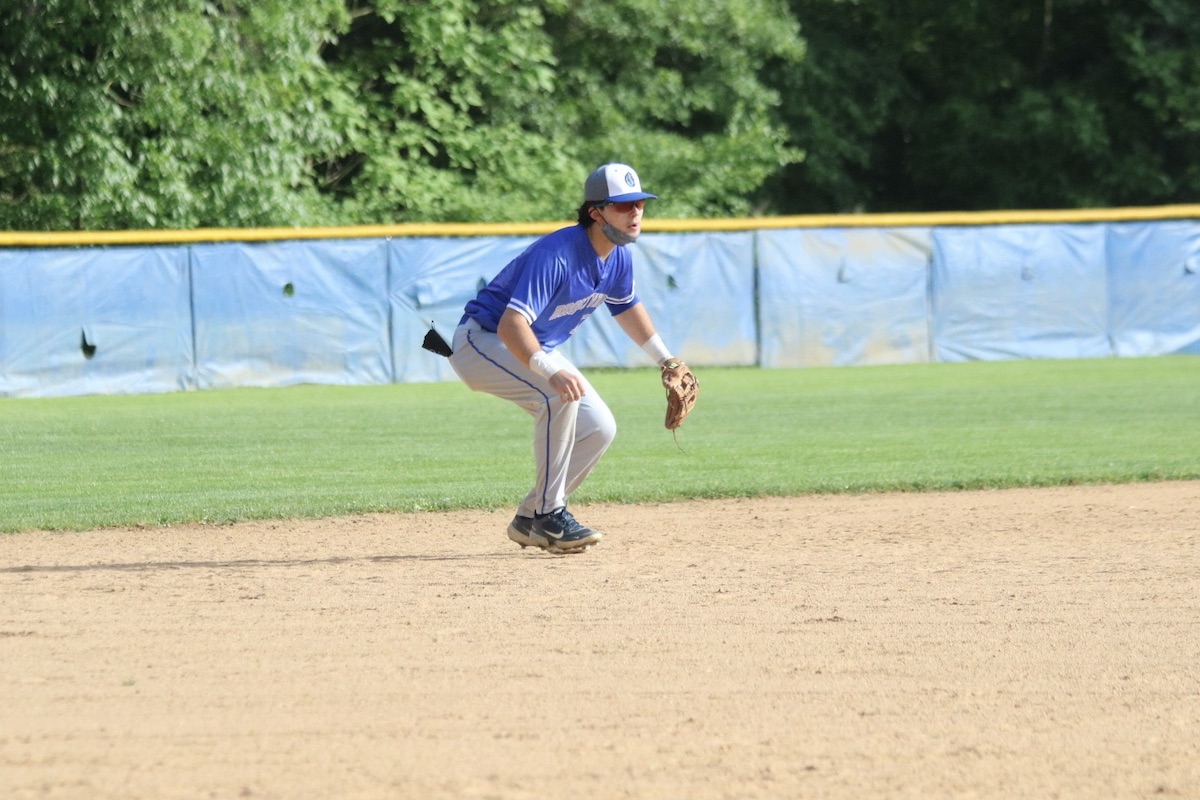 Andy Holub at a home game on Scout Field. Photo by Sean Holub. 
Holub, who batted .600 with five home runs during his senior season, earned the MVP award this past spring. Holub played other sports as a youth but chose baseball because of his family history. 
"In 5th grade, I played football and lacrosse, but I eventually concentrated on baseball because my dad was a baseball player and drafted by the Brewers, and my uncle worked for the Mariners. Baseball is a common interest in my family."
The college recruiting process is a challenge for everyone, and each athlete has his or her own story to tell. These student-athletes are thankful for their high school experience and are grateful to have had inspiring coaches and supportive teammates. 
The baseball team had an unprecedented year, finishing the season with a 20-4 record, and Holub credited his coaches. 
"Coaches Vaglica, Schultz, and DiCenzo were really amazing and supportive. They always made you feel like this was a family, and we were always going to be successful under their coaching."
For a complete list of college recruits, see below. 
Alex Dessart, crew, UCLA
Bridget Finley, lacrosse, Amherst College
Tommy Garofalo, lacrosse, Franklin and Marshall College
Katherine Hennessey, squash, Georgetown University
Lily Jebejian, soccer, Wesleyan College
Preston Maze, lacrosse, Colby College
Alice Vranka, soccer, MIT
Julia Reich, swimming, Wellesley College
Theo Veru, swimming, Bowdoin College
Bethany Lee, fencing, Johns Hopkins University
Milly Koenig, soccer and track, University of Chicago
Conor O'Neil, football, Georgetown University
Ava Black, track, Cornell University
Eric Genden, crew, Cornell University
Andy Holub, baseball, Tulane University
Caroline Ircha, lacrosse, University of Pennsylvania
Megan Krestinski, lacrosse, Bucknell University
Molly Krestinski, lacrosse, Colgate University
Molly Stoltz, squash, Harvard University
Kiki Tormey, lacrosse, Brown University
Sydney Tuck, crew, University of North Carolina
Sophia Bouvard, crew, University of San Diego
Go Broncos.