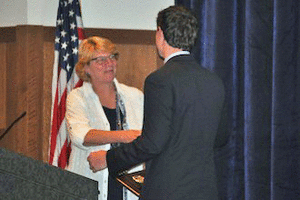 By S. Quinn DeJoy and J. Murrer

Jul. 4, 2018:  If you ask Athletic Director Karen Peterson what her biggest challenge has been at The Bronxville School, she has a one-word answer. Facilities. While the facilities today are better than ever--two turf fields, a new baseball field, and even a turfed practice field--Peterson's job has not always been easy.
When she was hired in 1998, Peterson could not have imagined the facilities challenges that lay ahead. During her tenure at Bronxville, she has navigated through construction delays that left the school without a gym or locker rooms for several years, a 100-year flood that destroyed the gym and all the athletic equipment, a second 100-year flood four years later, installation of two turf fields, unseasonal snowstorms, an office in a trailer, and a fire on the turf.
Perhaps Peterson's first day on the job should have been a warning. She parked in the elementary school lot but to her surprise had to move her car part way through the day because heavy rains were causing the parking lot to flood. When she tells the story of that first day on the job, she shakes her head and says, jokingly, "Right then and there, I should have gotten in my car and kept on going."
Celebrating her 20th anniversary at The Bronxville School, Peterson is grateful to have such wonderful facilities today. When she first arrived, the baseball team played on Chambers Field in the spring, and football played there in the fall. As a result of this dual use of the field, every summer, Chambers was fenced off for sodding and seeding so the football team would have a beautiful grass field to play on in the fall.
"Unfortunately, it always seemed to rain right before the first football game," noted Peterson. "By the end of the game, the field would be destroyed."
Facilities improvements have made life better for Peterson, but there have also been other significant changes during her tenure. Many more students have become involved in the Athletic Council over the years, and the council has had a bigger role in planning events such as Homecoming, Bronco Bonanza, and Spirit Week. The Athletic Council has also initiated many fundraising events; in the 2018-2019 school year, the teams raised almost $15,000 for various charities.
Athletic Council members and parent liaisons teamed up to show their appreciation for Peterson at the sports awards evening in June when past and present Athletic Council presidents gathered on stage to pay tribute to her. The students lined up across the stage and read "Twenty Reasons Why We Love and Appreciate Ms. Peterson."
They remarked on her loyalty to Bronxville: "She is the first one to arrive in the morning and the last one to leave after our athletic events have ended." They joked about her role as a merchandising expert: "She deals with a higher clothing inventory than Banana Republic! And just to let you know, 'Bronco Blue' is her favorite color." And they spoke about her uncanny ability to know the weather even though her office has no window: "She always knows the weather and can make the right call on field changes, magically."
The students also noted that Peterson's reach goes beyond The Bronxville School. "Despite never having cell service in the athletic office, she is always connected with the outside world, and she is constantly chairing at least one Section 1 'sport' at a time!" Peterson is well respected by athletic directors around the section and the state.
It is no easy task to oversee the coaching staff, facilities, and equipment for 28 varsity teams, 20 JV teams, and 17 modified teams, but Peterson makes it look easy.
"She is our team MVP," said one of the students at the spring sports awards ceremony. "The day she came to Bronxville was a great day for all student-athletes and the overall spirit of the school and the entire Bronxville community."
Peterson's favorite moments are the special athletic events such as Homecoming when students and parents work together and the community comes out for the games and festivities.
"I am most grateful for all the people that work so hard," said Peterson. "We couldn't do it without them."
Go Broncos.
Pictured here (rotating): Karen Peterson congratulates a student-athlete at the sports awards ceremony (photo by J. Murrer); Karen Peterson poses with Class of 2018 student-athletes on National Signing Day last November (photo by J. Murrer); at the spring sports awards ceremony, Peterson was presented with a copy of the Review Press-Reporter from 1998 that has a front-page article on Peterson's commencement as athletic director at Bronxville (photo by T. Reilly).