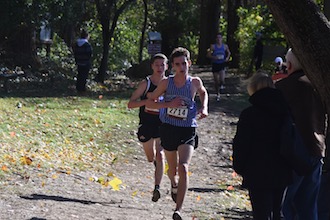 By S. Quinn DeJoy and J. Murrer

Nov. 7, 2018:  Bronxville cross country runners had strong performances at the Section 1 Cross Country Championships held on Saturday at Bowdoin Park. The girls' varsity team placed first in Class C and won the sectional title for the 22nd consecutive year and will head to the state championships. On the boys' side, Matt Rizzo won the Class C Section 1 Championship, and his twin brother, Alex, placed third. The top five finishers at sectionals qualify for states.
The varsity girls' team placed first with a strong team effort. The top five girls finished in a pack with only 40 seconds separating them. Natalie Weiner placed fourth (21:23.3) and was followed closely by Patty Haggerty (6th, 21:44.9), Molly Palma (7th, 21:46.2), Emma Mandanas (8th, 21:48.5), and Avery Widen (11th, 22:03.5).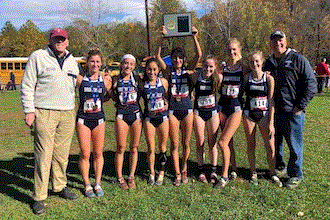 The girls hold up the Class C Section 1 Championship plaque. Photo by Tina Chrappa. 
Matt Rizzo won the Class C title with a time of 16:59.7, and Alex placed third in 17:42.0. Also scoring for the Broncos were John Ryan (35th), Ashton Smith (49th), and Tim McGrath (69th). The Bronxville boys' team placed sixth in Class C among 15 teams.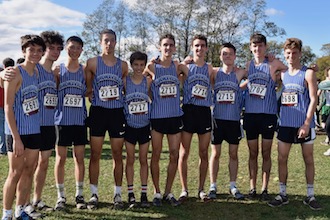 The Bronxville boys' cross country team at Bowdoin Park. Photo by Charlotte Rizzo.
The New York State championship meet will take place at Sunken Meadow State Park on Long Island on Saturday at 10:30 am.
Go Broncos.
Pictured at top: Matt Rizzo just ahead of second-place finisher Sean Gardiner of Croton-Harmon.
Photo by Charlotte Rizzo