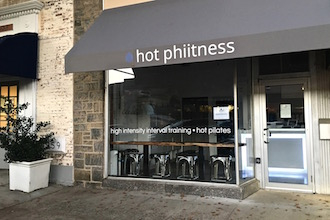 By Susan Miele

Nov. 14, 2018:  The Bronxville fitness scene just got hotter with the recent opening of hot phiitness on Pondfield Road. The new workout facility, in the location previously occupied by Ricky Restiano Photography, offers its own brand of group fitness classes, incorporating muscle toning and cardio exercise with an amalgamation of methods.
The hot phiitness method combines Pilates principles with high-intensity interval training and low-impact exercises. The room is set at 98 degrees to promote sweating, and movements are timed to the beat of the music. Modifications are offered to tailor the instruction to each participant, allowing people of all fitness levels to participate.
Instructors work with students to correct their form, ensuring that muscles are working efficiently and that injury is avoided. "It's like having private instruction in a group setting," said Frannie Boyd Rochat, a former Wall Street executive who launched a second career in yoga instruction before opening hot phiitness. She and her co-owner, Richard Pike, each own Bikram Yoga studios elsewhere in Westchester; but having grown up in Bronxville, Rochat knew this was the right community for her new venture.
The space features a reception area with lockers, a curtained coat closet, and a jar of courtesy hair ties. Check-in is done electronically on iPads. Window seating allows for pre- or post-class respite. Beyond the reception area is the studio, with a bathroom and a separate changing room in the back. Contributions from family and friends add charm to the hot phiitness vibe. Rochat's sister-in-law, Carol Boyd, helps run and market the business, while Rochat's husband was responsible for creating the etched-glass doorways in the back. The lighting and sound systems were created by a Broadway professional, while the wooden table in the front window was carved by a friend.
Classes run 60 minutes, and registration is limited to 22 to 25 participants. Mats and towels are available for rental if needed (first-time rental is complimentary). Preregistration is encouraged to secure a spot and to streamline the check-in process. Credit cards are the only accepted form of payment.
Rochat noted that hot phiitness is undergoing a "soft opening," with a limited number of classes on the current schedule and more planned for the future. Also in the works is an app that will allow class registration from a smartphone.
Single classes are $30; discounts are available through various package rates and for students. First-timers can take advantage of a three-class pack for $65, which is valid for use within two months.
hot phiitness
79 Pondfield Road
This email address is being protected from spambots. You need JavaScript enabled to view it.
https://www.hotphiitness.com/ 
Photo by A. Warner