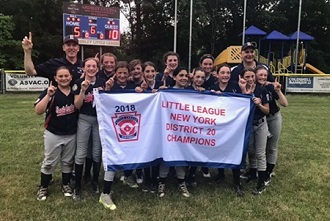 By Guest Contributor

Jun. 27, 2018:  On Sunday, June 23, the Tuckahoe/Eastchester/Bronxville softball team, a division of the Eastchester Little League, won the 12U District Championship in the International Little League Tournament.
Bronxville seventh grader Katie O'Hare threw a complete game in the 10-5 win against the Ardsley Little League. The girls now move on to sectional play in the tournament in the hope of making their way to the Little League Softball World Series, which culminates in Portland, Oregon.  
Pictured here:  The winning team; Katie O'Hare is the second girl from the left. 
Photo courtesy the team

Editor's note: As a public service, MyhometownBronxville publishes press releases, statements, and articles from local institutions, officeholders, candidates, and individuals. MyhometownBronxville does not fact-check statements therein, and any opinions expressed therein do not necessarily reflect the thinking of its staff.