Pictured (L-R): Cindy Landis, Managing Director, Bronxville Office of Houlihan Lawrence, Mayor Mary Marvin, Helen Gerken, Katie Nagle and Sherry Saturno, Executive Director, Gramatan Village
By Sherry Saturno, Executive Director, Gramatan Village
June 16, 2021: Houlihan Lawrence graciously provided a raffle drawing featuring a $500 shopping and dining spree in Bronxville for the Gramatan Village 2021 Annual Benefit honoring Mayor Mary Marvin. 
On Wednesday, June 9th, honoree Marvin pulled the winning name of Barbara White, former Bronxville Elementary Science teacher and Gramatan Village Board Member, at a festive gathering at the Houlihan Lawrence office.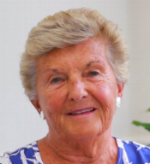 Barbara White
"Gramatan Village is very grateful to Houlihan Lawrence for this wonderful raffle featuring many of our local Bronxville merchants, and delighted that Barbara who has given so much to the community is the recipient," stated Gramatan Village Executive Director Sherry Saturno.
The Gramatan Village 2021 Annual Benefit was held virtually on June 3rd. It featured a short video presentation and a journal honoring Mary Marvin with the J. Rockhill Gray Community Service Award for her outstanding contributions to the greater Bronxville community.
Photo at top by Staff
Photo of Barbara White courtesy Gramatan Village
Editor's note: As a public service, MyhometownBronxville publishes articles from local institutions, officeholders, and individuals. MyhometownBronxville does not fact-check statements therein, and any opinions expressed do not necessarily reflect the thinking of its staff.