Honoree Mayor Mary Marvin (second from right) and friends
By Ellen Edwards
May 17, 2023: On May 5th, under a gorgeous full moon, two hundred and forty guests gathered at Siwanoy Country Club to celebrate The Counseling Center's 52nd year and raise funds for its fee-subsidy program.  Held appropriately during Mental Health Awareness Month, the gala honored Mayor Mary Marvin, a strong supporter of the Center's mission to promote mental wellbeing in our community.
Funds raised at the gala will continue the work of the nonprofit Counseling Center, in particular its program of offering fee subsidies to clients who could not otherwise afford its services.  To its many clients over the decades who have struggled with mental health concerns and found confidentiality and compassion from its group of skilled therapists, The Counseling Center has been a trusted, valued resource.  The Center extends a special thank you for the generous donations from the many benefactors and underwriters, listed at the end of this article, who helped to make this event possible.
Early in the evening, guests flowed through several rooms and outside onto the terrace and under a tent while enjoying cocktails and hors d'oeuvres to the music of Caseyland.  They returned inside for a sit-down dinner during which Executive Director Virgil Roberson spoke of the burgeoning need for mental healthcare services.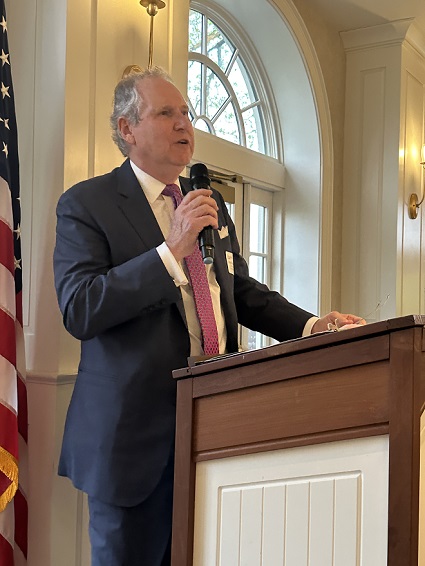 Virgil Roberson, Executive Director of the Counseling Center
Judge George McKinnis gave a glowing introduction of the gala's honoree, Mayor Mary Marvin. In a brief speech, the mayor mentioned having been inspired years ago by Rosalynn Carter, one of the first public figures to request that insurance companies cover mental health care services just as they would any physical ailment.  She remarked that Bronxville residents are quick to offer casseroles and condolences when friends and neighbors fall ill with cancer or some other illness, but that they aren't always aware when someone is suffering a mental health crisis.  Yet one's mental health is equally important.   
Following dinner, a spirited live auction was conducted by professional auctioneer Erin Ward from Star Benefit Auctions, with assistance from her "spotter" (also her husband!) Bobby D. Ehlert and her "scribe" Jennifer Mensler Gableman.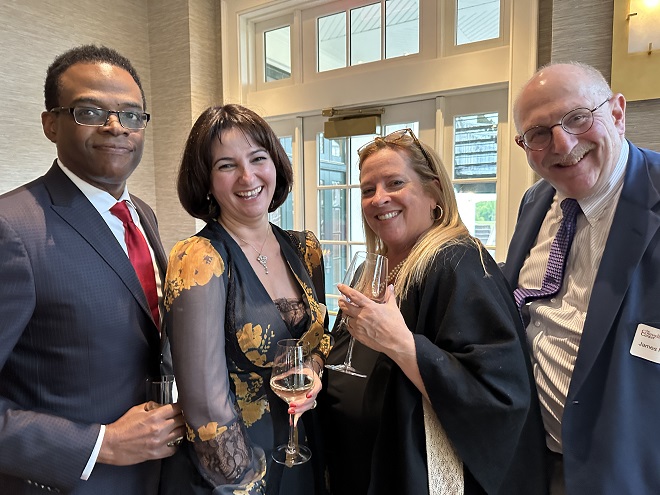 Entela Hana, Treasurer of the Counseling Center (second from left) and friends
Auction items included lunch for four with Mayor Marvin; a "Chef's Tasting" dinner for six at Underhill's Crossing (thank you to Underhill's Crossing for doubling its donation by offering two dinners in the excitement of the bidding!); a private tennis lesson with renowned pro Patrick McEnroe; two orchestra seats to "& Juliet" on Broadway starring Bronxville's own Stark Sands; two orchestra seats to the lush new Broadway production of "Camelot"; and two tickets to a live taping of "Late Night with Seth Myers." Many thanks to everyone who donated these items and to all who enthusiastically bid on them!
In addition to the live action, a paddle raise was held for specific amounts, generating high participation at all levels of contribution.  And an online silent auction was available to everyone, whether or not you were able to attend the gala.  Thank you to the many people who donated silent auction items: two tickets to "Watch What Happens Live" by Andy Cohen; a consultation and in-person training session with Chris Ryan geared to improve one's golf game; a Transform Fitness Student Package; a spa treatment of one's choice at the Bronxville Wellness Sanctuary; and a Magnum of 2008 Chateau Lynch-Bages.
The Counseling Center wishes to thank the dozens of additional people who made its Spring Gala a great success. Heartfelt thanks to Linda Jones and Gail Cook, who organized the event; to Beth Fulton and Denise Kaloudis, who arranged the auction items (congratulations to Denise on the birth of her new baby boy, Aristotle Theodore Ryan, on the day before the gala!); to Kate Milliken Vaughey for taking photos; and to administrative assistant Jennifer Clover for the many hours she devoted behind the scenes and at the registration table.
A thousand thanks to the team at Siwanoy Country Club, who met The Counseling Center's requests and anticipated its needs: Kevin McGuirk, General Manager; Theresa McCarthy, Director of Catering; Anibal Ramirez, Executive Chef; Tony Ramirez, Captain of Service; and the entire staff who worked so hard, both before and during the event, to provide seamless service with courtesy and grace.
Flowers for the event, especially the beautiful table centerpieces using flowers in keeping with the spring theme--which Mary Marvin loved!--were provided by Bobby at Mrs. Morgan's Flower Shop.
During this unsettling post-Covid time, The Counseling Center's mental health care services are more in-demand than ever.  Under the leadership of Executive Director Virgil Roberson, M.Div., L.P., NCPsyA, and Clinical Director Jennifer Naparstek Klein, Psy.D., The Counseling Center offers help for individuals and couples, adults and children of all ages.  Its staff, known for its professional expertise and warm rapport with clients, provides both in-person and teletherapy (video and phone) sessions.
The board and the staff of The Counseling Center wish to express our enormous gratitude to everyone whose contributions made this year's gala both a delightful experience and a spectacularly successful fund-raising event.  With your help, the Center will continue to meet the mental health care needs of residents throughout our extended community.
The Counseling Center in Bronxville offers therapy for individuals, couples, and families, through video platforms, telephonically, and in person.  Please feel free to reach out if we can help, by calling Dr. Jennifer Klein, 914 793 3388.  To keep abreast of ongoing information and activities at The Counseling Center, or to make a donation, please visit our website at https://counselingcenter.org/.
Ellen Edwards is a board member of The Counseling Center.
Benefactors: Doug and Lisa Cruikshank, Judy M. Foley, Georgia and Donald Gogel, Marilynn and John Hill, Jim Hoch, Anna and Joe Houlihan, Linda Graef Jones, Rosanne and Mark Welshimer.
Underwriters: Mary and Chris Behrens, Jane and Jack Bierwirth, Helen Knapp and Charles Calliostro, Amy and Anthony Civale, Marcella and Richard Dresdale, Laura and Brooks Klimley, Lisa Kundstadter and Nick Stephens, Maria and Chip Schulz, Elinor Urstadt, The Bronxville Rotary