By Staff 
Updated Dec. 4, 2020:  Bronxville Major Mary Marvin and Chief of Police Satriale sent out the following message on December 4th:
"The upward spiral of positive patients in the Village is truly alarming. The number of residents that have tested positive for COVID-19 in November has surpassed 50. This has exceeded our highest month total since the beginning of the pandemic. Our Hospital is seeing a steady increase in positive patients as well. It is critical that you wear a face covering at all times in public, maintain proper social distancing, sanitize surfaces, and wash your hands frequently. You should not be socializing with anyone outside of your immediate family living with you. The fact that we continue to disperse youth gatherings in private homes, public parks, as well as Scout Field is irresponsible and unacceptable behavior. A vaccine is close - please comply with the mitigation requests for a bit longer, so we don't lose any more neighbors and loved ones to this dangerous and deadly virus. Thank you and stay safe!"
The Westchester County Covid-19 map on December 3, 2020 shows 30 active cases in Bronxville. This is double the 15 active cases in Bronxville one week ago.  The positivity rate in New York State as of November 30 was 4.96 percent. The positivity rate in Westchester County on the same date was 5.3 percent. 
In a communication yesterday, Governor Cuomo confirmed that cases are up across the State and his office sent out the maps below showing the 3-day rolling average of Covid hospitalizations in different regions of New York State.  Bronxville is in the Mid-Hudson Region.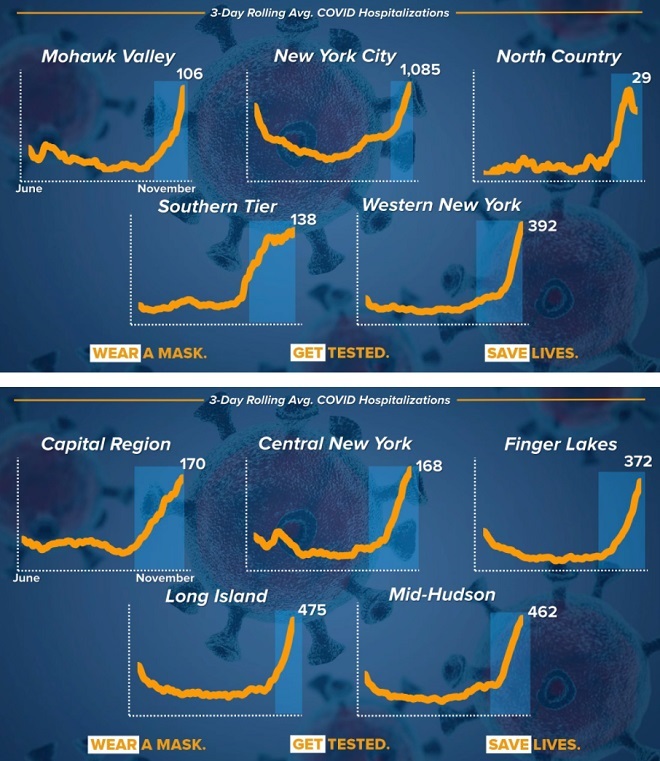 Source: Communication from Office of Governor Cuomo 11/30/20
The Governor also outlined his 5-part "Winter Plan" to combat "a new phase in the war against Covid." Below is a summary of that Plan.
#1 - Continue and Strengthen New York's Targeted Micro-Cluster Strategy while Managing Hospital Capacity to Enhance and Equalize Care
Governor Cuomo will strengthen New York's micro-cluster strategy by using additional hospital-related metrics to provide "a clearer picture" of "how each area contributes to daily hospital admissions due to Covid."  
The State is also creating a new zone alert level. Right now, it has three levels - - Yellow Precautionary, Orange Warning, and Red. It is adding a new "Emergency Stop" level, "which will effectively put that area under the NY Pause guidelines if needed to preserve hospital capacity." 
#2 - Increase and Balance Testing Resources and Availability
New York State will take steps to increase the amount of testing available statewide and ensure that it is available for different segments of the population.
#3 - Keep Schools Open Safely
The State will focus efforts on "keeping K-8 and Special Education schools open as long as it can be done safely." This will include establishing "sustainable, ongoing testing in schools so that they can continue operating in the long term."  
Local districts can close "at levels under the State's mandatory closure rule", but they "are urged to keep K-8 schools open whenever it is safe."
#4 - Prevent Viral Spread from Small Gatherings
Sixteen states, including New York, have instituted gatherings limits of less than 10 people. New York State will be launching a public education campaign "to highlight how small gatherings can lead to the spread of COVID-19 in the community."
#5 - Operationalize an Equitable and Safe Vaccination Program
The State will build a Plan to distribute vaccinations. It "will be founded on three main pillars: fairness, equity, and safety." It will also include "outreach to the Black and Brown communities with poor health outcomes who have been hit hardest by the pandemic." 
View the complete Plan here.
Below is the map of Westchester County Covid-19 Confirmed Cases as of December 1, 2020.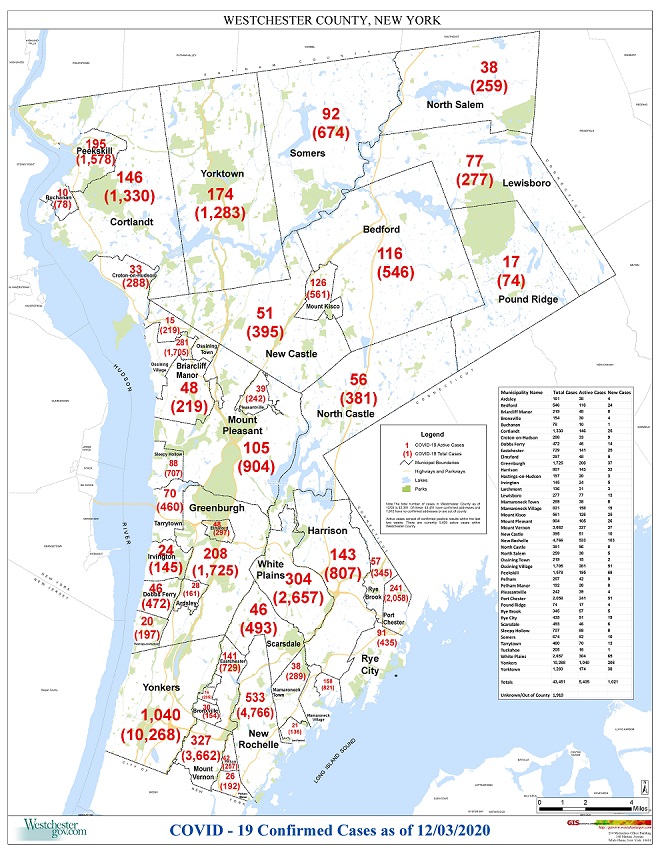 Source: Office of Westchester County Executive George Latimer
View the NY State School Covid-19 Report Card here
View the NY. State COVID-19 Tracker here.