By Staff 
Nov. 25, 2020: 
Bronxville School
In a communication to the Bronxville community on Friday, November 21, Dr. Roy Montesano, Superintendent of the Bronxville School, announced that the School would go to remote learning for all classes K-12 this week. "Given the shortened week and the upcoming Thanksgiving break, we have decided to go to full remote learning for all classes K-12 for this week," he said. 
In the communication, Dr. Montesano said that the number of positive cases within the school continue to rise and that "the School is challenged due to the number of faculty that need to quarantine based on the positive cases." This move to remote learning will enable the school to "fully clean our building, and do our part to not spread the virus."  
View the NY State School Covid-19 Report Card here
Cases in Bronxville & Nearby
The Westchester County COVID-19 map for November 24 shows 15 active cases in Bronxville and 126 total cases. A month ago (October 15), Bronxville had 2 active cases.
Of the 9,218 tests reported on November 23 in Westchester County, 370, or 4.0 percent, were positive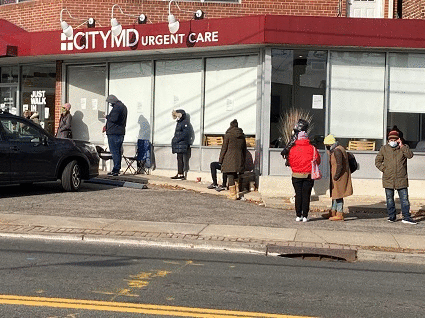 At CityMD Urgent Care in Eastchester, lines for Covid testing today Nov. 25 stretch around the block
New York State
In a communication yesterday, November 24, Governor Cuomo said "at the current rate of increase in COVID cases, we're very likely to see a major COVID spike after the holiday. In three weeks, hospitalizations have gone up 128 percent—we went from 1,200 total hospitalizations in the state to about 2,800 total hospitalizations now. We anticipated this fall surge but doesn't make the numbers any easier to see. Now the holiday season is upon us, a 38-day period of increased social activity. And the more social activity there is, the more the virus is going to spread. So, once again, I urge New Yorkers to take caution over the Thanksgiving holiday and the days ahead. Get tested if you have symptoms or have reason to believe you were exposed to the virus. Wear a mask, particularly indoors. Let's keep one another safe."
View the NY. State COVID-19 Tracker here.