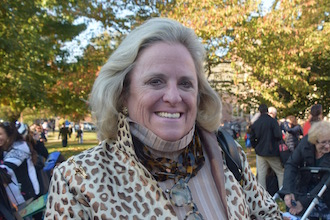 By Mary C. Marvin, Mayor, Village of Bronxville

Nov. 21, 2018:  I was so moved by the hundredth-anniversary remembrance of the cessation of World War I in Europe. It made me think what our country was feeling collectively as a nation at the time.
A little known but poignant tradition in our country since our founding has been a Thanksgiving proclamation issued by the sitting president. Given the confluence of the war anniversary and our distinctly American Thanksgiving holiday, I thought it would be fascinating to see what our president at the time was thinking as many of our grandfathers engaged in "the war to end all wars."
In his 1917 proclamation, President Woodrow Wilson viewed the war as:
The opportunity to serve mankind as we once served ourselves in the great day of our Declaration of Independence, by taking up arms against a tyranny that threatened to master and debase men everywhere and joining with other free peoples in demanding for all the nations of the world what we then demanded and obtained for ourselves.
In this day of the revelation of our duty not only to defend our own rights as a nation but to defend also the rights of free men throughout the world, there has been vouchsafed us in full and inspiring measure the resolution and spirit of united action.
We have been brought to one mind and purpose. A new vigor of common counsel and common action has been revealed in us. We should especially thank God that in such circumstances, in the midst of the greatest enterprise the spirits of men have ever entered upon, we have, if we but observe a reasonable and practicable economy, abundance with which to supply the needs of those associated with us as well as our own. A new light shines about us. The great duties of a new day awaken a new and greater national spirit in us. We shall never again be divided or wonder what stuff we are made of.
As the years went by, President Wilson's Thanksgiving proclamations embodied the mood of the nation as the war took its toll. In 1918, President Wilson proclaimed:  
This year, we have special and moving cause to be grateful and to rejoice. God has in His good pleasure given us peace. It has not come as a mere cessation of arms, a mere relief from the strain and tragedy of war. It has come as a great triumph of right. Complete victory has brought us, not peace alone, but the confident promise of a new day as well in which justice shall replace force and jealous intrigue among the nations. Our gallant armies have participated in a triumph which is not marred or stained by any purpose of selfish aggression. In a righteous cause they have won immortal glory and have nobly served their nation in serving mankind. God has indeed been gracious. We have cause for such rejoicing as revives and strengthens in us all the best traditions of our national history. A new day shines about us, in which our hearts take new courage and look forward with new hope to new and greater duties.
In 1919, Wilson sensed a healing spirit across the nation and so gave thanks.
During the past year we have had much to make us grateful. In spite of the confusion in our economic life resulting from the war we have prospered. Our harvests have been plentiful, and of our abundance we have been able to render succor to less favored nations. Our democracy remains unshaken in a world torn with political and social unrest. Our traditional ideals are still our guides in the path of progress and civilization.
These great blessings, vouchsafed to us, for which we devoutly give thanks, should arouse us to a fuller sense of our duty to ourselves and to mankind to see to it that nothing that we may do shall mar the completeness of the victory which we helped to win. No selfish purpose animated us in becoming participants in the world war, and with a like spirit of unselfishness we should strive to aid by our example and by our cooperation in realizing the enduring welfare of all peoples and in bringing into being a world ruled by friendship and good will.
And finally, the Thanksgiving of 1920 saw a level of hope and recovery and the promise of a great future.
We have abundant cause for thanksgiving. The lesions of the war are rapidly healing. The great army of freemen, which America sent to the defense of Liberty, returning to the grateful embrace of the nation, has resumed the useful pursuits of peace, as simply and as promptly as it rushed to arms in obedience to the country's call. The equal justice of our laws has received steady vindication in the support of a law-abiding people against various and sinister attacks, which have reflected only the baser agitations of war, now happily passing. In plenty, security and peace, our virtuous and self-reliant people face the future, its duties and its opportunities. May we have vision to discern our duties; the strength, both of hand and resolve, to discharge them; and the soundness of heart to realize that the truest opportunities are those of service.
All of these sentiments, though collectively written almost 100 years ago, resonate as if written for us to take heed and guidance as we celebrate Thanksgiving 2018.
Editor's note: As a public service, MyhometownBronxville publishes articles from local institutions, officeholders, and individuals. MyhometownBronxville does not fact-check statements therein, and any opinions expressed therein do not necessarily reflect the thinking of its staff.